Is There a Demand for IT Technicians?
August 14, 2023
304 views
7 min read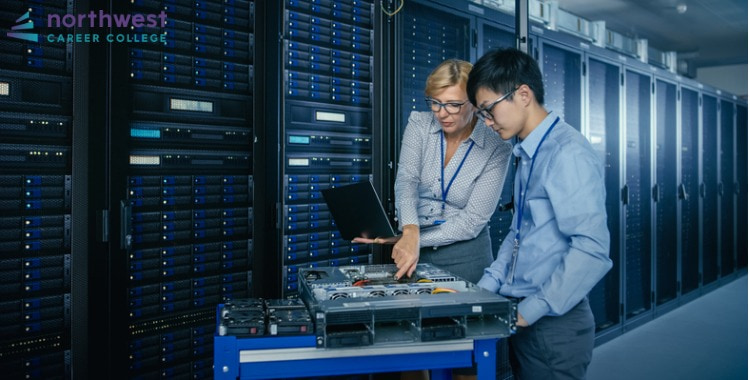 Are you considering a career in information technology (IT)? If you are, you've come to the right place! Northwest Career College is the premier destination for students interested in getting their IT Technician qualifications and taking advantage of all the great opportunities that the high demand for tech workers provides.
In this blog post, we will dive into why there is such an immense demand for IT Technicians and why Northwest Career College could be your best bet at gaining your qualification quickly and efficiently. So if you're ready to learn what it takes to become an IT Technician – let's get started!

Overview of the IT Industry and its Rapid Growth
The IT industry has become one of the fastest-growing sectors in the economy, and it shows no signs of slowing down anytime soon. With the proliferation of technological innovations and advancements, businesses across all industries increasingly rely on IT professionals to help them navigate this dynamic and complex landscape.
From software development to cybersecurity and cloud computing, the demand for IT services has never been higher. Furthermore, the IT industry offers a wide range of career opportunities for individuals with the right skills and education, making it an exciting and rewarding field to pursue.
As our world becomes increasingly digitized and connected, the IT industry will continue to play a critical role in shaping the future of business and society as a whole.

Benefits of Pursuing a Career in IT
The Information Technology (IT) field has rapidly grown in the past few decades. With the advancement of technology, there is an ever-increasing demand for professionals that can help develop, maintain, and improve these technologies.
Pursuing a career in IT comes with numerous benefits. Not only is it a lucrative career option, but it also provides job security in a world where technology is constantly advancing. Additionally, IT careers offer diverse opportunities that cater to individual skill sets and interests, ranging from web development to data analysis.
The field is ever-changing, and individuals with a passion for learning are well-suited for it. With a career in IT, you have the potential to make a significant impact on the world through the development and innovation of technology.

Why Northwest Career College is the Best Place to Earn an IT Technician Qualification
If you are looking to jumpstart your career in the IT industry, there is no better place to learn and grow than Northwest Career College. With modern facilities and experienced instructors, the college provides the perfect environment for students to master the skill set required to become certified IT technicians.
The curriculum is carefully designed to provide a balance of theoretical knowledge and hands-on experience, allowing students to learn and apply their skills in a real-world setting. Additionally, Northwest Career College offers personalized support to each student, ensuring that they have access to the resources they need to succeed.
With a proven track record of producing successful graduates, Northwest Career College is the best place to help you realize your dream of becoming an IT Technician.

What You Can Expect from an IT Technician Career
If you're a tech-savvy individual who enjoys problem-solving and has strong attention to detail, then you might want to consider a career as an IT technician.
As a technician, you'll be responsible for helping individuals and businesses with their computer-related issues, such as troubleshooting software and hardware problems, setting up networks, and ensuring that systems are running efficiently.
Not only will you have the opportunity to work with cutting-edge technology, but you'll also be making a tangible impact by helping others overcome frustrating technical challenges. Additionally, the field of IT is constantly evolving, which means that you'll never stop learning and growing in your career.
Overall, an IT technician career can be both lucrative and fulfilling for those passionate about it.

The Growing Demand for IT Technicians and How to Secure a Job after Graduating
IT Technicians have become a highly sought-after profession in a world where technology constantly evolves and reshapes industries. As businesses and organizations integrate more technology into their operations, the demand for skilled IT workers continues to grow.
The best way to secure a job in this field is to stay informed about new technologies and continue developing your skills and knowledge through advanced certifications and training programs. Networking with professionals and actively seeking out relevant job postings can also increase your chances of landing a coveted position in the thriving tech industry.
With perseverance and determination, a successful and fulfilling career in IT awaits.

Tips for Becoming a Successful IT Technician at Northwest Career College
Becoming a successful IT technician at Northwest Career College requires more than just technical skills. Maintaining a strong work ethic and a positive attitude will go a long way in ensuring success in this field.
Attention to detail and problem-solving skills are also crucial, as IT technicians are responsible for troubleshooting and diagnosing technical issues. A willingness to adapt and learn quickly is essential in IT, as technology constantly evolves.
Communication skills are also just as necessary, as technicians must effectively communicate technical information to clients and co-workers. By following these tips and staying dedicated to their craft, aspiring IT technicians can achieve success at Northwest Career College.

Begin Your Career as an IT Technician Today!
The IT technician industry is one of the fastest and most in-demand industries across all fields. Research suggests that it is growing rapidly without slowing down, making an IT Technician career a reliable long-term choice.
Northwest Career College is the perfect place to earn your IT Technician qualification and develop the skills and knowledge needed to succeed in the industry. Here, you can expect excellent instruction from experienced professionals who can ensure you are ready for a successful career as an IT Technician.
The demand for talented technicians has never been higher – if you're ready for a career change or to begin your journey into the tech field, then Northwest Career College is right for you.
Our carefully crafted program not only equips students with the qualifications they need but also provides them with essential job search tips to compete successfully in this ever-changing profession. 
If this sounds like something you would be interested in, contact us today to learn more about our IT Technician program at Northwest Career College!



Join the NCC IT technician program today
NCCs' Information Technology Technician program will prepare you for a successful career in IT. You'll learn hardware and software fundamentals, network administration, database management, computer security, and more.
We also provide hands-on training with industry-standard equipment to give you real-world experience. Our instructors are experts in the field who will guide you every step of the way and help you master the skills needed for a successful career in IT.
Our program is designed to be flexible, so you can fit it into your busy life. We offer both online and on-campus courses, with an accelerated program that can be completed in as little as nine months. Our classes are affordable, and affordable payment plans are available.
Contact us today at (702) 403-1592 to learn more about our IT program and how it can help you reach your career goals. We look forward to hearing from you!