Business Administration Associate Degree
Northwest Career College's Business Administration Associate Degree gives you the skills you need to launch or advance your career across a huge variety of business sectors. With an Associate Degree in Business Administration, the door is open in almost any area of business.
NCC is one of the best colleges in Las Vegas and our instructors are all experienced business professionals. Our student-focused approach to education means our Associate Degree in business is both affordable and blended, allowing you to prepare for your Business Administration career in a way that suits you at one of the best Business Administration schools in Las Vegas.
Our Associate Degree In Business Administration online classes give you the knowledge, administration skills, confidence, and adaptability you need to build the competitive career you've been looking for.
Here at Northwest Career College, we specialize in offering a flexible education that best suits you, so you can complete your Associate Degree in Business in as little as 18 months!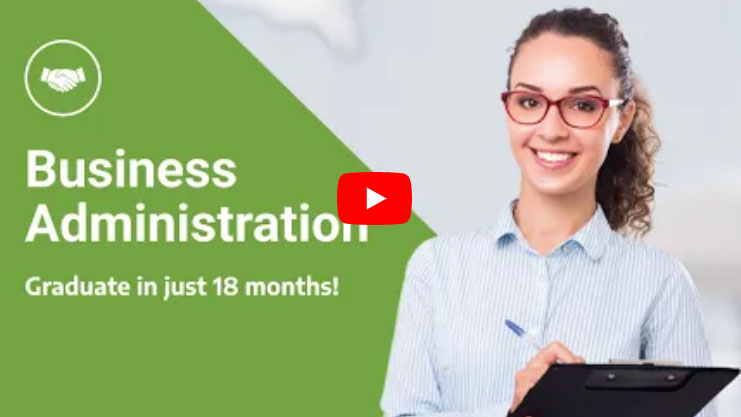 Why Business Administration Program at Northwest Career College?
Graduate in as little as 18 months

Northwest's schedule allows you to attend Business Administration training, care for family and have a balanced life in Las Vegas while advancing towards your new career.

Financial aid is available to those who qualify

Hands-on instruction in all facets of Business Administration Associate Degree

You will have the opportunity to complete hands-on instruction with one of our employer partners. You will experience first-hand the behind the scenes operations of a business in action which will make your Business Administration training applicable to the Las Vegas business community.

Students are our priority

Northwest's student-centered philosophy means that you come first in our Business Administration School in Las Vegas.

Professional business team instructing all classes

As a Business Administration student, your understanding of the business world and all of its moving parts is critical. That's why, at Northwest Career College, your Business Administration instructors are experienced professionals including managers, directors, HR coordinators, and seasoned specialists. Your instructors will teach you not only about broad business concepts but also about how those concepts apply throughout the business community.

Flexible Business Administration class schedules that fit your life

Northwest's Business Administration Associate Degree offers on-campus & online Business Administration classes to accommodate your work and family schedule.

Are all of the courses held on campus?

Northwest Career College has developed a blended program for Business Administration. All Business Administration classes in Las Vegas are taught on campus by a variety of professionals. Additionally, although general education courses are offered on-line, instructors are on-campus to review and support your learning experience.

Work on your own laptop for exceptional training

Each student is provided a laptop for easy internet and online class access.

Committed career services team on campus

Northwest's Career Services team works with you to help find the best employment opportunity utilizing your Business Administration degree in Las Vegas.