Is Radiography a Good Career Choice?
August 15, 2023
306 views
6 min read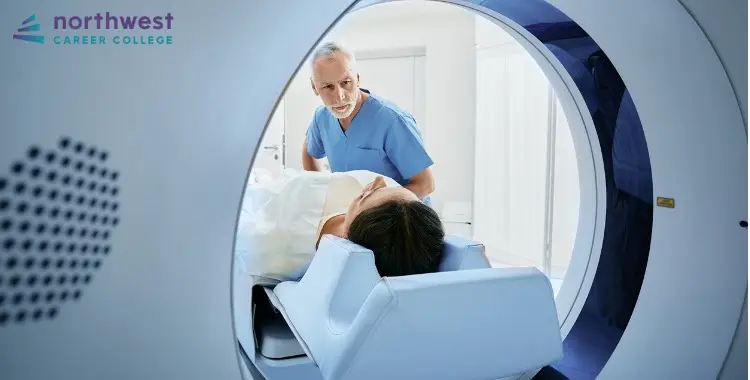 Are you curious about radiography as a career option? Radiography is a rewarding and exciting healthcare profession, and with Northwest Career College's certified radiography programs, you can equip yourself with the skills necessary for success.
Join us as we explore how these courses can set you up for an outstanding future career in this field! Learn more about the range of career possibilities open to graduates, what qualifications are available at NorthWest Career College, and all the other factors that will feed into your decision-making process.
To get started on your journey toward becoming a proficient radiographer today – read on!

An Overview of Radiography and the Different Types of Careers within the Profession
Radiography is an exciting and dynamic field that has continued to grow over the years. It encompasses a wide range of diagnostic imaging techniques and technology to provide accurate medical diagnoses.
With the increased demand for healthcare, the field of radiography has also expanded, creating numerous career opportunities for individuals interested in the profession. These careers include diagnostic radiographers, therapeutic radiographers, sonographers, and medical physicists, to name a few.
Each career path has a unique scope of practice, specialized equipment, and techniques requiring specific skills and knowledge. As a result, those pursuing a radiography career are guaranteed a challenging and rewarding profession that offers continuous personal and professional development opportunities.

Advantages and Opportunities that Radiography Offers
Radiography is a field that offers a plethora of advantages and opportunities to anyone who chooses to pursue it. With its wide range of applications in industries such as healthcare, aerospace, and manufacturing, there's always going to be a demand for skilled professionals in this field.
Radiography also offers the opportunity to work with cutting-edge technology, enabling individuals to gain expertise in areas like advanced imaging techniques and equipment maintenance. Additionally, this field opens doors to related careers, such as medical diagnostics, quality control, and research. 
The possibilities are endless when it comes to the many advantages and opportunities that radiography has to offer.

What Makes a Qualification from Northwest Career College the Best Choice for Starting Your Radiography Career
If you're considering a career in radiography, you want to ensure you get the best education and training possible. At Northwest Career College, you can rest assured that you're making the right choice. Their radiography program is designed to give you hands-on experience in a real-world environment with state-of-the-art technology and equipment.
You'll learn from experienced professionals who are passionate about what they do and who will guide and support you every step of the way. With an emphasis on patient care, safety, and accuracy, Northwest Career College will help you develop the skills and knowledge you need to succeed in this rewarding field.
So why wait? Choose Northwest Career College for the best start to your radiography career.

What You Will Learn During Your Radiography Course
Radiography courses are designed to provide students with extensive knowledge and practical skills in the field of medical imaging. Throughout the duration of the course, you will learn about radiation physics, anatomy, patient care, imaging techniques, equipment operation, and much more.
You'll have the opportunity to work hands-on with state-of-the-art technology and learn how to analyze X-rays, CT scans, and MRI images. Additionally, you'll develop critical thinking and problem-solving skills necessary for accurately diagnosing and treating patients.
Upon completing the program, you'll be well-prepared to pursue a career in radiography and make a meaningful impact on healthcare.

The Benefits of Choosing Northwest Career College for Your Radiography Education
Are you considering a career in radiography? Look no further than Northwest Career College for your education. There are countless benefits to choosing this school. First of all, they offer a hands-on approach to learning, meaning you'll gain real experience in the field before you even graduate.
Additionally, their instructors are all seasoned professionals who can offer guidance and insight into the industry. But perhaps the biggest benefit of all is the support system provided by Northwest Career College.
From financial aid assistance to job placement services, they are committed to helping their students succeed every step of the way. So why wait? Choose Northwest Career College for your radiography education and start your career off on the right foot.

Earn Your Radiography Qualification at NCC!
Pursuing a career in radiography offers unique opportunities and growth potential with more choices as technology advances. Radiographers may work in many sectors alongside medical teams that keep people healthy, from private hospitals to research facilities.
With the right education from Northwest Career College, starting your radiography career is easier than ever before. Our courses will equip you with essential technical skills and a wider understanding of the profession, giving you the best start for your radiography career.
We'll provide you with information on how to work within different medical environments both safely and professionally. Our graduates can access links with employers upon completing their qualifications to take advantage of available positions in no time!
So if you're looking for an exciting new path that involves helping save lives, contact Northwest today about our Radiography Assistant Program and begin your journey into the fascinating world of radiography!



Start Your New Career in Radiography Today
At Northwest Career College, our Radiography Program gives you the essential education and training you need to start a successful career in radiography. Our experienced faculty and comprehensive curriculum will provide you with the knowledge necessary to pass your certification examination and begin working as a radiographer.
Once you've graduated and passed the ARRT, you'll be ready to embark on an exciting career in radiography. Whether you're interested in working in a hospital or imaging center, our program can provide you with the credentials and experience needed for long-term success.
So don't wait any longer and take the first step towards launching your new career today! Contact us today at (702) 403-1592, and let's get started on your journey to becoming a certified radiographer!