What questions will you be asked in your Dental Administrative Assisting interview?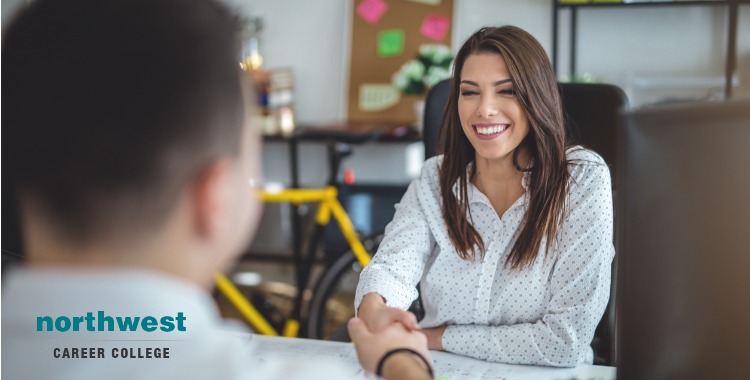 Heading into your first dental administrative assisting interview is going to be a nerve-wracking experience, especially if you've only recently graduated. However, having some idea of what you're going to be asked gives you the opportunity to prepare and be less nervous.
Today we'll be going over some of the most common interview questions for dental administrative assisting positions.
Are You Approachable? 
A dental administrative assistant is both a patient-facing role and one of the key lynchpins that communicate with all other members of their dental office. This makes it very important that you can get on with a variety of personalities and personal situations.
When going into an interview for a dental administrative assistant position, remember to prepare an answer to this question, or some variation of it, that recalls a time when you were able to work effectively with a group of people.
Are You a Good Communicator?
Great communication is a key skill for any kind of administrative assistant. As a key cog in the working routine of a dental office, you need to make sure that you're able to communicate effectively. 
Being able to highlight your communication skills in an interview is the first step towards getting the position you want.
Do You Know How to Listen?
In addition to knowing how to talk to others, dental administration assistants also need to know how to listen. Effective listening skills let your coworkers and patients feel like they are being heard. 
Before heading into your interview try to prepare an answer to this question that weaves in a situation in which your listening skills benefitted you and others.
Do You Have Attention to Detail?
Obviously, good attention to detail is vital in any administrative position. Part of the responsibilities of a dental assistant is to oversee the clerical side of a dental office. Whether it's patient records or just making sure the printer skill has ink, being on top of the details is vital. 

It's a great idea to answer this question with a situation where your attention to detail caught an unnoticed error or prevented a miscommunication.
Start Your Dental Administrative Assisting Career With Us
Employment for entry-level employment in the dental field is expected to increase 23% over the next 10 years, faster than average for all occupations, according to the Bureau of Labor Statistics. With this growing demand for DAA's, it is essential that graduates cultivate the skills and traits that will help them stand out in the employment market. 
Here at Northwest Career College, our Dental Administrative Assisting Program prepares students to work in any dental office. Our expansive, nine operatory lab provides students with real-life dental office experience. 
You will be trained to handle clerical duties such as scheduling appointments, handling insurance claims, and monitoring inventory. You will work with documents, forms, and computer systems. No other Dental Administrative Assistant Program in Las Vegas offers this type of advanced training.
Our student-focused approach will help you cultivate the skills you will need to stand out. Our experienced Career Services team will work with you to help you find the best dental administrative assistant employment opportunities in Las Vegas. Call one of our enrollment specialists at (702) 403-1592 to find out more.
Written by:
Cynthia Lofquist, R.D.A.
Dental Assisting Program Chair
Concorde Career Institute