What Is Digital Pathology?
February 19, 2021
505 views
3 min read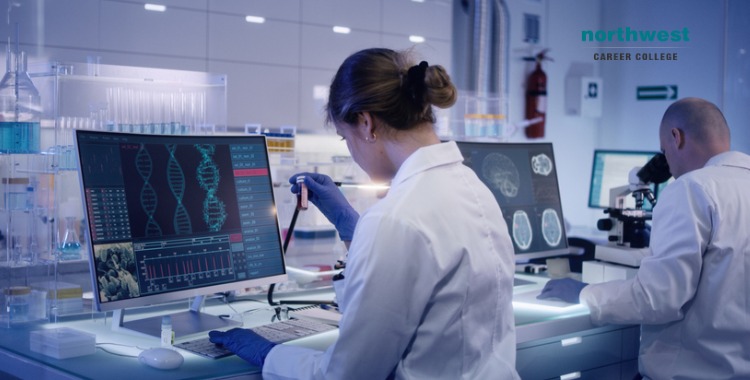 Phlebotomy is one of the main diagnostic tools, however, it is only one part of the arsenal of techniques that modern medicine can bring to bear in the study of the causes and effects of disease.
In line with advances in technology, one of the newest and potentially most effective healthcare tools is digital pathology. In this article, we'll be taking a closer look at the benefits of digital pathology and how it is contributing to medicine.
What Is Digital Pathology?
According to the Royal College of Pathologists, digital pathology includes the acquisition, management, sharing, and interpretation of pathology information, including slides and data, in a digital environment.
Digital slides are created when glass slides are captured with a scanning device, to provide a high-resolution image that can be viewed on a computer screen or mobile device.
Currently, the market is focused on continuing to develop workflow efficiency, as well as provide tools for faster and more accurate diagnoses of diseases such as cancer.
The increasing prevalence of chronic diseases has been driving the market up until this point, with scientists under pressure to advance their understanding of the disease as well as offer medical professionals faster and cheaper diagnostic methods.
Additionally, as the average life expectancy continues to rise, so do the rates of certain illnesses in the older generation. Digital pathology is being used to improve the diagnosis of these illnesses.
How Is Digital Pathology Advancing?
Currently, there are a number of directions in which digital pathology is advancing. Two of the most promising directions are artificial intelligence (AI) and digital microarrays.
Digital microarrays enable pathologists to extract actionable information from some of the vast datasets that pathology is capable of generating. Digital microarrays systems allow the mining of digital archives of slides to generate image microarrays (IMAs).
These IMAs allow entire single digital slides to be converted into an array of many high-resolution images, potentially thousands, with each image in the array providing hugely important data.
Artificial intelligence is being used across a huge variety of sectors to improve data analysis. Within digital pathology, AI is being used to improve digital image analysis, especially of tissue samples.

Automating this process both removes the need for costly manual labor, allowing skilled scientists to be assigned to work AI cannot complete, and removes some instances of human error.
Studies have proven that AI is more effective at recognizing and analyzing pathological features in samples than previous methods have been.
Start Your New Career Today
At Northwest Career College, we pride ourselves on providing one of the premier Phlebotomy Schools in Las. Our established and seasoned instructors will take you through every aspect of Phlebotomy and Northwest offers day, afternoon, and night classes to accommodate your busy Las Vegas work and family schedule. Call us today at (702) 403-1592 to speak to one of our admissions specialists about your new Phlebotomy career.