How Does Tooth Whitening Work?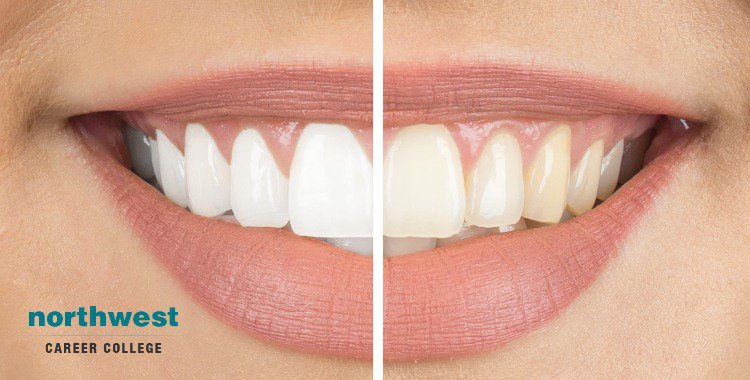 Tooth whitening has become one of the most commonly requested cosmetic dental procedures in the US and, in this article, we'll be looking at the different types of tooth whitening available on the market, how they work, and what the benefits and drawbacks of tooth whitening are.
How Does Tooth Whitening Work?
Most tooth whitening systems use peroxide-based bleaching agents to bleach your teeth white. Many over the counter bleaching kits have a lower concentration of peroxide, around 3% to 20%, while in-office bleaching uses solutions that are as strong as 15% to 43% peroxide.
Some tooth whitening kits use a peroxide-based bleaching agent in concert with UV light and other chemicals designed to open the pores of your enamel, allowing the bleaching agent to penetrate deeper into your teeth.
In-Office Tooth Whitening
The in-office tooth whitening systems used by your dentist or dental hygienist tend to be the fastest and most effective way to whiten your teeth. The bleaching agents used tend to be much more concentrated than those found in home-use kits and can result in fairly dramatic changes in shade over a short period of time.
However, in-office tooth whitening is also fairly expensive, so you can expect to pay around $500 to $1,000 per 2-hour appointment.
At-Home Teeth Bleaching Options
There are a number of at-home teeth bleaching options available on the market. Some of the most common methods are:
Tooth whitening strips and gels

– Generally containing a peroxide-based tooth bleaching agent, these stips or gels are applied directly to the teeth for around an hour and will require repeated daily applications for around 10 to 14 days.
Tray-based tooth bleaching systems

– Tray-based tooth bleaching systems use a similar bleaching agent as strips or gels, but it is applied using a mouth guard-like tray. They require a similar number of reapplications to most other strips and gels but can also be combined with a UV light emitter in the mouthguard for added effectiveness.
Tooth whitening toothpastes

– Most kinds of toothpaste help to whiten you teeth because they are mildly abrasive. Specific tooth whitening kinds of toothpaste often contain additional polishing agents or whitening chemicals to enhance this effect. They also tend to be the only non-peroxide-based tooth whitening systems.
Pro and Cons
While the benefits of a tooth whitening treatment are fairly obvious, they whiten your teeth, there are some drawbacks that it is important to be aware of.
Peroxide can dehydrate the enamel of your teeth making them more sensitive after application. Because most teeth whitening options also contain chemicals that open the pores in your enamel, drinking or eating acidic foods or drinks directly after using a tooth whitening product can increase enamel erosion.
Start Your Dental Administrative Assisting Career With Us
Employment for entry-level employment in the dental field is expected to increase 23% over the next 10 years, faster than average for all occupations, according to the Bureau of Labor Statistics. With this growing demand for DAA's, it is essential that graduates cultivate the skills and traits that will help them stand out in the employment market. 
Here at Northwest Career College, our Dental Administrative Assisting Program prepares students to work in any dental office. Our expansive, nine operatory lab provides students with real-life dental office experience. You will be trained to handle clerical duties such as scheduling appointments, handling insurance claims, and monitoring inventory. You will work with documents, forms, and computer systems. No other Dental Administrative Assistant Program in Las Vegas offers this type of advanced training.
Our student-focused approach will help you cultivate the skills you will need to stand out. Our experienced Career Services team will work with you to help you find the best dental administrative assistant employment opportunities in Las Vegas. Call one of our enrollment specialists at (702) 403-1592 to find out more.
Written by:
Cynthia Lofquist, R.D.A.
Dental Assisting Program Chair
Concorde Career Institute