Can you be a Paralegal Without a Law Degree?
August 16, 2023
357 views
6 min read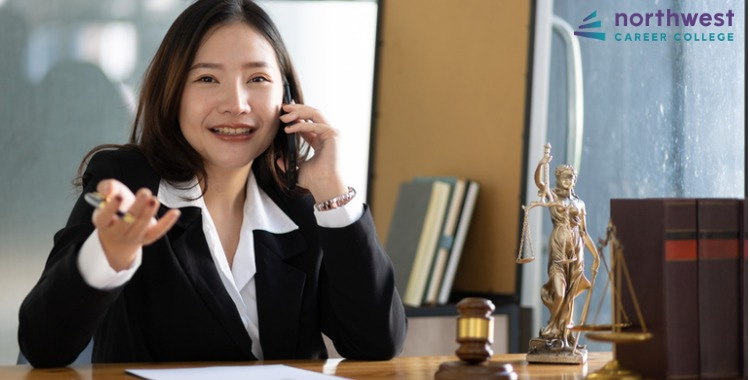 Are you interested in becoming a paralegal but don't have a law degree? This is an understandable concern as individuals usually assume that possessing a law qualification could be vital for success within this industry.
Fortunately, with the right outlook and knowledge base, it is possible to become a paralegal without completing an additional degree. Here at Northwest Career College, we provide specialized qualifications tailored to those wanting to undertake this profession.
Our complete guide will take you through the specifics of how individuals can become successful paralegals even if they have no prior academic history in this field – so keep reading and discover how embarking on our specifically designed course could launch your career goals!

Overview of Paralegal Profession and Requirements
A paralegal is vital to the legal industry, providing crucial support to attorneys and law firms. Paralegals work closely with lawyers, helping them to prepare for trials, draft legal documents, conduct research, and communicate with clients.
The requirements for becoming a paralegal vary depending on the state and the specific employer. Still, most paralegals have completed a formal paralegal education program or obtained a bachelor's degree in a related field. Additionally, many paralegal certification programs are available that can increase employment opportunities and earning potential.
If you have a passion for the law and a desire to work alongside attorneys in a fast-paced and rewarding environment, then the paralegal profession may be the perfect fit for you.

What Are the Benefits of Becoming a Paralegal Without a Law Degree
Becoming a paralegal without a law degree may seem like an uncommon career path. Still, it carries a number of benefits that may be appealing to those who do not want to pursue a traditional legal education.
One of the biggest advantages is the ability to work closely with law firms and attorneys while having a level of independence and autonomy in one's work. Additionally, paralegals often have a greater work-life balance than lawyers while enjoying competitive salaries and benefits.
If you are interested in the legal field but do not want to go through the rigorous process of obtaining a law degree, becoming a paralegal may be the perfect fit for you.

What Skills Do You Need to Become a Paralegal Without a Law Degree
Being a paralegal can be a highly rewarding career path for those who are passionate about the legal industry. If you don't have a law degree, don't worry! You still need to develop several skills to excel in this role.
First and foremost, strong communication skills are critical for effective interaction with clients, lawyers, and other team members. Being highly organized, detail-oriented, and able to multitask is also a must. You'll be responsible for keeping track of important documents, scheduling appointments, and managing multiple cases simultaneously.
Additionally, being proficient in legal research and writing is crucial as you'll be involved in drafting legal documents and researching case laws. While a law degree is not a requirement to become a paralegal, dedication, hard work, and a desire to learn are essential to succeeding in this dynamic field.

How to Start Your Career with Northwest Career College's Paralegal Qualification Program
Starting a career as a paralegal can be an exciting and promising endeavor, especially with the right qualification program. With Northwest Career College's Paralegal Qualification Program, you can acquire the necessary skills and knowledge to succeed in the legal field.
Our comprehensive program provides a well-rounded curriculum, including legal research and analysis, drafting legal documents, and communication skills. The experienced faculty members at Northwest Career College are dedicated to guiding you every step of the way, from developing your professional portfolio to preparing you for job interviews.
With a paralegal certification from Northwest Career College, you will be well-equipped to meet the demands of this rewarding profession. So, if you are eager to start your career as a paralegal, enroll in Northwest Career College's Paralegal Qualification Program today and take the first step towards your future success!

Examining Your Professional Options in the Field and Beyond
The world of work is constantly evolving, and new opportunities arise all the time, making it crucial to examine your professional options both within your field and beyond. Keeping an open mind and exploring new possibilities can sometimes lead to unexpected and fulfilling paths.
Whether it's taking on new projects or responsibilities within your current job, or considering a career change altogether, weighing the pros and cons of each option is important to achieving your goals.
It's never too late to reassess your ambitions and take meaningful steps toward achieving them. Embracing change and being proactive about your professional growth is key to finding success and happiness in your career.

Staying Up-to-Date With Trends in the Legal Field as a Paralegal Without a Law Degree
As a paralegal without a law degree, staying current with the latest trends in the legal field may seem challenging. However, being aware of new laws and regulations is crucial to provide valuable support to lawyers and law firms. The good news is that you don't need to enroll in law school to stay updated.
You can read legal publications, attend industry-specific events and seminars, network with legal professionals, and participate in webinars. It's important to be proactive in your learning and stay up-to-date on emerging trends, as it can boost your professional growth and development.
With determination and dedication, you can stay informed and well-equipped to handle your day-to-day tasks in the legal world.

Start Your New Career With a Paralegal Qualification from Northwest Career College
In conclusion, it is possible to successfully begin and maintain a career as a paralegal without a law degree. Becoming a paralegal without one can provide the potential for new professional opportunities with less financial investment.
When considering this route, however, you must consider the skills you will need, your professional options, and ways to stay up-to-date in the field. Northwest Career College can guide you in confidently launching your paralegal career.
Through our paralegal qualification program, we offer different areas of study that align with the necessary qualifications for beginning and maintaining your career as a paralegal without a law degree.
If you are ready to start your journey to becoming a successful paralegal, contact us today!



Join one of the best paralegal schools in Las Vegas today!
Here at Northwest Career College, we run the top paralegal program in Nevada, offering our students the vocational education, skills, and experience they need to successfully enter the field of paralegal work and position themselves to maximize their earnings.
Our Paralegal instructors are seasoned attorneys and highly trained professionals who can teach you the law and guide you through the many ways a paralegal integrates into a Las Vegas law practice.
We offer on-campus and online paralegal classes to accommodate your work and family schedule. Our Career Services team will work with you to help you find the best paralegal employment opportunity in Las Vegas.
Call us today at (702) 403-1592 to find out what our paralegal program can offer you.