What is the Highest Paying Pharmacy Technician Job?
August 17, 2023
397 views
7 min read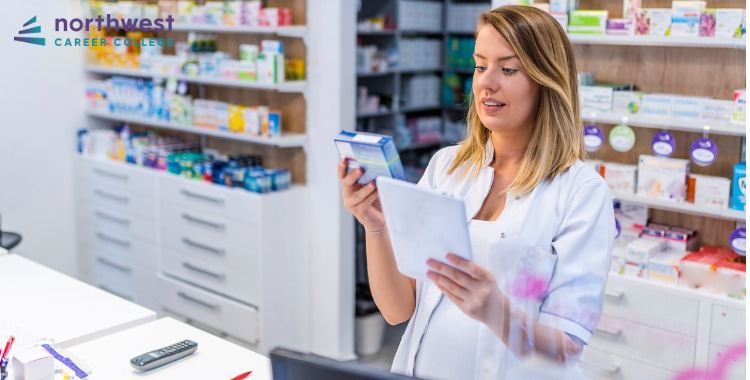 Are you looking for a job that pays well and offers career advancement opportunities? If so, becoming a pharmacy technician might be the perfect fit for you. Pharmacy technicians enjoy competitive salaries and plenty of chances to grow their careers, making this an attractive option for those interested in entering the healthcare field.
Though starting salaries may vary depending on your location, qualifications earned, and experience level, Northwest Career College is here to help ensure pharmacy technicians get off to the best start with the highest-paying jobs within their reach.
In this blog post, we will dive into what goes into finding and securing one of these valuable positions!

Overview of the Pharmacy Technician Job Position and its Duties
The role of a pharmacy technician is one that is crucial to the smooth running of a pharmacy. Pharmacy technicians assist pharmacists to dispense prescriptions, communicate with customers, and manage inventory.
They are responsible for delivering excellent customer service by answering inquiries, handling complaints, and resolving issues. They also maintain accurate records of medication and inventory, manage billing, and ensure the safety and accuracy of all prescriptions.
With the increased demand for healthcare services, the pharmacy technician job position is experiencing a growth trend. It provides a great entry point into the healthcare industry and offers opportunities to advance and specialize. This job requires attention to detail, strong communication skills, and an eagerness to provide quality customer service.
Those interested in a career as a pharmacy technician can expect to play an important role in supporting their community by helping people access the medications they need to live healthy lives.

Understand the Different Types of Pharmacy Technician Positions & Pay Ranges
The field of pharmacy can be a complex one, and understanding the different types of pharmacy technician positions can be a valuable tool for anyone interested in pursuing a job in this industry.
From retail pharmacy technicians to hospital pharmacy technicians, there are various roles that these healthcare professionals can fill. It is also important to understand the pay ranges associated with each position.
Knowing what to expect in terms of compensation can help individuals make an informed decision about which job is right for them.
Whether you are just starting out in your career or looking for a change, taking the time to learn about the different types of pharmacy technician positions and their pay ranges can be a beneficial step toward achieving your professional goals.

What are the Benefits of Pursuing a Career as a Pharmacy Technician
Pursuing a career as a pharmacy technician offers many benefits for those looking to enter the healthcare industry. One of the main benefits is the job stability and demand for this role, as pharmacies are essential to providing medication and managing patient health.
Additionally, pharmacy technicians often receive on-the-job training and have opportunities for career growth within the pharmacy industry. Furthermore, pharmacy technicians play a critical role in ensuring patient safety by accurately filling prescriptions and checking for potential drug interactions.
Overall, a career as a pharmacy technician combines the satisfaction of helping others with job security and opportunities for advancement.

How to Earn Your Qualification as a Pharmacy Technician at Northwest Career College
If you have a passion for healthcare and a love for helping people, becoming a pharmacy technician is an excellent career option. At Northwest Career College, we offer a comprehensive program to help you earn your qualification as a pharmacy technician.
Our program is designed to provide you with the knowledge and skills you need to excel in this exciting field. During our program, you will learn about drug classification, dosage calculations, pharmacy law and ethics, and pharmacology. You will also gain hands-on experience through our externship program, allowing you to put your new skills into practice.
At Northwest Career College, we are committed to helping you succeed in your career, and we are excited to help you achieve your goals as a pharmacy technician.

Exploring the Different Opportunities for Growing Your Career in Pharmacy Technology
Pharmacy technology is a constantly evolving industry, and there are numerous opportunities for professionals to advance their careers and specialize in specific areas. One option is to become a Pharmacy Technician Specialist, which requires additional training and allows for a higher salary.
Another opportunity is to focus on compounding, a specialized field that involves creating customized medications for individual patients. Other areas of growth could include management positions, research, and development, or even owning a pharmacy.
With the wide range of opportunities available, pharmacists and pharmacy technicians can find a rewarding career path that fits their strengths and interests.

Wrap-Up – Why Northwest Career College Is the Best Place to Earn Your Qualification
When it comes to selecting a school to gain your qualification, Northwest Career College should be at the top of your list. This college prides itself on its commitment to student success, offering hands-on training and flexible schedules.
With a range of programs, including medical assisting, dental assisting, and massage therapy, Northwest Career College provides students with the opportunity to pursue their passion and achieve their goals. The faculty and staff are dedicated to helping each student reach their full potential, providing personalized instruction and support every step of the way.
Plus, with a focus on career-ready skills and job placement assistance, graduating from Northwest Career College is an investment in your future that will pay off for years to come. Choose the best, choose Northwest Career College!

Earn Your Pharmacy Technician Qualification With NCC
All in all, the career of a pharmacy technician can be incredibly rewarding for those looking to make a difference and gain experience in the medical field. Working as a pharmacy technician you can join an industry that offers competitive salary rates and great benefits.
You don't need any prior qualifications or experience to begin your training either – here at Northwest Career College, we have an amazing program offering flexible study options so you can really work towards becoming an excellent pharmacy technician in no time at all.
With comprehensive training materials designed to keep up with the ever-changing dynamics of the pharmacy technology industry, you'll never be left behind in terms of your skills and expertise. Plus, once you receive your certification here, you'll be able to explore additional opportunities for growing your career within this exciting field.
So why not contact us today and take the first step on the path to success? Here at Northwest Career College, we give our students the tools they need to become successful Pharmacy Technicians – what are you waiting for?



Start your new career as a Pharmacy Technician now!
Northwest Career College is one of the premier pharmacy technician schools in Las Vegas. Our course provides our students with the skills and training they need to take advantage of the growing need for pharmacy technicians.
Our experienced instructors offer online and on-campus classes to accommodate your Las Vegas work and family schedule.
Once you've graduated, we will continue to support you, and the commitment of our Career Services Team has led to us having a 100% job placement rate for our pharmacy technician graduates. Call us today at (702) 403-1592 to speak to one of our enrollment specialists.