Become a Core Part of a Doctor's Office as a Dental Administrative Assistant
Dental Administrative Assistant
March 20, 2023
182 views
6 min read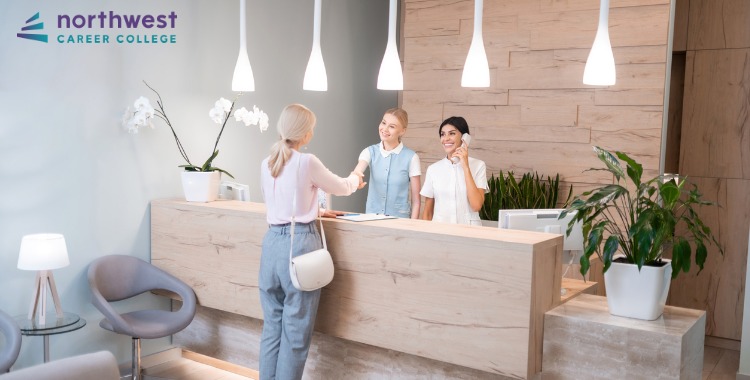 In order to have a successful career in the medical field, it is important to understand the different roles within a doctor's office. The Dental Administrative Assistant is a key player in maintaining the efficiency of the office.
As the first point of contact for patients, they are responsible for scheduling appointments and managing patient records. In addition, they often handle insurance claims and payments. If you are interested in a career that offers both administrative and clinical duties, then becoming a Dental Administrative Assistant may be the perfect fit for you!
And with flexible job options and good pay, it's no wonder this role is so popular. So if you're looking for a challenging and rewarding career in healthcare, read on to learn more about what dental administrative assistants do!

Dental administrative assistants are an important part of any doctor's office, handling everything from scheduling appointments to billing patients
Becoming a dental administrative assistant is an attractive career option for anyone looking to pursue a valuable and necessary job in healthcare.
In this role, you'll work closely with the dentist, staff, and patients while providing support and assistance with scheduling appointments, filing insurance claims, inputting patient records into the system, and aiding in office management.
As an important part of any doctor's office team, you'll be essential in promoting healthy dental practices and helping individuals achieve their desired level of wellness. Regular training will provide you with the tools and resources needed to remain up-to-date on current regulations within the industry, as well as give you insight into new procedures.
With a successful career as a dental administrative assistant, comes increased job satisfaction along with career advancement opportunities that can grow with the challenges of your professional landscape.

The job is perfect for people who are organized and good with customer service, as you'll be working closely with both patients and staff members
If you enjoy working in a patient-focused, fast-paced environment, then the position of Dental Administrative Assistant could be perfect for you. It is an incredibly rewarding role that involves using your organizational skills and customer service experience to ensure smooth interactions with clients.
You'll be responsible for reviewing patient records, responding to inquiries, scheduling appointments, providing payment options, and more – so it takes someone with an aptitude for multitasking to excel at this job.
However, the result is an opportunity to work closely with patients and staff members while building a strong career base in the dental industry.

Dental administrative assistants typically need to have at least a high school diploma, although some jobs may require additional training or certification
Working as a Dental Administrative Assistant can be an excellent way to begin a successful career in the healthcare field. In order to qualify for such a job, an individual must generally have at least a high school diploma, and some positions may also require additional training or certification.
The specific requirements of each position often depend on its location and other factors, making it important to research potential opportunities and ensure that you are thoroughly qualified before starting your search.
With Northwest's Dental Administrative Assistant certificate program, you can gain the skills and knowledge needed to become an effective dental administrative assistant.
The curriculum covers topics such as patient registration, insurance verification, appointment scheduling, and more. Upon completion of the program, graduates are prepared to perform essential tasks in various dental office settings.
The course also offers real-world experience through hands-on training in Northwest's state-of-the-art simulation lab. This lab provides students with the opportunity to practice their skills and understand how they will be used in a dental office environment.
Students also benefit from personal attention from experienced instructors who offer individualized guidance throughout the program.
After completing the Dental Administrative Assistant certificate program, graduates are able to identify and utilize dental office software, understand patient scheduling, insurance processing, chairside assisting, and front office operations.
Graduates also have the necessary skills to manage patient services, accounts receivable, and collections. Upon successful completion of their studies, graduates will be prepared for a career as a Dental Administrative Assistant in any setting.

The average salary for a dental administrative assistant is $35,000 per year, and the job outlook is positive, with an expected growth of 10% over the next ten years

For those looking to enter the field of dental administration, there's good news: the average salary for a Dental Administrative Assistant is competitive — approximately $35,000 per year. What's even better?

The job outlook is positive and expected to experience at least 10% growth over the next decade, making it a smart choice of career. With its great salary and positive job outlook, becoming a Dental Administrative Assistant is an attractive opportunity well worth searching into.

If you're looking for a stable career that offers good pay and benefits, becoming a dental administrative assistant is a great option to consider!
If you're looking for a job with secure stability and a solid salary, a career dental administrative assistant could be a perfect choice. These professionals provide essential support to dentists of all specialties and sizes, helping to ensure efficient office operations.
There's no better time than now to start down this career path; job security is high, wages are competitive, and benefits include health insurance, vacation days, and retirement plans. With loads of potential for growth and career satisfaction, becoming a dental administrative assistant may be the best decision you ever make!



Start your dental administrative assisting career with us!
Employment for entry-level employment in the dental field is expected to increase by 23% over the next 10 years, faster than average for all occupations, according to the Bureau of Labor Statistics.
With this growing demand for DAAs, it is essential that graduates cultivate the skills and traits that will help them stand out in the employment market.
Here at Northwest Career College, our Dental Administrative Assisting Program prepares students to work in any dental office. Our expansive, nine-operatory lab provides students with real-life dental office experience.
You will be trained to handle clerical duties such as scheduling appointments, handling insurance claims, and monitoring inventory. You will work with documents, forms, and computer systems. No other Dental Administrative Assistant Program in Las Vegas offers this type of advanced training.
Our vocational training-focused approach will help you cultivate the skills you will need to stand out. Our experienced Career Services team will work with you to help you find the best dental administrative assistant employment opportunities in Las Vegas. Call one of our enrollment specialists at (702) 403-1592 to find out more.