What Does A Dental Administrative Assistant Do?
Dental Administrative Assistant
September 24, 2021
749 views
4 min read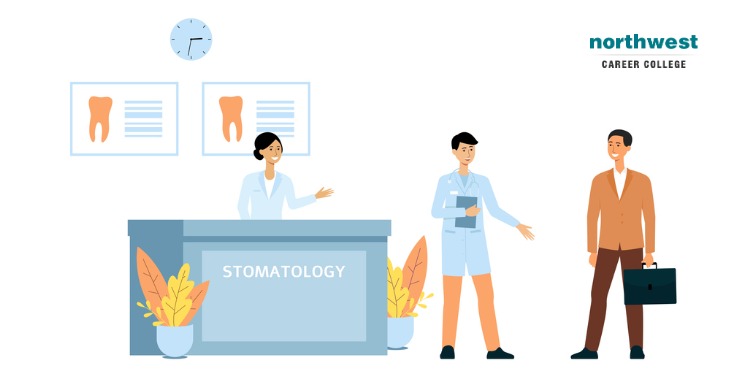 A Dental Administrative Assistant is a very important job in the dental field.
Dental Administrative Assistants are responsible for processing new patient information, scheduling appointments, following up with patients to confirm their appointment, and rescheduling them if necessary if they cannot keep an appointment, among other tasks that help manage a dental practice.
Dental Administrative Assistants can earn anywhere from $25,000-$45,000 per year depending on the level of education attained and how many years they've been working at it.
Dental Administrative Assisting is a career that has high growth potential; you'll never be short of work!
What Does a Dental Administrative Assistant Do?
The most common duties of a Dental Administrative Assistant include providing information to patients, preparing dental charts, scheduling appointments for the dentist and his or her staff.
Dental Administrative Assistant Responsibilities:
Provide patient information by recording specific details about their medical history in their record book

Prepare dental charts by creating an accurate visual representation of each tooth using x-rays

Schedule patient's appointments via phone call or online booking service when they are unable to keep scheduled times due to illness or injury

Communicate effectively with dentists

Make sure the correct information is collected for billing purposes

Provide help to patients as needed
Dental Administrative Assistant Earnings and Career Outlook
The average salary of a Dental Administrative Assistant is $37,000 per year.
The job outlook for this career is promising due to the aging population who need more frequent treatments which require scheduling multiple appointments in a short time span.
Why Is Dental Administrative Assisting a Good Career Choice?
This profession allows you to work with people on a daily basis while helping them improve their health through beneficial oral hygiene practices that can prevent future problems from occurring.
Benefits include paid vacation, sick leave, maternity leave, and other benefits that are offered by most employers.
Potential risk factors involve being exposed to minor cuts or injuries from sharp instruments used in dental procedures, although this is relatively unlikely.
How Do I Become a Dental Administrative Assistant?
The fastest way to become a Dental Administrative Assistant is through Northwest Career College's Dental Administrative Assistant program.
Program Highlights include:
– 100% Online Dental Administrative Assisting curriculum accredited by the American Dental Association (ADA)

– The ability to complete your coursework at an accelerated pace, with flexible online classes throughout the week and weekend hours available for students who may be working full time or have other obligations outside of school that would prevent them from following the traditional schedule.
-Access to a laptop for each student to allow them to study online without increasing their personal costs.
-Many graduates from Northwest Career College go on to work in dental offices locally or throughout Nevada.
They also find jobs with administrative duties at other healthcare facilities such as hospitals, medical clinics, walk-in clinics, etc., where their skills are valued just as much if not more than those who graduate from a traditional college setting.
Either way you look at it, learning how to become a Dental Administrative Assistant through an online trade school like Northwest Career College offers many benefits that cannot be found anywhere else.
Start Your Dental Administrative Assisting Career With Us
Employment for entry-level employment in the dental field is expected to increase 23% over the next 10 years, faster than average for all occupations, according to the Bureau of Labor Statistics.
With this growing demand for DAA's, it is essential that graduates cultivate the skills and traits that will help them stand out in the employment market.
Here at Northwest Career College, our Dental Administrative Assisting Program prepares students to work in any dental office. Our expansive, nine-operatory lab provides students with real-life dental office experience.
You will be trained to handle clerical duties such as scheduling appointments, handling insurance claims, and monitoring inventory. You will work with documents, forms, and computer systems. No other Dental Administrative Assistant Program in Las Vegas offers this type of advanced training.
Our student-focused approach will help you cultivate the skills you will need to stand out. Our experienced Career Services team will work with you to help you find the best dental administrative assistant employment opportunities in Las Vegas. Call one of our enrollment specialists at (702) 403-1592 to find out more.