A Phlebotomy Qualification: Your Fast Track Into A Medical Career
March 19, 2023
200 views
5 min read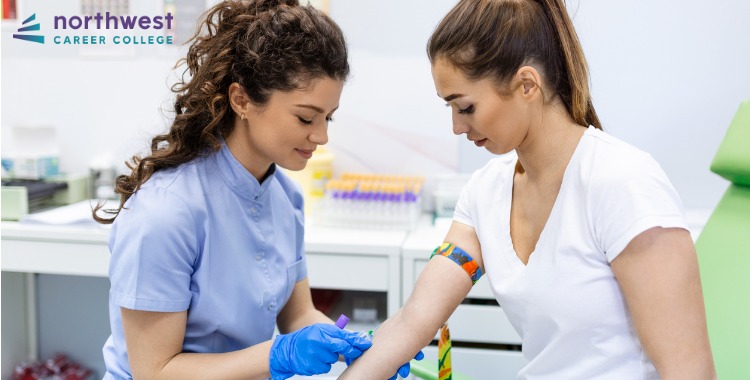 A phlebotomy qualification can be your fast track into a medical career. With the right qualifications, you can start working as a phlebotomist and quickly progress into other roles in the healthcare industry.
In this blog post, we'll tell you everything you need to know about getting started in this field.

A phlebotomy qualification is a perfect way to start your medical career
A phlebotomy qualification is an excellent and expeditious entry point into the medical field. With this certification, you will instantly be able to begin your career in medicine, as no prior experience is required for the job.
The qualification encompasses various technical skills such as patient positioning, vein selection, and proper blood collection techniques — all of which are essential assets for any aspiring doctor or nurse.
Having a phlebotomy license also demonstrates competency in an important and rapidly growing corner of the medical industry, providing you with a competitive advantage when it comes to finding work in the healthcare sector.
All in all, there's no better way to kick off your medical career than getting your hands on a phlebotomy qualification today!

Phlebotomy plays a vital role in the medical field
A phlebotomy qualification is a smart investment for anyone looking to enter the medical field. This vital role, which involves drawing blood from patients, requires ongoing training and specialization in order to be able to complete the task safely and effectively.
With healthcare needs regularly increasing globally, having a qualification that can provide secure employment in this type of field is a great advantage for anyone seeking to get ahead in their medical career.
Therefore taking steps to become qualified as a phlebotomist is an important decision that should be seriously considered.

With a phlebotomy qualification, you will be able to work in a hospital or clinic
A phlebotomy qualification is one of the quickest methods to access the medical field and make your mark in this growing industry. With such a certificate, you have the ability to look beyond just hospitals or clinics, as these qualifications can also open doors to other medical environments as well.
A phlebotomy certification will enable you to develop your skills and knowledge base in order to build a successful career in the medical field. As an added bonus, this qualification could eventually pave the way for more advanced roles within a hospital or clinic by covering different areas of expertise.
With Northwest Career College's Phlebotomy Program, you can learn the necessary skills and techniques to become a competent, certified phlebotomist.
Our curriculum covers a range of topics, including anatomy and physiology, clinical laboratory procedures, medical terminology, venipuncture technique training, safety protocols, blood collection practices, record keeping, and more.
We have an experienced team of instructors who are dedicated to helping you succeed in your studies and achieve your desired career goals.
The program also includes hands-on learning where students practice their craft on mannequins, learn proper techniques, and develop an understanding of the principles that guide a successful phlebotomy practice.
Our comprehensive approach to education ensures you will be well prepared to enter the workforce, whether you are new to the field or already have some experience.
And best of all, you can graduate, fully qualified, in as little as 3 months!


You can also use your phlebotomy qualification to further your studies and become a doctor or nurse
Pursuing a phlebotomy qualification is not just the fastest way into a medical career – you can also use it as a springboard to take your studies even further, and eventually become a registered doctor or nurse.
With in-depth knowledge and training in venipunctures and laboratory procedures, this qualification allows aspiring medical professionals to gain an extra advantage in their training.
Not only will the skills acquired give you an edge when applying for higher courses, but the specialized knowledge gained can put you leaps ahead in the journey to becoming a qualified medical practitioner. So don't hesitate: to start your phlebotomy training now and see where it leads you!

So if you're looking for a fast track into the medical field, consider getting a phlebotomy qualification!
Whether you're looking for a career change or have just left school, the medical field can be daunting. However, acquiring a phlebotomy qualification is the quickest and easiest way to get your foot in the door.
The increasing demand for skilled nurses with certified qualifications means that this specialized role has become increasingly important, meaning that those with such qualifications are in high demand!
So if you're looking to make a move into the medical industry, consider getting a phlebotomy qualification. There's no better way to start off your medical career on the right track!



Start your new career today
At Northwest Career College, we pride ourselves on providing one of the premier Phlebotomy Schools in Las Vegas.
Our established and seasoned instructors will take you through every aspect of Phlebotomy, and Northwest offers day, afternoon, and night classes to accommodate your busy Las Vegas work and family schedule.
Call us today at (702) 403-1592 to speak to one of our admissions specialists about your new Phlebotomy career.