A Guide To Turning Your Innate Skills Into A Career As A Dental Administrative Assistant
Dental Administrative Assistant
March 22, 2022
171 views
5 min read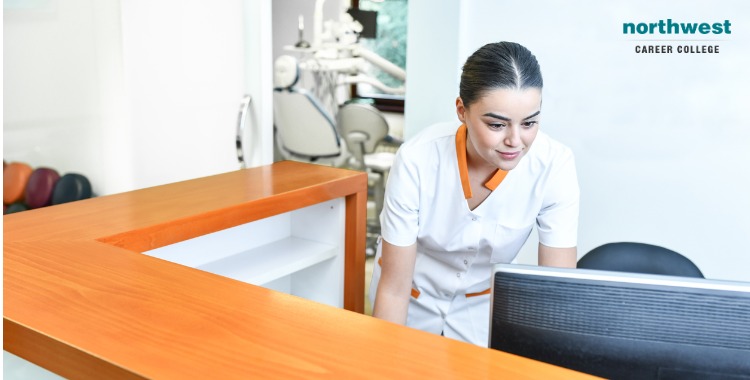 If you're looking for a career that will allow you to use your innate administrative skills, look no further than dental assisting! This exciting field offers opportunities for career growth and job satisfaction. In this guide, we will discuss the steps necessary to turn your passion into a successful career as a dental administrative assistant!
Know More: Why A Dental Administrative Assistant Career Might Be Perfect For You
What Skills Are Required To Become A Dental Administrative Assistant?
The most important skill for a dental administrative assistant is the ability to multitask. Dental assistants must be able to handle multiple tasks at one time, such as answering phones, scheduling appointments, and filing paperwork. They must also be detail-oriented and organized in order to keep the dentist's office running smoothly.
In addition to these essential skills, dental administrative assistants must also have strong customer service skills. They will be the first point of contact for patients visiting the dentist's office, so it is important that they are friendly and helpful. They should also be able to handle difficult situations with grace and professionalism.
The good news is that most people have the beginning of this kind of skill set. With the right training, anyone can become a dental administrative assistant. There are many community colleges and online programs that offer courses in this field. And most importantly, you do not need a degree to get started in this career.
Guide To Turning Your Innate Skills Into A Career As A Dental Administrative Assistant
Finding the right training
If you possess these skills and are interested in a career in dental assisting, the next step is to research training programs
First, you'll need to obtain the appropriate education and training. There are many schools that offer dental assistant programs, so be sure to do your research and find one that fits your needs. These programs will provide you with the skills necessary to work in a dental office setting.
Here at NCC, our dental administrative assistant course is a great option for those looking to start a career in this field. The course provides students with the knowledge and skills they need to succeed as dental administrative assistants. And, since there are no prerequisites required, it's a great choice for those who want to get started quickly.
Looking for jobs
Once you have completed your education, it's time to start looking for jobs! Start by networking with people in the dental industry and visiting job boards online. There are many great opportunities available for those who are willing to put in the effort.
The dental sector is expanding rapidly, so there is plenty of room for growth in this field. If you are willing to work hard and stay up-to-date on the latest trends and technologies, you can have a successful career as a dental administrative assistant.
Continue learning
Finally, be sure to keep up with current trends in dentistry and stay on top of your game! This is an ever-changing field, so it's important to keep up with new developments. The best way to do this is to join a professional organization, such as the American Dental Association or the National Dental Association.

Attending conferences and continuing education courses will also help you stay ahead of the curve. By staying current on new trends, you'll be able to provide the best possible care for your patients and keep your practice running smoothly.
An exciting and dynamic new career
So what are you waiting for? Start your journey today! And be sure to check out our Dental Administrative Assistant course – it's one of the best options available for those looking to start a career in this field.
Start your Dental Administrative Assisting career with us!
Employment for entry-level employment in the dental field is expected to increase 23% over the next 10 years, faster than average for all occupations, according to the Bureau of Labor Statistics.
With this growing demand for DAA's, it is essential that graduates cultivate the skills and traits that will help them stand out in the employment market.
Here at Northwest Career College, our Dental Administrative Assisting Program prepares students to work in any dental office. Our expansive, nine-operatory lab provides students with real-life dental office experience.
You will be trained to handle clerical duties such as scheduling appointments, handling insurance claims, and monitoring inventory. You will work with documents, forms, and computer systems. No other Dental Administrative Assistant Program in Las Vegas offers this type of advanced training.
Our student-focused approach will help you cultivate the skills you will need to stand out. Our experienced Career Services team will work with you to help you find the best dental administrative assistant employment opportunities in Las Vegas. Call one of our enrollment specialists at (702) 403-1592 to find out more.