5 Areas of Law You'll Cover as a Legal Assistant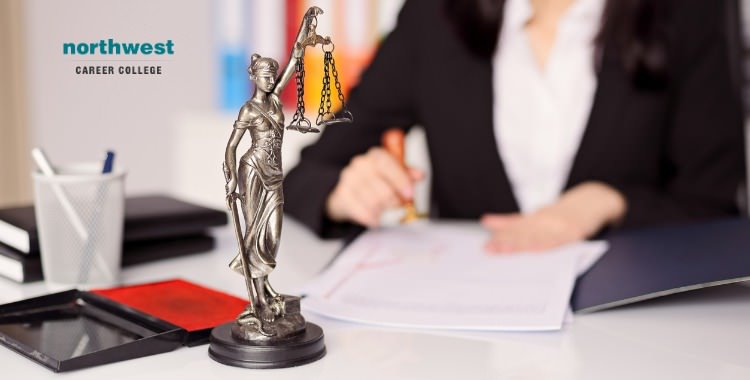 Becoming a legal assistant means becoming a key part of a normally fast-paced legal practice and having to multitask, dividing your attention between multiple important and diverse tasks. 
As a legal assistant, your understanding of the law and the lawyer's needs are critical. That's why, at Northwest Career College, your Legal Assistant School Instructors are comprised of experienced legal professionals including attorneys, paralegals, and seasoned specialists. 
Our instructors are able not only to teach you the law but also to guide you as to the many ways a legal assistant integrates into a Las Vegas law practice.
Although you won't be practicing law, part of becoming a legal assistant is having a good grasp of the law and legal procedure. So, if you are considering an exciting career as a legal assistant, here are five areas of law you can expect to cover.
1. Criminal Law and Procedure
Criminal law is defined as "the body of law that relates specifically to crime". Studying criminal law means our students will learn all about the types of crimes they may encounter in their work as a legal assistant.
As part of studying Criminal Law and Procedure, you can expect to learn about the varying classifications of crimes, different theories of punishment and the range of rules, procedures within the pretrial process the different stages of the criminal process, and the factors that go into criminal sentencing.
2. Legal Ethics
Part of being a legal assistant is occasionally encountering ethical issues that may arise within the practice of law. Being able to deal with those ethical issues requires an understanding of the ethical codes that apply to attorneys, legal assistant and paralegals.
When studying legal ethics, you can expect to cover areas such as the Unlicensed Practice of Law (UPL), confidentiality, privilege, conflicts of interest and unprofessional conduct. 
3. Law Office Management
One of the factors that make legal assistant such a vital part of a law practice is their ability to correctly and efficiently manage everything from file management and law office billing to professional communication and software commonly used in the legal environment.
An in-depth understanding of Law Office Management allows the attorneys to concentrate on their responsibilities, safe in the knowledge that you have the skills to efficiently run the law office without their input.
4. Civil Litigation
As opposed to criminal law, which refers to the proceedings related specifically to the commission of a crime, civil litigation describes the legal process as it's applied to noncriminal matters.
Learning about civil litigation means covering the process of resolving a legal dispute between two or more parties, such as family law disputes, court custody cases, child support payments, breaches of contract, and disputes between a landlord and tenants, for example.
5. Corporate Law
Corporate Law is a rapidly expanding field of employment for legal assistants and is part of why the Bureau of Labor Statistics expects a projected 15 percent increase in paralegal jobs by 2026.
Subjects you can expect to cover under the banner of Corporate Law include employment law, contract disputes, product liability, intellectual property management, the ethical dilemmas faced by businesses, the responsibility a business has to its customers and a business's responsibility for the actions of its employees and agents. 
Qualifying For Your Future
Gaining a qualification from our Criminal Justice School puts you in an excellent position to access a variety of employment opportunities as you look for one that suits your skills and interests. At Northwest Career College, our Criminal Justice instructors include licensed, practicing attorneys and degree instructors able to teach, not only the law but also to guide our students in the many ways a criminal justice graduate integrates into a Las Vegas legal profession.
As part of our Criminal Justice Program, you'll visit courts, jails, meditation centers and more to experience first-hand the law in action which will make your criminal justice training applicable to the Las Vegas legal system. Northwest offers a flexible blended program with all criminal justice classes Las Vegas law classes taught on campus by an attorney and general education courses offered online. Our experienced instructors are on-campus to review and support your learning experience at all times. 
Call us at (702) 403-1592 to speak to one of our enrollment team about joining our Criminal Justice Program today!
Written by:
Lisa Myers, J.D., L.L.M.
Legal Studies Department Director
J.D. L.L.M. Campbell Univer