How Do I Become A Paralegal Without A Law Degree?
January 18, 2023
710 views
6 min read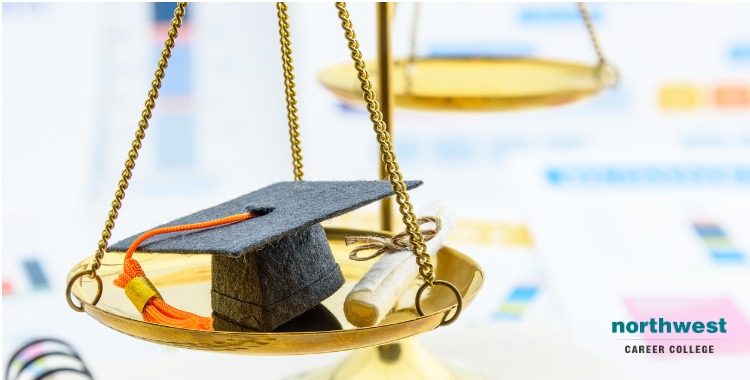 You might be surprised to learn that you don't need a law degree to become a paralegal. While having a legal education can certainly be helpful, it's not required. There are many ways to enter the field of paralegal work, and in this blog post, we'll explore some of the options available.
Whether you're just starting out or have been working in the legal field for years, there's a path for you to become a paralegal. So read on to learn more about how to make this career transition without going back to school for a law degree.
Decide if being a paralegal is the right career for you
Becoming a paralegal is an excellent choice for those searching for a fulfilling career. It requires strong organizational skills, good communication abilities, and the knowledge of legal terminology, but these qualities are often learnable through education or even self-taught.
Though the work comes with stresses that generally come from most professional environments, it can also be incredibly rewarding to help keep people out of trouble and protect their rights.
If you have the dedication to stay informed about relevant portions of the law, being a paralegal can be an attractive option for those seeking gainful employment involved in a noble profession.
Research what education and training are required
Analyzing what paralegal education and training are required to enter the field involves comprehensive research.
They must typically have an associate's degree at minimum, and reputable paralegal associations may require much more such as a bachelor's degree or paralegal certificate from an accredited community college.
Depending on the states where paralegals would like to practice, there may also be other certifications that paralegals need in order to register for legal practice.
Paralegals should consider their professional goals when researching educational requirements, as well as any specializations within the paralegal profession they are interested in pursuing.
Consider whether you want to specialize in a certain area of law
Specializing in a certain area of law can be a rewarding experience. It can give you an edge as a paralegal and enable you to offer expertise in topics within your chosen field. Studying in-depth and honing assistive skills enables paralegals to offer unique perspectives when working with clients or partners and build long-term relationships based on trust.
That said, it's important to remember that paralegals are not attorneys and must meet the requisite licensing practices wherever they are employed.
Additionally, it is always beneficial for paralegals to maintain an understanding of the overarching legal system in their area of specialty, as federal laws may supersede local laws, and individual understanding can be invaluable when managing complex tasks.
Find out about job prospects and salary expectations
Researching paralegal job prospects and salary expectations is an important step in the paralegal profession. Knowing what to expect helps individuals make informed decisions when it comes to the paralegal industry. Paralegals can find many different job openings in areas such as corporate law, criminal law, trusts and estates, family law, and more.
Salaries for paralegals are often based on degree level, experience, and geographic location. Generally speaking, paralegals starting out should plan for a salary of around $45,000 annually, with the potential of earning up to $75,000 at more advanced positions.
It's vital to investigate the job market in your area thoroughly before beginning a paralegal career so that you have an understanding of the current paralegal employment opportunities and salary expectations.
Start your paralegal career by finding the right position for you
Finding the right paralegal position for you is the first step to starting your paralegal career. From a large law firm to a small solo practice, paralegals play an important role in every kind of legal setting.
When you're deciding where to start your paralegal path, take time to consider the type of atmosphere and workload that will be most beneficial for you. Each paralegal job brings with it different challenges and opportunities – choose one that resonates best with your current skill set, interests, and professional ambitions.
Additionally, it may be worth looking into paralegals who are on social media networks or professional organizations – they can offer helpful advice and insights into their respective fields. As you embark on this journey, remember to research your options carefully so that you can make the best decision for your paralegal career.
Start your journey to becoming a paralegal today
So, you want to be a paralegal? Before you commit to this career, it is important to do your research and make sure that being a paralegal is the right fit for you. Once you have decided that being a paralegal is what you want to do, consider what education and training are required.
You will also want to think about whether or not you want to specialize in a certain area of law. Job prospects and salary expectations are two other factors that you should take into account before making the decision to become a paralegal.
If, after considering all of these factors, you decide that becoming a paralegal is the right choice for you, the next step is finding the right position. Northwest Career College can help with that – contact us today to talk about our Paralegal Program!

Join one of the best paralegal schools in Las Vegas today!
Here at Northwest Career College, we run the top paralegal program in Nevada, offering our students the skills and experience they need to successfully enter the field of paralegal work and position themselves to maximize their earnings.
Our Paralegal instructors are seasoned attorneys and highly trained professionals who are able not only to teach you the law but also to guide you through the many ways a paralegal integrates into a Las Vegas law practice.
We offer on-campus and online paralegal classes to accommodate your work and family schedule. Our Career Services team will work with you to help you find the best paralegal employment opportunity in Las Vegas.
Call us today at (702) 403-1592 to find out what our paralegal program can offer you.