Are Dental Assistants and Dental Hygienists the Same Thing?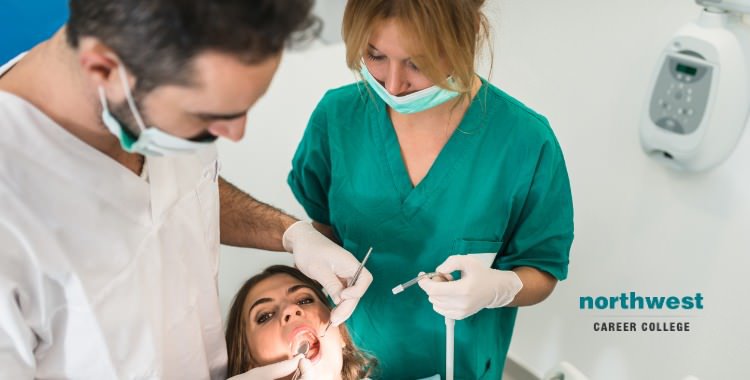 It is fairly common for people to mistake dental hygienists for dental assistants and use these two terms interchangeably. However, the role of the dental hygienist is sharply different from that of a dental assistant and they both play different roles within any dental care team.
If you are thinking of taking up a new career, or studying for a qualification, in the dental assisting field, and are confused about what the differences are between these two, here is our short guide to the roles of the dental assistant and the dental hygienist. 
What Does a Dental Hygienist Do?
The role of a dental hygienist is to specialize in the examination and cleaning of the patient's teeth and gums. They then report the results of their examinations to the dentist, who might choose to further action based on the dental hygienist's advice. Dental hygienists also educate patients on the best way to keep their teeth and gums healthy and what actions they can take to prevent cavities and tooth decay.
What Does a Dental Assistant Do?
A dental assistant's responsibilities are concerned with getting the equipment, instruments and the patient ready for the dentist. 
In addition to preparing the patient and equipment for treatment, a dental assistant may also apply a topical anesthetic, process X-rays and insert or remove materials or equipment from the patient's mouth as directed by the dentist. 
Dental assistants may also help dentists during procedures or dental surgery, by applying suction or handing over the instruments rinse.
What Are the Duties of a Dental Assistant?
Dental assistants are primarily responsible for the office and laboratory in a dentist's clinic. A dental assistant may also provide some patient care, but exactly what procedures they are allowed to perform depends on the dentist, their qualifications, and the state in which they practice. 
In certain states and practices, a dental assistant's role may be limited to preparing patients and making sure they are comfortable and informed about the procedure. Or, their responsibilities could stretch to the application of fluoride and sealants to teeth, taking X-Rays and removing plaque.
Some of the traditional duties of a dental assistant include:
Scheduling and following up with patients
Organising and maintaining lab equipment
Preparing patients for oral examination
Assisting dentists and hygienists in providing treatment
Properly taking, developing and mounting all radiographs
Recording patients' dental and medical histories and vital signs
Providing oral hygiene instructions to the patient.
Dental Assistant Job Outlook
Employment for dental assistants is expected to grow 19 percent from 2016 to 2026, according to the United States Department of Labor, Bureau of Labor Statistics, at a rate much faster than the average for all occupations.
Salary expectations for are also good, with a dental assistant earning $38,660 a year, on average, and more than half of working dental assistants earning up to $54,800.
Join One Of The Best Dental Assistant Training Schools In Las Vegas 
Here at Northwest Career College we firmly believe that learning is a process that continues on the job. Our Dental Assistant Training Course gives you all the key skills and experience you'll need to find the best dental assisting employment opportunity in Las Vegas. Our Dental Assistant School offers morning, afternoon and night classes to accommodate your busy work and family schedule and our established, seasoned instructors have helped our students achieve a 91% national exam pass rate. Call us at (702) 403-1592 to speak to one of our admissions assistants about your new dental assisting career.
Written by:
Cynthia Lofquist, R.D.A.
Dental Assisting Program Chair
Concorde Career Institute