Which Degree Do I Need to Be a Dental Hygienist?
December 11, 2021
611 views
3 min read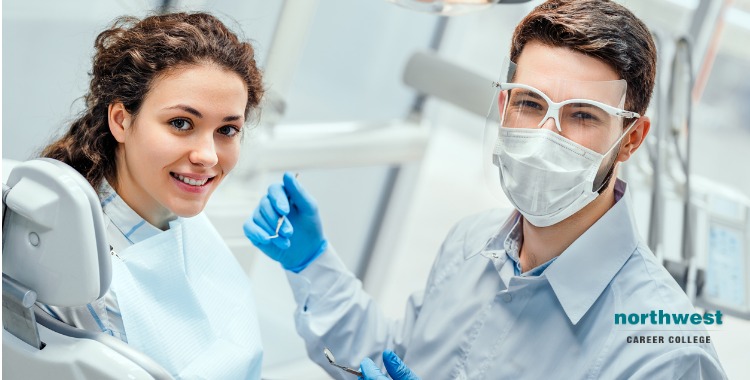 What degree do you need to be a dental hygienist? Some people think that all they need is a high school diploma, but what about those who want to be competitive in the job market and make more money.
In order to get an edge on other candidates for dental hygiene jobs, one has to earn a credential from an accredited program.
There are many options available today such as earning an associate's or bachelor's degree in dental hygiene or going through a community college program.
In this article, we'll be looking at what degree do you need to be a dental hygienist and where to get it.
Read More: Dental Assistants vs. Dental Hygienists
Which Degree Do I need to Be a Dental Hygienist?
What is a dental hygenist?
Dental hygienists provide tooth-cleaning and other oral care for patients in a dentist's office or clinic. They also educate people about what they can do to maintain good dental health.
Dental hygienists are an important part of the team when it comes to patient care because their experience with teeth, gums, and jaw structures make them ideal at assessing what is going on in someone's mouth before a diagnosis from a doctor occurs.
They're responsible for cleaning up tools that have been used during procedures as well as sterilizing equipment between each use through proper disinfection methods such as heat or chemical exposure after use has been completed.
What qualifications does a dental hygienist need?
To become a dental hygenist, you need to have an associate's degree or a certificate in dental hygiene.
A bachelor's degree isn't required for this career, which makes it attractive for people who want a career without spending four years in school.
The reason that more and more employers are looking for dental hygenist applicants with an associate's degree rather than a certificate is because of the higher level of training and experience available to those with an associate's degree.
Where can I study for my dental hygienist qualification?
An Associate's Degree in Dental Hygiene or Completion of an Accredited Post-Secondary Schooling Program (ASDH) can be obtained at many community colleges, universities, and medical schools across the country.

Here at Northwest Community College, we offer a comprehensive associate degree program in Dental Hygiene as part of our Dental Assisting Program.
How much do dental hygienists earn?
According to PayScale, salaries range from $38K-$68K annually, although this can be impacted by factors such as years of experience, education level, and geographic location.
Do skills do I need?
To become a dental hygienist, candidates must have excellent manual dexterity in their hands with the ability to use fine instruments delicately while being able to apply significant pressure when needed (for example during scaling or root planing).
They also need good eyesight for reading x-rays, clear speaking voices that are easily understood by patients, and strong interpersonal skills in order to build rapport quickly with clients.
Join One Of The Best Dental Assistant Training Schools In Vegas
Here at Northwest Career College, we firmly believe that learning is a process that continues on the job. Our Dental Assistant Training Course gives you all the critical skills and experience you'll need to find the best dental assisting employment opportunity in Las Vegas.
Our Dental Assistant School offers morning, afternoon, and night classes to accommodate your busy work and family schedule.
Our established seasoned instructors have helped our students achieve a 91% national exam pass rate. Call us at (702) 403-1592 to speak to one of our admissions assistants about your new dental assisting career.