What is the Job of a Business Administrator?
August 24, 2023
363 views
5 min read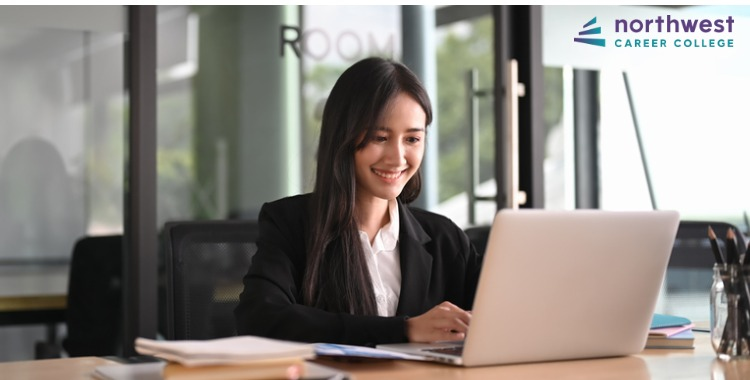 Are you looking to advance your career by becoming a business administrator? The Northwest Career College is the best way for you to get started! 
Business administration is an essential component of any successful organization, and with NCC's qualification program, you can learn all about management roles, team dynamics, financial decision-making skills, and more.
You'll gain a comprehensive understanding of the job requirements and what it takes to be successful in this field today.
Read on to learn more about business administrator duties and why enrolling at Northwest Career College sets you up for success!

What is a Business Administrator and What are Their Main Roles
A business administrator is the backbone of any organization, responsible for ensuring smooth and efficient operations in every department. They are the jack-of-all-trades, donning multiple hats throughout their day-to-day work.
These professionals are on the front lines of communication, liaising between employees, clients, and executives. They handle a range of tasks, from financial management to HR duties, ensuring the business runs like a well-oiled machine. Day-to-day, they may oversee budgeting, facilitate meetings, and develop strategies.
The role of a business administrator is challenging but incredibly rewarding, thanks to its impact on an organization's success. They are vital cogs in a well-oiled machine, and many companies could not function without them.

The Different Types of Business Administration Qualifications
For those interested in pursuing a career in business administration, there are a variety of qualifications to consider. These qualifications range from certificates and diplomas to bachelor's and master's degrees.
Each qualification offers a different level of education and depth of knowledge in the field of business administration. Some programs may focus on specific areas of business administration, such as entrepreneurship or human resources, while others offer a more general curriculum.
Whatever your career goals may be, there is a business administration qualification that can help you reach them. With so many options, it's important to research and find the program that best fits your needs and aspirations.

Why Should You Consider Earning a Qualification from Northwest Career College
If you're looking to enter the workforce or switch career paths, a qualification from Northwest Career College could be just what you need to succeed. The college offers a wide variety of programs that are designed to prepare students for in-demand careers.
Whether you're interested in healthcare, business, or the legal field, Northwest Career College has a program that will help you achieve your goals. Not only will you receive hands-on training from experienced instructors, but you'll also have access to career services that will help you find a job after you graduate.
Plus, the college offers flexible class schedules and online courses so that you can earn your qualification on your own terms. Don't wait any longer to start your journey towards a rewarding career – consider earning a qualification from Northwest Career College today.

Benefits of Becoming a Business Administration Professional
A career in business administration offers a diverse range of benefits that make it an attractive choice for individuals seeking to establish themselves in a growing field.
The role of a business administration professional encompasses a wide range of responsibilities, from managing financial operations to overseeing human resources, all of which are essential components for successful companies.
By attaining a degree and becoming skilled in business administration, individuals open themselves up to a plethora of employment opportunities and career growth potential.
In addition to career advancement, business administration professionals can also enjoy competitive salaries and benefits packages, making it a financially rewarding profession.
The field of business administration continues to evolve and expand, offering plenty of opportunities for those seeking a challenging and fulfilling career.

Hiring Opportunities for Business Administrators
In today's competitive job market, business administrators are in high demand. With their specialized skills and knowledge, they are essential to the success of any organization.
Whether it is managing finances, overseeing operations, or providing leadership to employees, business administrators play a crucial role in keeping a company running smoothly. Fortunately, numerous hiring opportunities are available for those with a degree in business administration.
From small firms to large corporations, businesses of all sizes require the expertise of skilled administrators. So whether you are just starting out in your career or looking to make a change, the options are endless for those with a background in this field.

Start Your New Career In Business Administration With Northwest Career College
It is clear that a business administration education is invaluable in terms of your personal growth and gainful career opportunities. There are many different types of business administration qualifications to consider, and the requirements vary depending on the employer.
Northwest Career College offers an exemplary program that will equip you with the knowledge and skills necessary to become a successful business administrator. With our instructor-led courses, hands-on coaching, job fairs, and career counseling services available, Northwest's curriculum is the perfect way to launch your career in business administration.
Whether it's launching your own business or seeking career advancement in your current occupation, by undertaking a course at Northwest Career College, you are taking a positive step toward achieving your goals.
So what are you waiting for?
Contact Northwest about our Business Administration Program today to get started on this incredible journey!



Join NCC to learn Business Administration today!
Here at NCC, we offer a range of Business Administration courses, both online and on-campus. 
Our teaching style is interactive and engaging, focusing on practical skills that will help you in your career. You'll have access to our online resources on 24/11, including textbooks, lecture notes, and tutorials.
So what are you waiting for? Call us today at (702) 403-1592 to speak to one of our admissions specialists about your new Business Administration career.