How do I Become a Healthcare Administrator?
Healthcare Administration
August 26, 2023
229 views
6 min read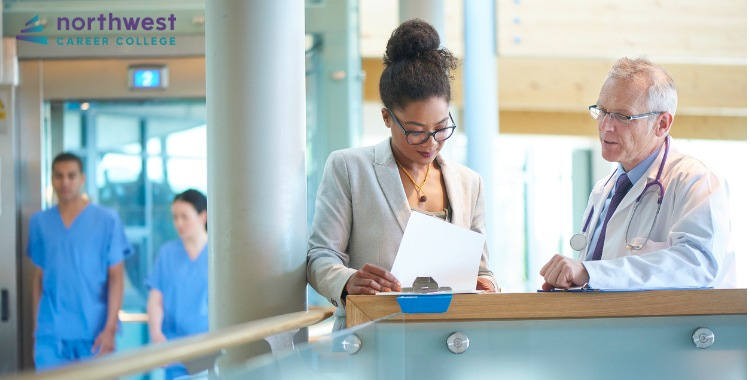 Are you interested in a career in healthcare administration? It's an exciting and rewarding field that is rapidly expanding with new job opportunities.
Becoming a healthcare administrator requires education, experience, and dedication to the profession.
But don't worry! If you're looking for the best place to start your journey, there's no need to look any further than Northwest Career College (NWCC).
Our experienced faculty is committed to providing students with the necessary knowledge and skills while helping them realize their potential as healthcare administrators.
We offer top-notch educational programs designed specifically for individuals seeking professional credentials in healthcare. Read on to learn more about what NWCC offers and how our structured programs can help you become a successful healthcare administrator!

Overview of the Healthcare Administration Field and What It Entails
Healthcare administration is a vital and fascinating field that focuses on the efficient and effective management of healthcare facilities. This field includes a broad range of responsibilities, from ensuring proper patient care to overseeing a healthcare facility's financial and operational aspects.
Healthcare administrators collaborate with physicians, nurses, and other healthcare professionals to ensure that patients receive top-quality care in a safe and nurturing environment.
They also play a crucial role in addressing healthcare policy, regulations, and legislative concerns.
Suppose you are interested in pursuing a career in healthcare administration. In that case, you will have the opportunity to positively impact the healthcare industry and help improve the lives of countless patients.

Qualifications Needed to Become a Healthcare Administrator
Healthcare administrators play a crucial role in the delivery of quality healthcare services. They are responsible for managing healthcare facilities, supervising staff, and ensuring that the facility runs smoothly.
To become a healthcare administrator, the best place to start is a qualification in healthcare administration or a related field. In addition, individuals must have a solid understanding of healthcare policies, management principles, and financial management.
Strong communication and leadership skills are also essential. Healthcare administrators must be able to effectively communicate with staff, patients, and other stakeholders. Lastly, a solid foundation in healthcare laws and regulations is necessary to ensure compliance with legal requirements.
These qualifications are critical to success in this challenging and rewarding field.

Exploring Different Career Paths within Healthcare Administration
Healthcare administration is a diverse field with a range of career paths that can be explored. From managing finances to coordinating patient care, healthcare administrators are critical in ensuring that hospitals and healthcare facilities run smoothly and efficiently.
One career path within healthcare administration is healthcare informatics. Professionals in this field work with electronic health records and data analysis to improve patient outcomes and streamline healthcare processes.
Another career path is healthcare policy and advocacy, where individuals work with government and regulatory bodies to develop and implement policies that improve healthcare access and affordability.
Whatever your interests and strengths may be, there is a healthcare administration career path that can match your goals and passions.

The Benefits of Pursuing Your Healthcare Administration Goals at Northwest Career College
Pursuing a career in healthcare administration is a wise choice, as this field is projected to grow significantly in the coming years. Choosing the right educational institution is critical if you're considering a career in this field.
Northwest Career College offers a comprehensive Healthcare Administration program that prepares you for success in this rewarding field. Our program is designed to equip you with the skills and knowledge you need to thrive as a healthcare administrator, including strategic planning, financial management, leadership, and communication.
With the guidance of experienced instructors and hands-on training with state-of-the-art equipment, you'll be well-prepared to enter the workforce upon graduation.
Join us at Northwest Career College and take the first step toward a bright future in healthcare administration!

How Obtaining a Healthcare Administration Qualification Can Transform Your Life
Obtaining a healthcare administration qualification can be life-changing. It provides you with the knowledge and skills to manage healthcare systems and opens up a world of opportunities that were previously out of reach.
With the healthcare industry continuously growing and evolving, there is an increasing demand for qualified administrators who can run healthcare organizations effectively and efficiently.
This qualification can significantly impact your professional life, helping you advance your career and take on higher-level roles with more responsibilities.
In addition, it can provide you with a sense of personal fulfillment as you work to improve the quality of healthcare services for patients and support medical professionals on a daily basis.
Whether you're just starting your career or seeking a change, obtaining a healthcare administration qualification can transform your life.

Your Key to a New Career in Healthcare
In conclusion, the world of Healthcare Administration offers exciting and flexible career opportunities across many different disciplines. Those who are serious about pursuing a career in this field should consider obtaining their qualification from Northwest Career College.
Achieving your qualifications from NCC would open you up to unparalleled flexibility, growth, and securing an established path to success in healthcare administration. With our cutting-edge curriculum backed by decades of experience in professional training, NCC is the perfect fit for anyone seeking a promising and prosperous future in healthcare administration. 
So don't wait another day – take the first step toward reaching your dream by contacting us now about our Healthcare Administration Program!



Start your new Health Administration career here at NCC
At NCC, we offer an Associate's Degree in Health Administration, which can be completed in as little as one year. The course focuses on the practical side of health administration and prepares you for your future career within this field.
Our Health Administration instructors have experienced professionals who work in the field and bring their industry experience into the classroom.
Our goal is to provide you with a broad knowledge of health administration that can be applied immediately upon graduation or later as your career progresses.
To start your new rewarding career in health administration, call us today at (702) 403-1592.