What is the Career Path of an Administrative Assistant?
Business Administrative Assistant
August 22, 2023
241 views
6 min read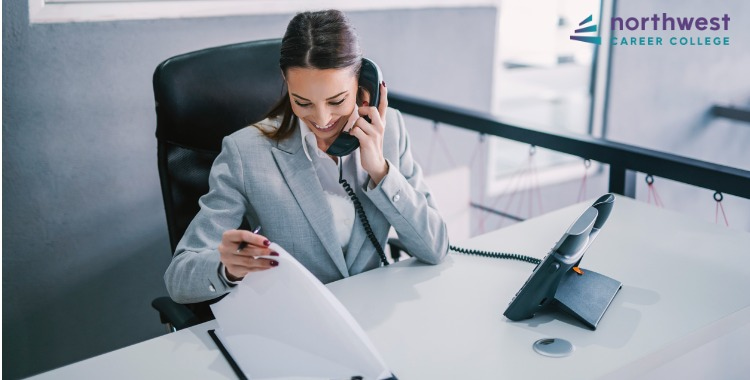 Are you considering becoming an administrative assistant? It's an exciting, versatile role that allows professionals to make meaningful contributions within companies of all sizes.
From helping to maintain organizational records and manage projects efficiently to providing important support services that help keep operations running smoothly, there is much potential for growth in this field.
Northwest Career College offers a comprehensive business-administrative assistant qualification program designed to give individuals like yourself the skills and training needed to succeed in this profession.
Let's dive further into what defines a career as an administrative assistant—what they do on a daily basis, the qualifications required for success, and why our college degree program can set you up with the necessary skill set needed for entering your new profession!

Overview of the Administrative Assistant Role
An administrative assistant is an integral part of any organization, acting as the backbone that keeps everything together. They juggle various tasks, ranging from answering phone calls and scheduling appointments to drafting emails and managing paperwork.
In essence, the administrative assistant is the go-to person for all administrative support and plays a crucial role in ensuring the smooth functioning of the office.
To succeed in this role, one must possess excellent organizational and communication skills, be detail-oriented, multitask, and work well under pressure. The administrative assistant role is challenging yet highly rewarding, offering a diverse and dynamic work environment.

What Skills Do You Need to be a Successful Administrative Assistant
Being a successful administrative assistant requires a unique combination of skills that can be challenging to master alone. First and foremost, organization is key. You'll need to have a system in place that allows you to manage your tasks, deadlines, and priorities consistently.
Communication is another essential aspect of the job. You'll need to be able to convey information clearly, both verbally and in writing. Flexibility is also essential, as you'll need to be able to adapt to changes and work effectively under pressure.
Finally, it's essential to have a strong work ethic and attention to detail. As an administrative assistant, you'll often be the face of the office and the person who keeps things running smoothly. You can increase your chances of success in this critical role by honing these skills.

What Kinds of Jobs Can You Find with an Administrative Assistant Qualification
Earning an administrative assistant qualification can open doors to diverse job opportunities. Administrative assistants are needed in almost every industry, from healthcare to finance to hospitality.
With this qualification, you could find yourself working for a government agency, a university, a non-profit organization, or a private corporation. Typical job duties include managing schedules, planning events, responding to emails and phone calls, and creating reports.
You could work as an executive assistant, receptionist, office manager, or even branch out into human resources or marketing. The possibilities are endless with an administrative assistant qualification.

Education Requirements for an Administrative Assistant
Becoming an administrative assistant can be a great career move, but it does require some education requirements. To start, a high school diploma or equivalent is usually necessary.
However, having additional certifications or post-secondary education can make a candidate stand out amongst the competition. Some employers may require an associate's or bachelor's degree, especially if the position involves managing projects or supervising staff.
Professional development courses and training in specific software programs, such as Microsoft Office, can also be beneficial. Overall, continuing to educate oneself and staying up-to-date on industry changes can lead to a successful career as an administrative assistant.

Why Northwest Career College is the Best Place to Earn Your Business Administrative Assistant Qualification
Are you looking for an institution that can help you achieve your dream of becoming a successful administrative assistant in the business world?
Look no further because Northwest Career College is the perfect place for you! Our top-notch facilities and experienced instructors provide students with all the necessary skills and knowledge needed to excel in the industry.
You will have access to hands-on training, cutting-edge technology, and personalized career support to ensure your success. Our flexible schedules and convenient location make it easy to tailor your education around your busy lifestyle.
Enroll now with Northwest Career College and start your journey toward a rewarding career as a Business Administrative Assistant!

How to Start on Your Journey Toward Becoming an Administrative Assistant
Becoming an administrative assistant can be a great career choice for those who are organized, detail-oriented, and enjoy working in a fast-paced office environment.
If this sounds like you, you may wonder where to start on your journey toward this profession. The first step is to assess your current skills and experience. Do you have any experience working in an office or with administrative tasks? If not, consider taking courses or getting certified in relevant software programs such as Microsoft Office.
You can also gain experience by volunteering or taking on internships. Networking with professionals in the field can also be helpful in finding job opportunities and learning about the industry. With dedication and hard work, you can start on your path toward a fulfilling career as an administrative assistant.
So, why wait? Get started on your journey towards becoming an administrative assistant today by contacting Northwest about our Business Administrative Assistant Program!



Become a vital part of a business today
Northwest's Business Administrative Assistant Program Las Vegas offers on-campus and online Business Administrative Assistant classes to accommodate your work and family schedule.
We value real, hands-on experience, which is why you'll be visiting businesses and organizations of different sizes, industries, and structures and why our instructors are all experienced business professionals with extensive backgrounds working in, starting up, and operating various businesses and organizations.
Featuring a host of business professionals and guest speakers, our classes will give you all the skills you need to play a vital part in any business and still graduate in as little as 9 months.