What is it like working as a Dental Administrative Assistant?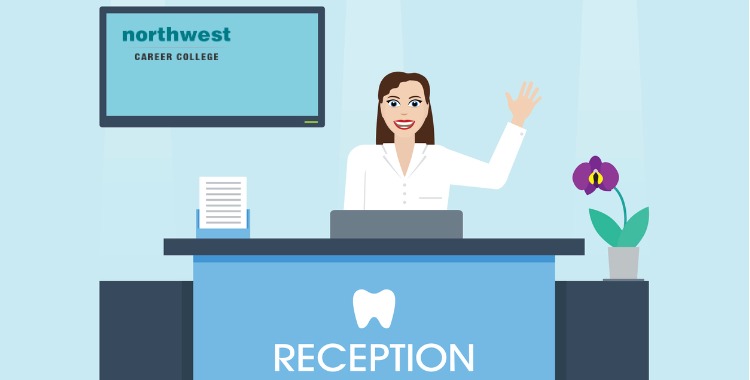 Dental administrative assistants are the clerical backbone of any dental office, providing vital administrative support to both co-workers and patients. 
If you're interested in starting a new career, read on to find out if working as a dental assistant is the perfect job for you!
Duties and Responsibilities of a Dental Administrative Assistant
Dental administrative assistants work on the front desk of many dental practices and are usually the first point of contact over the phone or on arrival. 
Common duties include booking in new patients, greeting visitors, sorting out appointments, and undertaking other non-clinical tasks of an administrative nature.
Other duties and responsibilities of the role include:
Dealing with calls from patients and calling them if appropriate.

Writing to them where necessary to chase payment or sending out reminders that they need to be seen for routine check-ups or further dental treatment.

Using a diary/computerized diary system to book, switch, and cancel appointments.

General administration tasks, such as photocopying, scanning, faxing, printing, and sorting/filing/sending forms.

Handling payment from patients (cash, cards, and cheques).
Dental Administrative Assistant Working Hours
Dental administration tasks are usually undertaken by more than one person in any dental office, so you will likely be working as part of a pair or a team. 

This provides potential opportunities for flexible working, part-time or full-time hours, and job sharing. Although the availability of these hours depends on the requirements of your employer and the particular vacancy you go for.
A full working day/week would probably be Monday to Friday from 9 am until 6 pm. But some practices start the day earlier or stay open later, especially private ones.
How much does a Dental Administrative Assistant Earn?
On average, a Dental Administrative Assistant graduate earns $38,930 a year according to the United States Department of Labor, Bureau of Labor Statistics.
Start Your Dental Administrative Assisting Career With Us
Employment for entry-level employment in the dental field is expected to increase 23% over the next 10 years, faster than average for all occupations, according to the Bureau of Labor Statistics. With this growing demand for DAA's, it is essential that graduates cultivate the skills and traits that will help them stand out in the employment market. 
Here at Northwest Career College, our Dental Administrative Assisting Program prepares students to work in any dental office. Our expansive, nine-operatory lab provides students with real-life dental office experience. 
You will be trained to handle clerical duties such as scheduling appointments, handling insurance claims, and monitoring inventory. You will work with documents, forms, and computer systems. No other Dental Administrative Assistant Program in Las Vegas offers this type of advanced training.
Our student-focused approach will help you cultivate the skills you will need to stand out. Our experienced Career Services team will work with you to help you find the best dental administrative assistant employment opportunities in Las Vegas. Call one of our enrollment specialists at (702) 403-1592 to find out more.
Written by:
Cynthia Lofquist, R.D.A.
Dental Assisting Program Chair
Concorde Career Institute