The Complete Guide To Phlebotomy Training
May 25, 2021
165 views
4 min read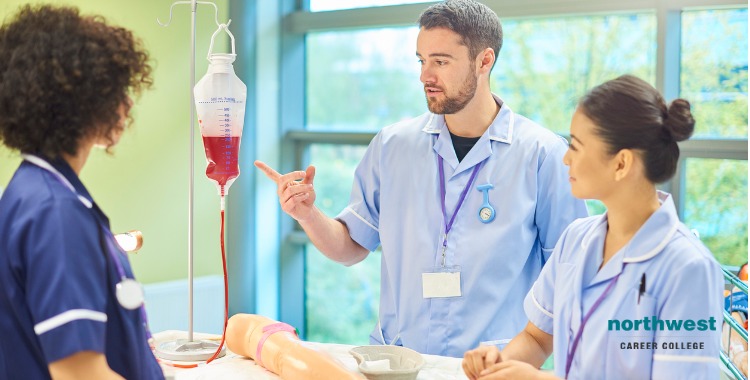 The role of the phlebotomist is to take blood from patients, residents, or service users. The technical term for drawing blood is phlebotomy.
In this article, we'll be explaining why phlebotomy is so important, why good training is vital and what that training might involve.
What Is Phlebotomy?
Phlebotomy is the practice of obtaining venous blood samples from patients. It is sometimes also referred to as 'venepuncture'. 
Venepuncture is a broader term, meaning puncturing a vein to draw blood but also for other procedures, such as to administer an intravenous injection.
Phlebotomy is a routine task in hospitals, GP surgeries, out-patient clinics, and other healthcare settings. When obtained, blood samples are sent to a laboratory for testing and analysis.
Specialists who focus specifically on this procedure are known as 'phlebotomists'.
What Sort of Things Can Blood Samples Help With?
The doctor or nurse who requests the blood sample will specify what tests they want you to take. Each result is then analyzed against the normal range. 
A wide range of medical conditions and illnesses can be diagnosed by investigating the chemical structure of blood samples.
It's also a way of measuring and monitoring the progress of some health issues and managing certain medical conditions such as heart, liver or kidney disease, and diabetes.
Required Skills and Qualifications
Most employers will be looking for candidates with a technical qualification in phlebotomy.
As you will be working closely with patients, relatives, and other healthcare staff you will also need certain skills, such as being:
Kind and caring

Good with people

Patient

Organized

A good communicator

Able to work as part of a team

Able to follow instructions

Able to explain procedures in simple terms to others
Why Do I Need Specialized Training?
Even though phlebotomy is often considered a routine procedure, it is still important that you are trained properly.

According to guidelines issued by WHO (World Health Organisation), before undertaking phlebotomy, health workers "should be trained in, and demonstrate proficiency for, the blood collection procedures on the patient population that will be within their scope of practice."
What Does Phlebotomy Training Cover?
Phlebotomy training covers a variety of interesting areas of medicine, including:
The anatomy and physiology of veins in the human arm and leg, and how to decide which one to use.

Infection control.

Which equipment and technique to use for which category of patient or purpose.

How blood clotting works.

Communication and patient preparation.

Preparing the room and your workspace.

Safe handling of 'sharps' (items that may cut or puncture your skin, such as needles).

How to prevent needle stick injuries (when you accidentally scratch or puncture the skin on yourself of a patient).

What to do if there is a needle stick injury.

Contra-indications for venepuncture – which means when it would be unsafe to proceed, or when special measures are required to minimize risk.

Any potential complications and what to do.

Correct labeling and reporting requirements.
Once you're familiar with the theory, you will be given supervised opportunities to gain practical skills in phlebotomy.
To start with, you may practice on a special dummy patient (mannequin). You will need to talk through what you're doing to demonstrate your knowledge to your mentor.
Following this, you would be given opportunities to draw blood from live patients, under close supervision.
Start Your New Career Today
At Northwest Career College, we pride ourselves on providing one of the premier Phlebotomy Schools in Las Vegas.
Our established and seasoned instructors will take you through every aspect of Phlebotomy and Northwest offers day, afternoon, and night classes to accommodate your busy Las Vegas work and family schedule. Call us today at (702) 403-1592 to speak to one of our admissions specialists about your new Phlebotomy career.