Top tips for online learning
May 27, 2021
152 views
3 min read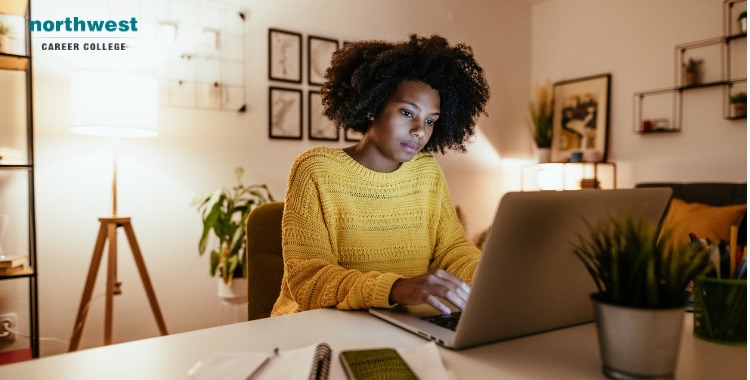 In light of the Covid-19 Pandemic, online learning has become the most popular and viable option for those looking to enter into education.

Here at Northwest, we provide full support, including a laptop, for all our online learners. So, if you're taking an online course to extend your learning, here and some top tips to help you get the best from it.
Treat it as You Would in Person
One of the best ways to succeed with online learning is to treat the experience as you would with an on-campus class. 
This means approaching your studies in the same way you would if you were there in person. 
Hold yourself to the same standards, making sure you're organized, on time, and ready to learn. 
Keep Yourself Disciplined
Part of treating your online learning as you would with an in-person experience is to keep disciplined. 
Although your home or halls of residence don't look like campus, you still need to have the same self-discipline when it comes to independent learning. 
Your class and study schedule should match that outlined in your courses, and you also need to dedicate time to your own studies outside of that. 
Write up Your Notes
Whether your lectures or seminars are pre-recorded or broadcast live, you should aim to make time to write up your notes. 
It might be tempting to think of the online resources as pre-made study notes. However, making your own notes encourages you to engage with the material and put it into your own words. 
Contribute
Learning is a two-way process. Although turning up to online lectures or reviewing the material is important, so is getting involved with the discussion. 

Ask questions where appropriate, and don't be afraid to seek help with the material if you need it. 
Student Finance Is Available and Easy to Apply for  
Title IV funding provides financial assistance towards the costs of education for more than 13 million students across the US every year. 
The U.S. Department of Education awards more than $120 billion a year in grants, work-study funds, and loans to cover expenses such as tuition and fees, room and board, books, supplies, and transportation. Applying for grants and loans is simple when you call one of our experienced Financial Aid Officers at (702) 403-1592 today to discuss your options.
How Do I Apply For Student Aid?
First, just complete the Free Application for Federal Student Aid (FAFSA). You can find a copy of the FAFSA form, and a guide to completing it, on the Federal Student Aid website. www.FAFSA.ed.gov.  
You can also fill the FAFSA out online here.  Please make sure you enter our school code: 038385. This allows your records to be sent directly to our Financial Aid office so that when you visit the campus, our FA officers can discuss your financial aid package with you in person.
Financial Aid At Northwest Career College
Here at Northwest Career College, we have Financial Aid Officers on staff that can help determine the best financing option for you. 
To best support our students we offer a range of financial aid including the Pell Grant, Subsidized Loans, Unsubsidized Loans, and Parent Plus Loans. Call us today at (702) 403-1592 to speak with one of our experienced Financial Aid Officers who will help find the best financial support options for you.