What is a Paralegal: job and responsibilities in detail
December 15, 2021
541 views
5 min read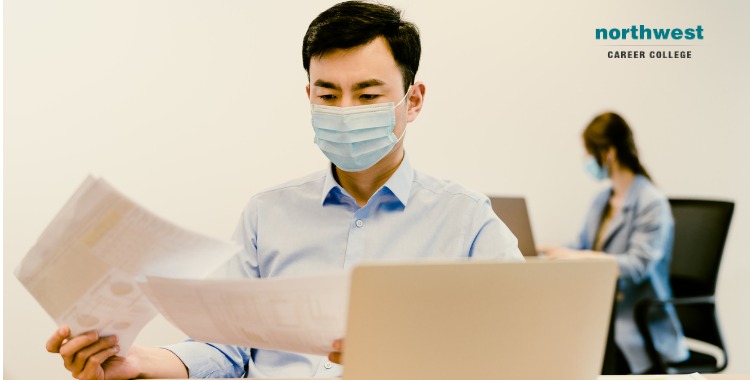 The paralegal profession is a rapidly growing career field. More and more people are seeing what this job entails, what it can do for them, and what they can do with the degree that comes with it.
A lot of students ask what exactly does a paralegal do? What is their role in law firms? How much money do they make on average? As you will see below, these questions are answered thoroughly by our blog post.
What exactly does a paralegal do?
A paralegal is a person who is qualified by education, training, or work experience to perform substantive legal work. Paralegals are considered paraprofessionals and support lawyers in a variety of ways:
They help with the factual investigation involved in determining what must be proved to win a case

Prepare witnesses for trial testimony

Assist attorneys during trials and expert witness depositions

Draft documents related to court proceedings, investigations, and discovery requests such as summonses, complaints, motions, pleadings, affidavits, applications, subpoena duces tecum, interrogatories, demand letters, employment agreements, and separation agreements.

Drafting correspondence on behalf of clients as well as providing secretarial and administrative support

Maintain case files, such as pleadings, deposition transcripts, correspondence to clients or opposing counsel, drafts of contracts and wills.

Prepare trial exhibits such as demonstrative evidence (for example diagrams), charts, graphs, and spreadsheets.

Contact potential new clients by phone or email using a script provided by the attorney.
What is their role in law firms?
Paralegals work under the supervision of an attorney who provides training on legal matters that they encounter in their job duties. However, some jurisdictions require formal certification for paralegals before allowing them to do certain tasks independently.
Paralegals may also be required to complete continuing education programs or to perform certain job-related tasks that are not directly related to legal work.
Paralegals typically focus on providing the less glamorous side of what an attorney does, such as drafting routine documents and conducting research on issues relevant to a case.
Some may also act as support staff for attorneys who hold more senior positions at law firms. They may do everything from carrying out background checks on clients to photocopying trial exhibits like demonstrative evidence.
They conduct interviews with potential new clients by phone or email using a script provided by their supervisor; they then compile written reports summarizing what they learned during these conversations.
How much money do they make on average?
The wage of a paralegal will depend on what type of firm they are employed by.
For example, according to the U.S Bureau of Labor Statistics (BLS), paralegals working in legal services earned an average salary of $50,660 as of May 2017; those who worked for state government agencies averaged $59,560 annually during this same time frame.
Paralegals at law firms made significantly more money per year than their counterparts – averaging about $68,010 a year on average throughout the United States.
Many choose to pursue further education after receiving their bachelor's degree or associate's degree in order to increase their chances of landing higher-paying jobs with greater responsibilities and opportunities for advancement within large corporations or prestigious firms that offer high salaries with full benefits.

A paralegal provides support to attorneys by performing investigations, analyzing evidence, contacting witnesses, and conducting research. Paralegals are involved in all legal matters that an attorney handles throughout their career – from initial client intake through the final appeal of a trial court decision
What skills should you have if you want to become a paralegal?
The skills required to be a paralegal include:
Detail-oriented and logical thinking

Excellent communication skills in English, both written and verbal

Good computer skills (Microsoft Office)
What are the benefits of becoming a paralegal?
A career as a paralegal provides many opportunities, such as the opportunity to work full time or part-time hours while gaining valuable hands-on experience in the legal field or an ability to start your own home business from anywhere at any given moment. Paralegals may also choose to continue their education by taking classes at local colleges after obtaining their degrees which can lead to greater opportunities in the future.
Paralegals can look forward to many rewarding career paths such as:
Administrative Assistant

Legal Secretary

Private Investigator
The job outlook for paralegals is very positive with an expected 23% growth rate through 2024 (U.S Bureau of Labor Statistics). This means that there will be a large number of jobs available for qualified candidates who wish to enter this field and begin their careers right away!
The hiring demand comes from law firms, legal departments at corporations or organizations, government agencies, insurance companies, and public defenders offices among other locations throughout the United States. So what are you waiting for?
Join One Of The Best Paralegal Schools In Las Vegas Today!
Here at Northwest Career College, we run the top paralegal program in Nevada, offering our students the skills and experience they need to successfully enter the field of paralegal work and position themselves to maximize their earnings. 
Our Paralegal instructors are seasoned attorneys and highly trained professionals who are able not only to teach you the law but also to guide you through the many ways a paralegal integrates into a Las Vegas law practice.
We offer on-campus and online paralegal classes to accommodate your work and family schedule. Our Career Services team will work with you to help you find the best paralegal employment opportunity in Las Vegas.
Call us today at (702) 403-1592 to find out what our paralegal program can offer you.