What Is a Business Administrative Assistant?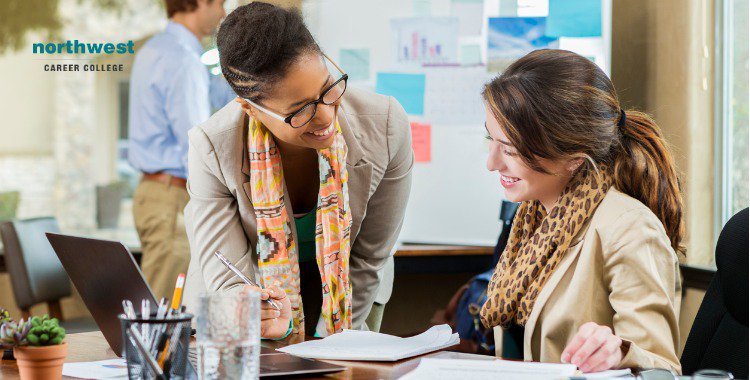 Business administrative assistants perform vital clerical and administrative tasks that support individuals and organizations. In this article, we will be looking at what the responsibilities of a business administrative assistant are, what training is needed to become one, what the job market and pay are like for the role, and why now is an excellent time to consider training as one.
What Are the Responsibilities of a Business Administrative Assistant?
Business administrative assistants normally take on a range of clerical, administrative, and customer-facing responsibilities that can include:  
Greeting visitors to the workplace and attending to them during their stay

Answering the telephone, email, and social media inquiries and directing them to other employees when appropriate

Typing workplace documents, including letters and reports

Processing incoming and outgoing mail

Creating and maintaining computer records

Maintaining paper files

Monitoring stock levels and ordering supplies as required

Performing basic bookkeeping duties

Booking meetings, seminars, and conferences, and organizing catering for them

Taking minutes during business meetings

Coordinating appointments of executives and managers

Booking flights, hotel rooms, and restaurants for executives and managers
Where Do Business Administrative Assistants Work?
Most places of business can benefit from hiring a business administrative assistant, but some of the most common places of work are legal and medical offices, government agencies, schools, hospitals, and private enterprises.
What Qualifications Does a Business Administrative Assistant Need?
Most business administrative assistant roles only require a high school education. However, most employers propose employing candidates with an associate's degree in the relevant subject and advancing in an administrative career normally requires the same.
What Are the Salary Expectations?
According to PayScale, entry-level administrative assistants typically earn around $30,000 a year, and annual salaries increase gradually as they gain experience. On average, administrative assistants in the United States earn approximately $40,000, or $14 an hour.
What Is the Job Outlook Like?
The United States Bureau of Labor Statistics expects that jobs for administrative assistants will grow by 3 percent between 2014 and 2024, amounting to 118,800 new positions within this period.
Why Train to Be a Business Administrative Assistant at Northwest?
Here at Northwest, we understand the need for flexibility to fit your education in with your busy lifestyle, which is why each of our students is provided a laptop for easy internet and online class access.
Northwest's schedule allows you to attend Business Administrative Assistant training, care for family and have a balanced life in Las Vegas while advancing towards your new career.
Additionally, your business administrative assistant instructors here at Northwest are comprised of experienced business professionals with extensive backgrounds working in, starting up and operating varied businesses and organizations. 
Their expertise will guide you as to the many ways a business administrative assistant integrates into successful Las Vegas business practices.
Become a Critical Part of a Business Today
Northwest's Business Administrative Assistant Program Las Vegas offers on-campus and online Business Administrative Assistant classes to accommodate your work and family schedule.
We value real, hands-on experience, which is why you'll be visiting businesses and organizations of different sizes, industries, and structures and why our instructors are all experienced business professionals with extensive backgrounds working in, starting up and operating varied businesses and organizations. 
Featuring a host of business professionals and guest speakers, our classes will give you all the skills you need to play a vital part in any business, and still graduate in as little as 9 months.
Written by: 
Monica Jones, 
B.S. Business Administration Assistant Program Chair