How to choose a new career path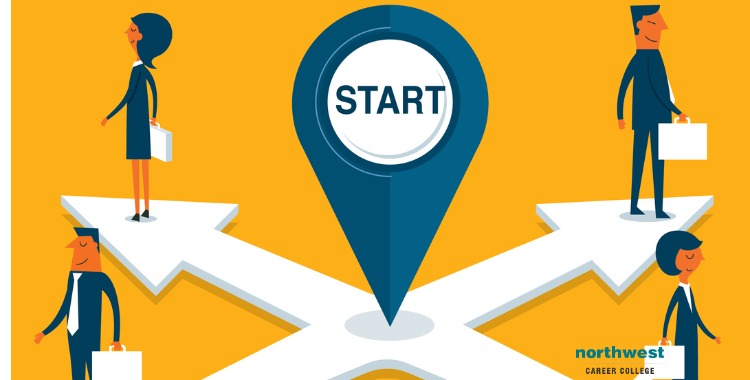 If you're in the career market, then this article is for you. Northwest Career College offers career coaching to help guide students through career exploration and decision-making.
This includes exploring majors, career paths, skill sets, work experience, and internships. We want our students to have a clear idea of what they are good at so that they can find their perfect career path!
In this article, we'll be discussing how to choose a new career path that suits your skills and interests.
How Do I Choose a New Career Path?
The first step in choosing a new career is to self-reflect.
What career path interests me? What career would I be happy in for the next fifty years of my life? How much money do I want to make over that time period and how does that career match up with my desired income level?
Northwest Career College offers career coaching services to help answer these questions!
If you're trying to choose a new career, Northwest Career College can help! We offer degree programs in business management, marketing, and healthcare. Our students come from all walks of life and we love helping them find their perfect careers.
Once you've narrowed down what you're most interested in, our career services staff will help you explore potential careers that match your interests. We'll also help you identify all the steps to take in order to get started on a new path!
Gaining New Skills
The best way to take your first step on the path to a new career is to get training! You can enroll in one of our degree or diploma programs, which include courses like marketing, business management, and healthcare. 
Northwest Career College's career services staff will help you choose the right classes for your interests so that when you finish your program you'll be ready to get started on a new path!
The Next Steps
Once you've chosen an area of study that matches up with what interests you most about potential careers options and completed all the necessary coursework it is time to think about how to turn this into real-world experience.

What kind of job do I want? Who are my competitors? How am I going to stand out among them? These are some questions we ask students who come to our doors looking for guidance.
To help you gain that all-important real-world experience, we offer an externship with nearly all of our programs.
Not only does this give you a real taste of what the job is actually like, but it also lets you test out your skills in a true-to-life setting.
You'll get to see whether or not the work suits you, and our hiring partners will have an opportunity to evaluate how well you might fit into their organization.
How to Go Back to Education
Going back to education doesn't have to be scary.
If you're worried about the time it will take away from your family or how difficult it may be to fit in study around a busy schedule, don't worry.
There are plenty of ways to go back to education that won't eat up all your spare time and leave you with nothing left for yourself.
You might want to consider an online degree program so that work doesn't get in the way of studying.
It's not only convenient but has other benefits too – recent studies have shown that students who enroll in fully online programs perform better academically than their peers at brick-and-mortar institutions because they are more engaged due to easier access.
How Do I Pay for My New Qualifications?
It's a question that can be asked by just about anyone, whether you're choosing to go back to study full-time or part-time.
The good news is there are many ways in which you can fund your studies – from loans and grants to scholarships for specific career paths.
Start doing some research on the best course options available as well as how much they cost so you know where you stand financially before making any decisions.
it may be difficult at first, but going back to study later in life offers a great chance for personal growth and development. It doesn't matter if everything else seems a little uncertain right now because eventually, things will fall into place and you'll find the right career path for you.
How Do I Apply For Student Aid?
First, just complete the Free Application for Federal Student Aid (FAFSA). You can find a copy of the FAFSA form, and a guide to completing it, on the Federal Student Aid website. www.FAFSA.ed.gov.  
You can also fill the FAFSA out online here.  Please make sure you enter our school code: 038385. This allows your records to be sent directly to our Financial Aid office so that when you visit the campus, our FA officers can discuss your financial aid package with you in person.
Financial Aid At Northwest Career College
Here at Northwest Career College, we have Financial Aid Officers on staff that can help determine the best financing option for you. 
To best support our students we offer a range of financial aid including the Pell Grant, Subsidized Loans, Unsubsidized Loans, and Parent Plus Loans. Call us today at (702) 403-1592 to speak with one of our experienced Financial Aid Officers who will help find the best financial support options for you.
Written by: 
Dr. Stephanie Kenny,
Chief Financial Officer