How To Become A Phlebotomy Technician
September 22, 2021
187 views
4 min read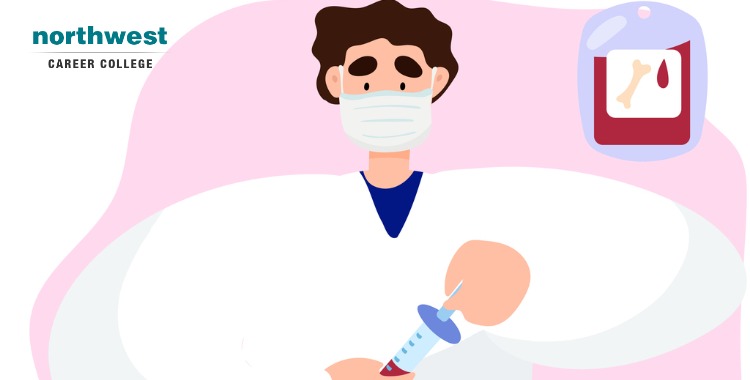 A Phlebotomy Technician is a person who performs venipunctures, draws blood samples for analysis by laboratory technicians, and prepares patients for examination.
If you are looking to get into the healthcare industry but don't know what career path to take, then becoming a Phlebotomy Technician may be perfect for you! 
In this article, we will discuss how easy it is to become one of these professionals in Northwest Career College's Phlebotomy program. 
We also talk about the salary that they can expect after graduation and why phlebotomy might be a good choice if you want to work in the medical sector.
What is a Phlebotomy Technician?
Phlebotomy technicians are medical professionals who collect blood samples from patients for use in laboratory examinations. 
They work at hospitals, clinics, and doctor's offices. They perform a variety of functions including setting up the equipment needed to draw the blood sample from the patient, selecting appropriate tubes for drawing different types of specimens (whole blood or plasma), preparing test tubes with anticoagulants, actually drawing the blood from the patient's body, and labeling the tubes for lab tests.
Phlebotomy technicians are usually required to have a high school diploma or equivalent, though some employers require applicants to possess an Associate's degree in phlebotomy studies. 
Phlebotomists must also be certified by passing one of several different examinations available through professional associations such as the American Society for Clinical Pathology Board of Certification (ASCPBC), the National Phlebotomy Association, or American Medical Technologists.
Phlebotomists are employed in hospitals, private physician's offices and laboratories, blood donor centers, research institutions, and pharmaceutical companies; they can also be self-employed as "mobile phlebotomists" traveling to clients' locations to perform their services.
What Does a Phlebotomist Earn?
The average annual salary for a Phlebotomy Technician is $30,860 which varies with experience level and location within the United States. 
Job opportunities for trained technicians should be very good because employment demand should outstrip supply through 2024 according to the Bureau of Labor Statistics.
Becoming a Phlebotomy Technician will help you improve your chances of getting a full-time career in the medical sector without the need to attend medical school.  
Education programs for becoming a Phlebotomist typically take about nine months to complete, although some may take longer depending on whether you have prior experience working in healthcare or attending college is necessary due to your academic performance. 

Northwest Career College offers career-focused degree programs that lead directly into jobs upon completion – visit our website today!
What Jobs Can You Get With a Phlebotomy Qualification?
In addition to working as a phlebotomist, a phlebotomy qualification opens up a range of career opportunities  for you, including:
– Laboratory Assistant 
– Medical Secretary
– Healthcare Administrator 
– Healthcare Biller/Coder
You can find out more about the career opportunities available with a Phlebotomy Technician qualification from Northwest Career College. We provide quality education and training to individuals looking for careers in healthcare – get started today! 
Why Should I Become a Phlebotomist?
The skills that phlebotomists acquire are necessary throughout any medical field where blood samples need to be taken or tested for analysis. 
This means that there is always an opportunity at your fingertips if you choose this profession as it will never disappear because of the ever-increasing need for medical care in the United States.
Another reason to become a phlebotomist is the high rate of employment opportunities in this field. 
According to the Bureau of Labor Statistics, becoming a Phlebotomy Technician can be very rewarding for individuals looking into careers that provide them with steady work and plenty of room for advancement. 
The average annual salary when considering inflation is $36,120 which makes it an attractive career choice over others in healthcare such as EKG Technologists who only make about $34,000 per year on average. 
Start Your New Career Today
At Northwest Career College, we pride ourselves on providing one of the premier Phlebotomy Schools in Las Vegas. Our phlebotomy students have an 89% national exam pass rate, and you can graduate in as little as three months. 
Our established and seasoned instructors will take you through every aspect of Phlebotomy and Northwest offers day, afternoon, and night classes to accommodate your busy Las Vegas work and family schedule. Call us today at (702) 403-1592 to speak to one of our admissions specialists about your new Phlebotomy career.