What are the Different Kinds of Pharmacy Technician Jobs?
April 16, 2023
504 views
6 min read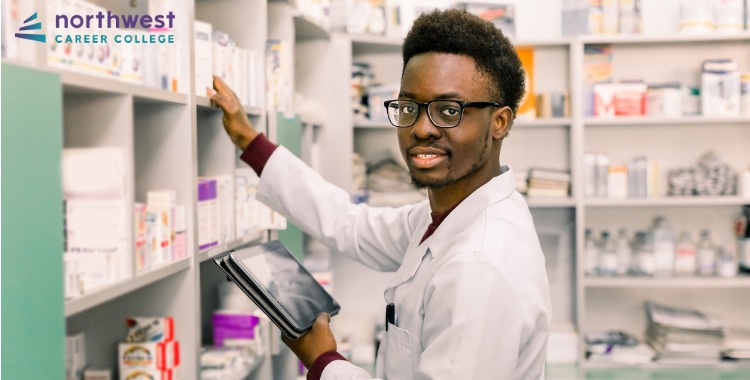 Are you considering entering the exciting and challenging field of pharmacy technology? If so, you're probably wondering what kind of jobs this career path holds.
Pharmacy technicians are essential in healthcare settings as they help pharmacists prepare medications for patients.
With countless opportunities available, it can be not easy to understand the different types of pharmacy technician jobs and which one is right for you.
Read on to learn about the different positions and what each entails.

Overview of Pharmacy Technician Careers
Pharmacy technicians play a vital role in the healthcare industry. They assist pharmacists in dispensing medication, managing inventory, and promptly ensuring patients receive the correct medications.
Pharmacy technicians must possess strong attention to detail, excellent communication skills, and the ability to work quickly in a fast-paced environment. The demand for pharmacy technicians is constantly growing, with many opportunities for career advancement.
Whether you are just starting in healthcare or looking for a change, becoming a pharmacy technician is a rewarding career choice. With the help of accredited training programs and certification, you can become a valuable asset in a pharmacy setting and make a real difference in patients' lives.

Types of Pharmacy Technician Positions
Pharmacy technician positions are diverse and offer many opportunities for those looking to work in the healthcare industry. If you're interested in this career path, it's essential to understand the different types of positions available.

Retail pharmacy technician
As a retail pharmacy technician, you assist pharmacists in dispensing medication, providing patient education on the proper use of prescriptions, and managing inventory. Your expertise ensures customers receive the medicine they need to stay healthy and manage chronic conditions.

Hospital and health system pharmacy technician
As a hospital and health system pharmacy technician, you ensure patients receive proper medication and care. Your pharmacy operations and medication management expertise helps pharmacists and nurses provide accurate and effective treatments. Your attention to detail and organizational skills are essential in maintaining inventory, managing medication schedules, and monitoring patient responses.

Long-term care or assisted living pharmacy technician
As a pharmacy technician specializing in long-term care or assisted living facilities, you have an essential role to play in ensuring the well-being of residents. You are responsible for verifying prescriptions, preparing medication doses, and maintaining accurate records. Your work directly impacts the health and quality of life of those in your care and should be approached with the utmost seriousness and professionalism.

Compounding pharmacy technician
Compounding pharmacy technicians are the unsung heroes in the world of medicine. These highly skilled professionals work behind the scenes to prepare personalized medication solutions for patients with special needs. Their work requires precision, attention to detail, and a deep understanding of the science of pharmacology.

Nuclear pharmacy technician
As a nuclear pharmacy technician, your work involves preparing radioactive drugs and radiopharmaceuticals and testing and verifying their potency and purity. It's a serious responsibility but also a rewarding one, as you can take pride in knowing that your efforts are helping to provide patients with the best possible care. To succeed in this field, you'll need to be highly detail-oriented and able to follow strict protocols and safety procedures.

Requirements for Becoming a Pharmacy Technician
Becoming a pharmacy technician is a severe but exciting process, as this position involves great responsibility.
The first requirement is to have a high school diploma or GED. After obtaining the certificate, the aspiring pharmacy technician must complete a formal education and training program ranging from several months to two years.
With Northwest Career College's Pharmacy Technician Program, for example, students can become certified in as few as nine months. After completing the coursework and earning certification from a state board of pharmacy or similar governing body, the technician is ready to work in a retail or hospital pharmacy.
The Accreditation Council for Pharmacy Education (ACPE) should approve the program to ensure its quality. Along with education, a pharmacy technician must hold a valid state license or certification, complete a background check, and pass an exam.
Being a pharmacy technician requires dedication, knowledge, and attention to detail. It is a rewarding career path for those interested in healthcare who want to impact people's lives positively.

Educational Paths to Becoming a Pharmacy Technician
Becoming a pharmacy technician is a viable and rewarding option for those interested in a career in the healthcare industry. To pursue this career, several educational paths can be taken.
One option is to enroll in a pharmacy technician training program at a community college or vocational school. These programs typically last 6 to 12 months, covering pharmacy law and regulations, drug classifications, and basic pharmacy operations.
Another option is to complete a pharmacy technician certification program, which can be found through online schools or pharmacy associations. These programs typically take around 12 months to complete and provide a more comprehensive pharmacy operations and procedures education.
NCC offers both on-campus and online options for our Pharmacy Technician Program. Our comprehensive program covers pharmacology, medication safety and administration, quality assurance protocols, and patient relations.
Upon completing our program, you will be prepared to take the Pharmacy Technician Certification Examination (PTCE) administered by the Pharmacy Technician Certification Board (PTCB) to become a certified pharmacy technician.

Salary Range for Pharmacy Technicians
As a pharmacy technician, one of the most important questions you may have is about your salary range. The good news is that as demand for experienced pharmacy technicians grows, so does the earning potential.
According to the Bureau of Labor Statistics, the median annual salary for pharmacy technicians is around $36,740.
Start your new career as a Pharmacy Technician now!
Northwest Career College is one of the premier pharmacy technician schools in Las Vegas. Our course provides our students with the skills and training they need to take advantage of the growing need for pharmacy technicians.
Our experienced instructors offer online and on-campus classes to accommodate your Las Vegas work and family schedule.
Once you've graduated, we will continue to support you, and the commitment of our Career Services Team has led to us having a 100% job placement rate for our pharmacy technician graduates. Call us today at (702) 403-1592 to speak to one of our enrollment specialists.