What is the Average Medical Billing and Coding Salary?
Medical Billing and Coding
April 17, 2023
595 views
6 min read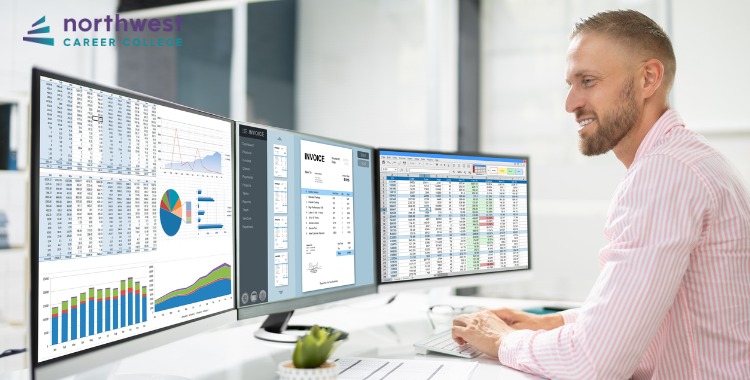 Are you considering a career in medical billing and coding? A great perk of this profession is that salaries tend to be competitive and are often highly dependent on experience level, skillset, geographical area, employer size, specialty areas, and overall market conditions.
So what is the average salary for someone with a medical billing and coding background?
In this post, we'll explore the path to becoming a medical biller/coder and dive deeper into what you can expect your starting salary to look like after completing an accredited medical billing/coding program.

Overview of the Medical Billing and Coding Field
The medical billing and coding field is a critical part of the healthcare system, and demand for professionals in this area has steadily increased. If you are considering entering this field, it's essential to understand the basics.
Medical billing and coding involve translating healthcare services and procedures into alphanumeric codes that can be used for billing and reimbursement purposes. This requires a deep understanding of medical terminology, anatomy, physiology, and insurance policies and regulations.
Despite the complexity of the work, medical billing and coding offer plenty of opportunities for those who are passionate about healthcare and want to make a difference in people's lives. With the proper education and training, you can be on your way to a rewarding career in this field.

What is the Average Salary for a Medical Biller and Coder?
If you have been considering a medical biller and coder career, you may wonder what the average salary is for this profession.
Well, the good news is that the pay is quite competitive. According to the Bureau of Labor and Statistics, the median annual wage for medical records and health information technicians, which includes medical billers and coders, is $81,915.
Of course, salaries can vary depending on location, industry, and experience. However, opportunities in this field are rising with the growing demand for healthcare services, particularly with an aging population.
So, if you are looking for a stable career that pays well and provides valuable services to the healthcare industry, consider becoming a medical biller and coder.

How Demand for Medical Billing and Coding Professionals Has Changed Over Time
Over the past few decades, the demand for medical billing and coding professionals has experienced a significant shift. With the rise of technology and advancements in healthcare, the need for individuals skilled in managing medical records and billing procedures has skyrocketed.
With a growing aging population, increased healthcare services, and the implementation of electronic medical records, there is a greater demand for specialized professionals to manage these processes.
This has increased the need for professionals with the expertise and knowledge to navigate the complex and ever-changing healthcare industry.
For those looking to pursue a career in medical billing and coding, this presents a unique opportunity for growth and job security in an industry that continues to expand.

Factors That Influence a Medical Billing and Coding Salary
Several factors come into play when determining a medical billing and coding salary. First and foremost, education and experience play a significant role.
Those with certifications and degrees in the field typically earn higher wages than those without. Additionally, the job's location and the employer's size can impact the salary. Urban areas offer higher pay, and larger organizations often have more employee resources.
Finally, the demand for professionals in this field is rising, which may also contribute to increased earning potential. Understanding these factors can help individuals looking to enter the area or negotiate a higher salary.

Where to Look for Job Openings in the Medical Billing and Coding Field
Knowing where to look can make all the difference if you're in your job in the medical billing and coding field.
One option is to check job postings on industry-specific websites and job boards, such as the American Academy of Professional Coders and Indeed.
Additionally, contacting local healthcare facilities, such as hospitals and clinics, may lead to job opportunities not advertised elsewhere. Networking through professional associations and attending industry events can also be an effective way to discover potential job openings.
Don't forget to update your resume and cover letter to reflect your skills and experience in the field. With these tips and a proactive approach, you'll be on your way to finding your next career opportunity in medical billing and coding.

Requirements for Becoming a Certified Professional Coder
If you're considering a career in medical coding, the first step is to understand the requirements for becoming a certified professional coder. The process can initially seem overwhelming, but it's achievable with the proper guidance and support.
The first step is to enroll in an accredited coding program and complete the coursework.
Northwest Career College offers a Medical Billing and Coding Program that prepares students for the certification exam.
Additionally, it would be best if you took the Certified Professional Coder (CPC) examination administered by the American Academy of Professional Coders (AAPC). Once certified, coders are expected to continue their education through AAPC with continuing education courses.
Contact us today to learn more about our Medical Billing and Coding Program and begin your journey toward becoming a certified medical biller and coder.



Become a vital part of the healthcare cycle
Taken together, medical coding and billing form a link between patients, healthcare providers, and insurance companies. As a medical biller or coder, you must be accurate, detail-oriented, and well-organized, as you'll be a vital part of any healthcare provider's staff.
As the premier Medical Billing and Coding vocational training institute in Las Vegas, Northwest Career College employs established, seasoned instructors to teach you every aspect of medical billing and coding.
Our student-focused approach puts you first, and we offer online and on-campus workshops to accommodate your work and family schedule.
We continue to support our students after they graduate as our experienced Career Services team works with you to help you find medical billing and coding jobs in Las Vegas. Call us today at (702) 403-1592 to learn more about the exciting opportunities that our Medical Billing and Coding School can offer you!