Start Your New Pharmacy Technician Career With Northwest Career College
March 17, 2023
522 views
5 min read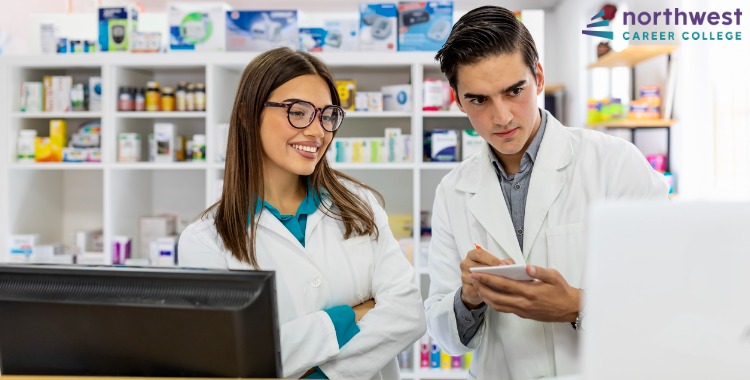 Earning your Pharmacy Technician qualification is a great way to start a new career in the medical field.
At Northwest Career College, we offer a comprehensive program that will prepare you for success. Our experienced instructors will provide you with the skills and knowledge you need to pass the certification exam and begin your new career.
In this blog, we will discuss the benefits of obtaining a Pharmacy Technician qualification and why Northwest Career College is the right choice for you.

The Pharmacy Technician field is expected to grow by 12% in the next decade.
Pharmacy Technicians play an important role in the healthcare industry, providing vital services such as assisting pharmacists with medication management, inventory control for prescription drugs, data entry, and patient communication.
Studying for a Pharmacy Technician qualification can provide professionals with the knowledge and skills to take advantage of this field which is projected to grow by 12% in the next decade.
Not only are there more employment opportunities available, but it's also an opportunity to gain a competitive edge and expand career prospects in a rapidly expanding sector of healthcare.
As qualifications become increasingly sought after, those who have invested their time and resources into obtaining credentials now and in the future are likely to benefit in terms of new job prospects.

A Pharmacy Technician can earn a median salary of $32,700 per year.
As a Pharmacy Technician, you must have the right qualifications to be successful in your career, and with the right training, you could earn an impressive median salary of $32,700 per year.
This is just one of many reasons why it's worth considering a qualification in pharmacy technology. With the right knowledge and skills, not only will you have access to potentially lucrative salaries but also greater job security and greater opportunities within the industry.
In addition, pursuing this field of study will open up more pathways for career advancement and further career specialization. As such, studying for a pharmacy technician qualification can help you to advance your professional prospects down the line.

Northwest Career College offers a comprehensive Pharmacy Technician program that can be completed in as little as 9 months.
If you're considering a start in the Pharmacy Technician field, Northwest Career College's program is the ideal shortcut toward gaining all the skills and qualifications needed. With flexible study options and job placement assistance, this 9-month program offers incredible potential to launch your career in pharmacy with ease!
Not only that, but the course itself provides hands-on learning experiences alongside a curriculum of classroom instruction that bridges the theoretical knowledge gap successfully.
With an education from Northwest Career College's Pharmacy Technician program, you'll become competitively qualified for one of the country's most rewarding careers.

Students in the program will learn about medication safety, pharmacy calculations, and customer service skills.
Entering the Pharmacy Technician program offers many exciting learning opportunities for those who strive to excel in their career. Students have the chance to thoroughly understand the importance of medication safety, along with mastering pharmacy calculations and developing customer service skills.
Additionally, the program helps prepare students for employment by providing the necessary tools needed to succeed on the job.
Through this program, students will gain not only extensive knowledge but also a certificate that can open up more possibilities in terms of a successful career path as a Pharmacy Technician.

Upon completion of the program, students will be eligible to take the national certification exam.
After completing the comprehensive educational program for becoming a Pharmacy Technician, students are eligible to take the national certification exam. Passing this exam demonstrates their knowledge of best practices learned through their studies and gives them a competitive edge as they enter the workforce.
With this certification, pharmacy technicians have the expertise needed to excel in their roles and meet employers' stringent requirements.
The positive impact of investing in that education is felt throughout their careers, as they are well-equipped to both anticipate and deliver on any challenge they may face in this dynamic field.

With a certification, graduates can find employment at hospitals, retail pharmacies, or long-term care facilities.
For individuals looking to begin a career in the medical profession, studying for a Pharmacy Technician certification yields many dividends. Graduates are able to pursue occupations within the thriving industry of administering and dispensing drugs, by finding employment in hospitals, retail pharmacies, or long-term care facilities.
Through rigorous studies which equip students with the knowledge they need to interact confidently with customers and handle tasks effectively, passing this pharmacy technician certification can open up new possibilities for professional growth not previously available.
With an increased demand for technicians continuing to rise exponentially as more and more people get access to drugs across various settings, this is certainly an opportunity worth exploring!



Start your new career as a Pharmacy Technician now!
Northwest Career College is one of the premier pharmacy technician schools in Las Vegas. Our course provides our students with the skills and training they need to take advantage of the growing need for pharmacy technicians.
Our experienced instructors offer online and on-campus classes to accommodate your Las Vegas work and family schedule.
Once you've graduated, we will continue to support you, and the commitment of our Career Services Team has led to us having a 100% job placement rate for our pharmacy technician graduates. Call us today at (702) 403-1592 to speak to one of our enrollment specialists.