The Importance of Vocational Training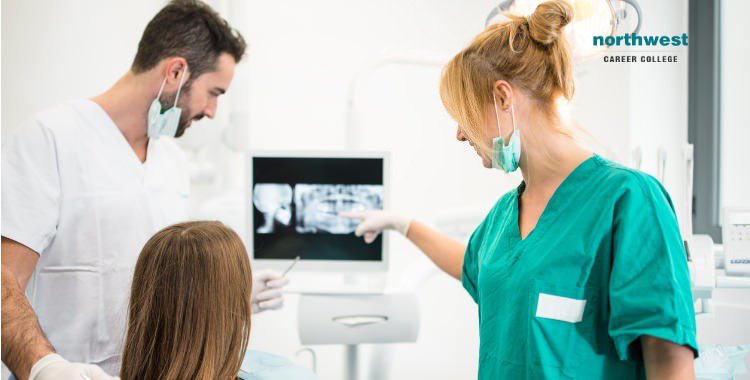 Vocational training and education are designed to prepare students for specialized occupations with technical training in the skills essential to the trade. Here at Northwest we strongly believe that real-world experience is just as important in building your skillset as classroom teaching is, which is why we offer an externship with nearly all of our courses and our instructors all have a wealth of real-world experience to offer.
Real-World Experience
Vocational training is all about gaining the necessary skills and techniques to succeed in a specific industry. Classes at a vocational school, like practical dental assistant training courses, give students hands-on dental training.
Here at Northwest, our Dental Assisting School offers eleven complete operatories for exceptional training including X-ray training on digital, portable, hand-held and traditional units.
In addition to the academic and hands-on training, dental assisting students travel through the valley for a variety of informative and interactive field trips. No other dental assistant program offers this type of advanced training.
We offer this kind of hands-on experience because we understand that it gives our students the tools and confidence to succeed once they've graduated. We know that Nevada employers are more inclined to hire someone with real-world experience because they won't have to spend time training and teaching the methods.
Increased Flexibility
Vocational courses offer much more flexibility in when can study. Many students have families to care for or full-time jobs they need to work while they're in school, so the courses are often in the evening or given on a part-time basis. This allows students who don't want a traditional educational schedule to still pursue learning.
Northwest's schedule allows you to attend Dental Assisting training, care for family and have a balanced life in Las Vegas while advancing towards your new career, while still giving you the opportunity to graduate in as little as nine months.
Specialized Courses For In-Demand Careers
Vocational schools typically have close relationships with employers in the industry, so they know the needs of the modern marketplace. This allows them to guide students through the exact skills and techniques that employers look for when searching for new hires.
Northwest maintains a close connection to employers across Nevada, which is why we can offer our huge range of externships. Our dedicated Career Services team works with our graduates and local businesses to help them find the best dental assisting employment opportunity that suits them best.
Although you do not have to be licensed in Nevada to be a dental assistant, our Dental Assisting School prepares our students to take their national exams as they move into their professional discipline and we are proud of our student's 91% national exam pass rate.
Join One Of The Best Dental Assistant Training Schools In Las Vegas
Here at Northwest Career College we firmly believe that learning is a process that continues on the job. Our Dental Assistant Training Course gives you all the key skills and experience you'll need to find the best dental assisting employment opportunity in Las Vegas. Our Dental Assistant School offers morning, afternoon and night classes to accommodate your busy work and family schedule and our established, seasoned instructors have helped our students achieve a 91% national exam pass rate. Call us at (702) 403-1592 to speak to one of our admissions assistants about your new dental assisting career.
Written by:
Cynthia Lofquist, R.D.A.
Dental Assisting Program Chair
Concorde Career Institute