Legal Assistant: The Best Way Into The Legal Field Without A Law Degree
December 9, 2022
698 views
7 min read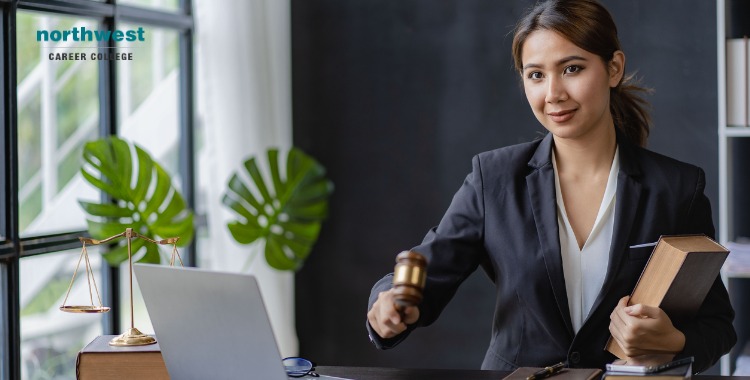 Working as a legal assistant is a great way to get started in the legal field without going to law school. It can be a challenging and rewarding career that offers opportunities for growth and advancement. If you are considering becoming a legal assistant, here are some things you should know.
Read More: What Does a Legal Assistant Do?
Job description: What does a legal assistant do on a day-to-day basis, and what skills are required for the job
Legal assistants play an important role in keeping law offices running smoothly. On a typical day, legal assistants handle a variety of duties, from rooming clients in consultation sessions to inputting and database information and creating reports.
Legal assistants need attention to detail and strong organizational skills to manage the various tasks they carry out each day. Additional responsibilities can include administrative tasks such as scheduling appointments, drafting legal documents, tracking deadlines for court cases, making travel arrangements for attorneys and other staff members, manuscript typing services, and preparing document slides for meetings or trials.
To take on all these tasks successfully, legal assistants must have excellent written and verbal communication skills as well as competence in computers. Proficiency in database management software like Microsoft Access is often required as well.
Further qualifications include high-level Proficiency in grammar and the ability to read quickly; AP style knowledge is essential if working with publications or organizations that require communication according to this style guideline.

All together, legal assistant jobs require a unique combination of critical skills that can make the daily work of a law office easier and more efficient. For those dedicated enough to become experts in the job at hand across these areas – organization management, client relations, and research/writing – it can provide great satisfaction along with a dynamic career path followed by many successful lawyers today.
The benefits of becoming a legal assistant: job security, good pay, and the opportunity to learn about the law without having to go to law school
Becoming a legal assistant is an attractive career option for many people, offering job security, good pay, and the chance to learn about the law without having to attend law school. Legal assistants often focus on administrative tasks and work with attorneys, paralegals, and other staff members.
Depending on the employer, they may have the opportunity to do more involved work, such as conducting legal research or drafting legal documents. Job security is one of the biggest draws of becoming a legal assistant: since they are in demand in virtually every area of the law, they rarely struggle to find steady employment.
They can also earn a good salary, with experienced professionals earning upwards of $60,000 per year in some areas. Moreover, working as a legal assistant provides an opportunity to gain exposure to different areas of the law without committing to a lengthy academic program like law school.
After gaining experience and honing skills as a legal assistant over a few years, many people even choose to further their education by pursuing a degree in paralegal studies or even attending law school.
For those looking for solid career options that offer job security and fair pay but don't require expensive investments in time or tuition for higher education degrees, becoming a legal assistant can be an excellent choice.
How to become a legal assistant: steps to take and things to keep in mind
Becoming a legal assistant requires a combination of education and experience. First, it's important to have a solid understanding of the law; candidates should consider earning an associate degree in legal studies or paralegal studies.
Then, they should start gaining real-world experience as an office or administrative assistant in an attorney's office or law firm. After building up some basic knowledge and practice, interested individuals can take specialized courses to become certified in the legal field.
Additionally, being open to job shadowing programs or volunteer positions is essential for building knowledge and experience in a practical setting.
Finally, those looking to become legal assistants should never stop learning; staying on top of new developments in laws and regulations is key to succeeding in the field. All of these steps can help lay the groundwork for becoming a successful legal assistant.
Some common misconceptions about being a legal assistant
Being a legal assistant is not an easy job, and often the work is misunderstood. Many people assume that legal assistants simply provide administrative support to attorneys, but the role encompasses much more than that.
Legal assistants must possess a thorough knowledge of legal terminology and procedures, as well as excellent organizational skills. They are also responsible for managing files and documents, researching laws and regulations, preparing drafts of pleadings and briefs, as well as communicating with clients. In addition, legal assistants need to be able to work under tight deadlines in fast-paced environments.
Some may even be expected to attend court proceedings or help prepare witnesses for trial. Contrary to popular belief, legal assistants must go through significant education and training before they can perform their duties effectively.
To become a successful legal assistant requires dedication and hard work; it's certainly not the sort of career path one should take lightly. Ultimately, it's important for people to understand that legal assistants play an essential role in the law firm – they are highly skilled professionals who deserve respect and recognition for their efforts.
Why being a legal assistant is a great choice for those interested in the law
For those who are looking to work in the legal field but don't have plans to go to law school, becoming a legal assistant is an excellent option.
A legal assistant is a critical part of any law firm, and the job offers many benefits, including good pay, job security, and the opportunity to learn about the law. If you are interested in becoming a legal assistant, the first step is to contact Northwest Career College to talk about our Legal Assistant Program.
Keep in mind that you do not need a law degree to be a legal assistant and that the job comes with many opportunities for growth and development. Don't let common misconceptions about being a legal assistant stop you from pursuing this rewarding career choice.
Choosing your new career path
Gaining a qualification from our Legal Assistant School puts you in an excellent position to access a variety of employment opportunities as you look for one that suits your skills and interests.
At Northwest Career College, our Legal Assistant instructors include licensed, practicing attorneys and degree instructors able to teach, not only the law but also to guide our students in the many ways a criminal justice graduate integrates into a Las Vegas legal profession.
As part of our Legal Assistant Program, you'll visit courts, jails, meditation centers, and more to experience first-hand the law in action, which will make your criminal justice training applicable to the Las Vegas legal system.
Northwest offers a flexible blended program with all criminal justice classes taught on our Las Vegas campus by an attorney and general education courses offered online. Our experienced instructors are on campus to review and support your learning experience at all times.
Call us at (702) 403-1592 to speak to one of our enrollment team about joining our Legal Assistant Program today!