What Does a Legal Assistant Do?
May 4, 2023
509 views
6 min read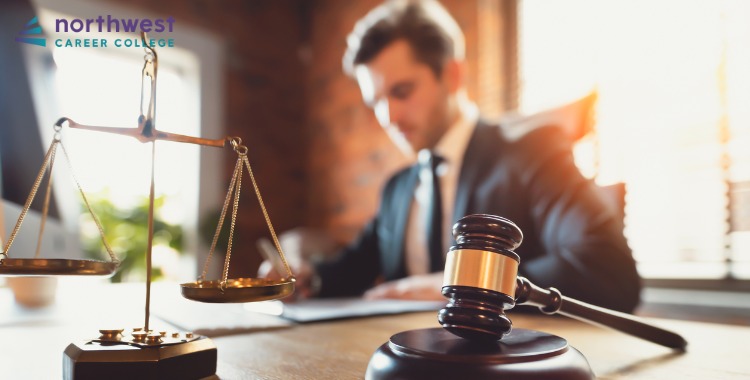 Are you interested in becoming a legal assistant? If so, this post is for you! As the field of law and justice grows increasingly complex, more and more laws are being created and enforced daily.
With overwhelming information coming at lawyers from all sides, they need qualified professionals to lighten their load.
Enter legal assistants: an essential part of any court case or legal firm. So what does a Legal Assistant do exactly? Read on for the answers and discover how you might benefit from becoming one yourself!

Understand the Basics of Legal Assistants – a brief overview.
If you're interested in pursuing a career as a legal assistant, understanding the basics of this profession is essential.
Legal assistants work closely with lawyers and help them prepare for trials, hearings, and other legal proceedings. They also conduct legal research, draft legal documents, and manage client files. This job requires strong attention to detail, organizational skills, and working under pressure.
Legal assistants must have a solid understanding of legal terminology and procedures and be proficient in computer software programs used in the legal field.

Core Tasks and Responsibilities of a Legal Assistant
As a legal assistant, your role is critical to the success of the law firm in which you work. You are responsible for a wide range of core tasks and responsibilities that require attention to detail, strong organizational skills, and a deep understanding of legal concepts.
One of your primary responsibilities is to support attorneys in their case preparation, which may include conducting legal research, drafting legal documents, and organizing case files. In addition, you will be responsible for managing schedules, coordinating meetings, and communicating with external parties, such as clients, witnesses, and court officials.
Your role also involves maintaining accurate records, ensuring compliance with legal regulations, and assisting with billing and accounting. As a legal assistant, your work is essential to the smooth operation of the law firm, and your attention to detail and commitment to excellence will be greatly valued.

Qualifications Needed to Become a Legal Assistant
Becoming a legal assistant is a great career choice if you have a passion for law and the desire to be an integral part of a law firm or legal department. To get started on this path, there are several qualifications that you will need.
First, you must have at least a high school diploma or GED. From there, you will want to complete an accredited legal assistant or paralegal program. Northwest Career College's Legal Assistant Program is a great place to start for those looking to jump into this career. Our program offers hands-on training and provides the skills needed to be successful in this field.
Additionally, certification from an organization such as the National Association of Legal Support Professionals can show potential employers that you are serious about your career and have proven your abilities. By taking these steps, you will be well on your way to a rewarding career as a legal assistant.

How to Find Work as a Legal Assistant
As a legal assistant, finding work can be a challenging task. However, with the right approach, it's possible to land a job in a reputable law firm.
First, create a compelling resume that highlights your relevant skills and experience.
Second, network with professionals in the legal industry, attend job fairs and events, and ask for referrals from friends and family.
Third, research and apply for legal assistant job openings online or directly with law firms.
Finally, practice for interviews and be prepared to answer questions about your qualifications and experience.
By following these steps, you can increase your chances of finding a great job as a legal assistant. You'll also gain valuable insight into the typical duties and skills required of legal assistants, giving you an edge in the competitive job market.

The Advantages and Challenges of Being a Legal Assistant
Being a legal assistant can be a satisfying and rewarding career path. As a legal assistant, you will be an essential part of a team of lawyers working to ensure that justice is served.
The advantages of being a legal assistant include working in a professional environment, earning a competitive salary, and learning from experienced attorneys. However, being a legal assistant also presents its own set of challenges.
You must have strong attention to detail, work under pressure, and deal with complex legal issues. Moreover, the job can sometimes be stressful, especially when tight deadlines are involved. As long as you are willing to work and adapt to new and challenging situations, being a legal assistant can be a fulfilling career choice.

Tips for Succeeding as a Legal Assistant
Being a legal assistant is no joke. It requires a lot of hard work, dedication, and commitment. However, specific tips can help you succeed in this career.
Firstly, always be organized and keep track of all the deadlines, meetings,s and appointments. Secondly, remain professional and be respectful to everyone you interact with in the legal industry.
Thirdly, always be willing to learn and ask questions if you don't understand something.
Fourthly, double-check all the work that you do to ensure that there are no mistakes.
Finally, maintain a positive attitude and don't let setbacks discourage you.
With these tips, you can excel as a legal assistant and contribute to the legal world. As you can see, many initiatives and qualifications are needed for aspiring legal assistants to succeed in this growing field.
A combination of good business sense, technical knowledge, and empathy will help make you an attractive candidate for legal assistant positions everywhere. Being a legal assistant can be challenging at times, but you will have the fulfillment of knowing that your work ultimately makes a difference in people's lives.
With dedication and hard work, becoming a successful legal assistant is within reach while reaping many benefits. If you have strong interpersonal and analytical skills and are open to taking risks when needed, consider boosting your career by becoming a legal assistant.



Choosing your new career path
Gaining a qualification from our Legal Assistant School puts you in an excellent position to access various employment opportunities as you look for one that suits your skills and interests.
At Northwest Career College, our Legal Assistant instructors include licensed, practicing attorneys and degree instructors able to teach, not only the law but also to guide our students in the many ways a criminal justice graduate integrates into a Las Vegas legal profession.
As part of our Legal Assistant Program, you'll visit courts, jails, meditation centers, and more to experience first-hand the law in action, which will make your criminal justice training applicable to the Las Vegas legal system.
Northwest offers a flexible blended program with all criminal justice classes taught on our Las Vegas campus by an attorney and general education courses offered online. Our experienced instructors are on campus to review and support your learning experience at all times.
Call us at (702) 403-1592 to speak to one of our enrollment team about joining our Legal Assistant Program today!