Is earning your Paralegal certification worth it?
December 7, 2022
646 views
6 min read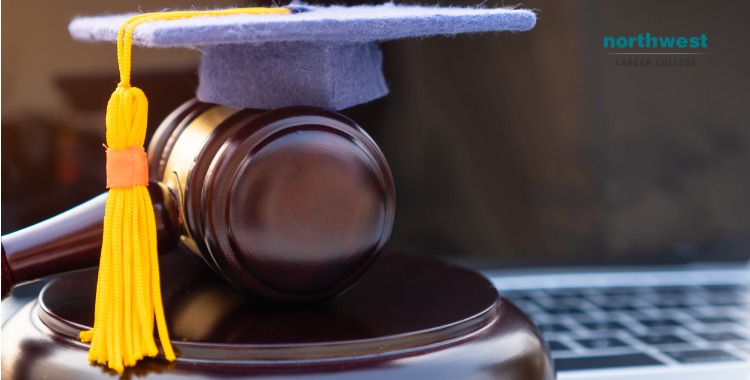 Are you considering a career as a paralegal? If so, you may be wondering if it's worth the investment to earn your paralegal certification.
The answer depends on various factors, such as your career goals and the requirements of the positions you're interested in. However, in general, earning your paralegal certification can give you a significant advantage when competing for jobs. It also provides opportunities to increase your earnings potential and advance your career.
If you're still undecided, keep reading to learn more about the benefits of becoming a certified paralegal.
Paralegals are an important part of the legal team, providing support to lawyers and assisting with cases
Paralegals are an essential part of the legal team, offering support to lawyers with essential tasks such as researching relevant legal documents and preparing pleadings. The paralegal field has continued to grow in recent years, requiring paralegals to be detail-oriented and have a strong understanding of legal procedures.
This increase in opportunities has made certification more important than ever before. Not only is it a way to prove that you have the necessary skills, but it also gives you an edge over other applicants in such a competitive field.
Ultimately, paralegals are integral members of the legal team because they provide indispensable research assistance, conduct preliminary hearings on behalf of lawyers, help prepare court documents, and advise clients on any potential changes or modifications needed for their cases.
Qualifying as a paralegal opens up a world of career opportunities in areas such as law firms, government offices, public interest organizations, and corporations. Becoming certified is the first step on the path to professional success. With dedication and hard work, paralegals can gain recognition as highly respected members of the legal aid team.
A paralegal qualification can be obtained through online courses or at a college
Becoming a paralegal is an appealing career choice for many job seekers because of the variety of responsibilities paralegals take on.
Paralegals assist attorneys in a wide range of legal matters—everything from researching legal cases to preparing and filing documents—and have the opportunity to specialize in specific aspects of the law on which they can focus their professional energy.
One question paralegal students often have is whether to pursue qualification through online courses or attend college. The decision comes down to a few key factors: cost, time, flexibility, and quality of education.
While attending college can be more expensive and involve more structured coursework, it provides its own benefits, such as access to campus resources, structured faculty assistance, and building relationships with other paralegal students.
In contrast, taking paralegal courses online allows paralegal students the freedom to complete classes at their own pace. Online classes usually require some personal discipline but also offer greater flexibility when it comes to class times and completing coursework at any time from anywhere.
Here at NCC, we offer both on-campus and online courses for our aspiring paralegal students.
With on-campus courses, you can access campus resources and build relationships with fellow classmates in a more traditional learning environment. Online classes offer convenience, flexibility and allow you to learn at your own pace from the comfort of your own home.
The benefits of having a paralegal qualification include increased job prospects, higher earnings potential, and the ability to work in a variety of legal settings
Becoming a paralegal is an attractive option for many law students who want to enter the legal field but don't have the resources or desire to pursue costly full-time legal studies.
Having a paralegal qualification opens up a range of opportunities and kick-starts the paralegal student's career in the demanding legal industry. With paralegal skills, a graduate can specialize in particular areas and take advantage of job openings that require more specific expertise.
The earnings potential for a paralegal is usually higher than that of an entry-level lawyer. The job market for paralegals has increased significantly in recent years as legal firms, corporations, and government agencies look to hire the most qualified individuals.
Paralegals play an important role in the justice system and can make a difference in people's lives
Paralegals play an integral role in the justice system and help to ensure that everyone is heard and well-represented. With a paralegal diploma or certificate, paralegals can work as legal assistants to lawyers and assist with many of the basic tasks associated with running a law firm.
They may conduct research into court rulings, laws, and regulations; prepare legal documents; coordinate meetings between lawyers and clients; manage filing systems; draft briefs for attorneys; organize evidence for upcoming trials; attend depositions or court hearings; and much more.
Despite their relatively low profile compared to lawyers, paralegals make an indispensable contribution to society. By providing individuals with access to justice and opportunities to have their rights protected, paralegals play a vital role in upholding our rights as citizens.

Aspiring paralegal students should keep this in mind as they pursue their studies – paralegal work isn't just a career. It's a chance to make a difference in people's lives every day.
If you're interested in becoming a paralegal, research different programs to find the one that's right for you
If you're considering a career change and becoming a paralegal, research is key. Before embarking on the path of attaining your paralegal certification, you'll want to identify the program that is best for you.
It's important to consider various factors when researching programs, such as cost, reputation, flexibility (if necessary for part-time options), and quality of instruction—not only in terms of academics but also relevant skills like legal writing and understanding code sections.
Additionally, look into internships and practicum opportunities offered through certain schools so you can gain additional real-world knowledge while studying.
At Northwest Career College, all of our paralegal classes are taught by legal professionals with years of experience, giving you the best possible education and a competitive edge when it comes to job search. We also offer flexible day and night schedules, so that you can fit your studies into your lifestyle.
Qualifying for your future
Gaining a qualification from our Criminal Justice School puts you in an excellent position to access a variety of employment opportunities as you look for one that suits your skills and interests.
At Northwest Career College, our Criminal Justice instructors include licensed, practicing attorneys and degree instructors able to teach, not only the law but also to guide our students in the many ways a criminal justice graduate integrates into a Las Vegas legal profession.
As part of our Criminal Justice Program, you'll visit courts, jails, meditation centers, and more to experience first-hand the law in action, which will make your criminal justice training applicable to the Las Vegas legal system.
Northwest offers a flexible blended program with all criminal justice classes Las Vegas law classes taught on campus by an attorney and general education courses offered online. Our experienced instructors are on-campus to review and support your learning experience at all times.
Call us at (702) 403-1592 to speak to one of our enrollment team about joining our Criminal Justice Program today!