Dental Assistant Specialties: What You Need To Know
December 12, 2022
692 views
7 min read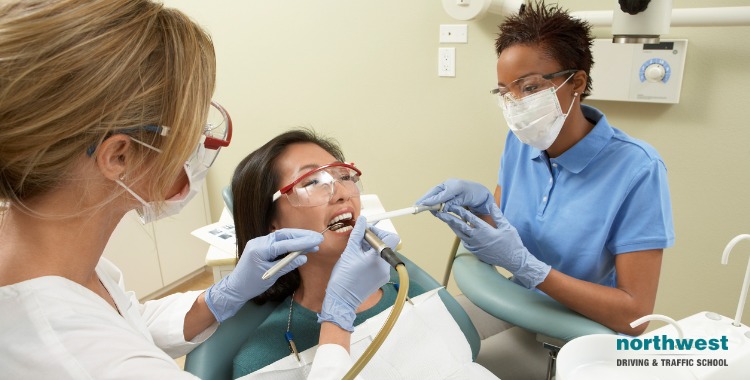 Dental assistants play an important role in the dental office, providing support to both the dentist and the patient. There are many different specialties within dental assisting, each with its own set of duties and responsibilities.
If you're thinking about becoming a dental assistant, it's important to know what your options are so that you can choose the specialty that best suits your interests and skills. Keep reading to learn more about the different types of dental assistant specialties.
Dental assistants are important members of any dental team, and there are a variety of specialties on which one can focus.
Some assistants may specialize in a particular area, such as pediatrics, orthodontics, or oral surgery. Others may choose to specialize in dental laboratory procedures and the production of dentures and other prosthetics.
Still, others may prefer to focus on office management or education. Each specialization requires different levels of skill, knowledge, and training, so those interested should familiarize themselves with the areas they're considering before making a decision.
In addition to the core competencies needed for any assistant position, specialization usually involves additional courses related to that specific area or field. Depending on the specialization chosen, further certification and licensure may be required to provide services at an advanced level.
For those considering a career in dental assisting, specializing in one of these specialized areas can help widen their scope of practice and distinguish them from other professionals in the field.
Understanding both what is required for each specialty and what opportunities it may open up for you can be essential for making an informed decision about your future career path.
Some common specialties include orthodontics, periodontics, and oral surgery
Dental care is a vital component of overall healthcare, and dental specialists play an important role in keeping people's mouths healthy. There are several dental specialties that involve more complex forms of treatment than those usually offered at a general dental practice or dental clinic.
A few of the most common dental specialties include orthodontics, periodontics, and oral surgery. Orthodontists specialize in aligning teeth and jaws through the use of braces and other dental devices, while periodontists manage conditions related to the gums.
Oral surgeons are responsible for surgically removing facial structures such as wisdom teeth or broken bones and other more complicated dental operations. In addition to these specialties, dental assisting also is a worthwhile option that involves helping dentists with routine tasks, including sterilization and providing patient care during dental appointments. 
Each specialty brings unique skills to dental healthcare and provides essential services that keep our mouths healthy.  By selecting one of these paths, dental practitioners can make a meaningful contribution to improving oral health for everyone.
Each specialty requires different skills and knowledge
In the medical and dental fields, there are a number of specialties that require different skills and knowledge. Depending on the field one enters, one may need to have certain qualifications or skills in order to be successful.
For instance, dentists must have a DDS or DMD degree and extensive experience. Dental assistants, meanwhile, need to understand the technologies used in dental practices and have the ability to work comfortably with other medical professionals and patients.
Additionally, they should be capable of taking necessary patient X-rays as needed during procedures. Physical therapy jobs require a specialized understanding of anatomy and physiology; this is necessary for therapists to identify issues and create treatment plans for their patients.
Those opting for physician assistant roles also need specific training in diagnosis and therapeutic techniques as well as strong interpersonal skills in order to communicate effectively with both healthcare providers and patients.
As these examples illustrate, navigating the medical or dental field can be challenging but also extremely rewarding — especially when each specialty requires different skill sets. With focused effort and dedication, individuals can find a specialty within these fields that will most benefit their career goals.
Specializing in a particular area can help dental assistants advance their career
As a dental assistant, honing in on a particular area can be the key to unlocking more opportunities and advancing your career. Depending on the size of their practice, some dentists look for assistants who specialize in certain procedures or services.
By acquiring certifications, completing advanced training, or both, dental assistants can become licensed to provide more specialized procedures such as orthodontics and oral surgery. Having this additional experience gives these individuals a competitive edge when it comes to getting higher-paying jobs in larger practices and specialty clinics.
With an added emphasis on specialization, dental assistants are also able to command higher wages due to their increased knowledge of specific products and services.
Whether you have already identified an area of interest or are just starting out, specializing in a particular field can be an effective way for dental assistants to expand their professional horizons and climb the career ladder.
Dental assistants who are interested in specializing should research the different options and requirements
For those considering specializing as a dental assistant, it is wise to research the different options and requirements. Some common specializations may include pediatrics, orthodontics, or prosthodontics. These specialized positions often require additional credentials, such as certificates or college-level education in the particular field.
Those interested in gaining more experience can also take clinical specialty courses, which enable dental assistants to gain an understanding of the specialized duties required for specific positions.
Furthermore, the American Dental Association has developed eight standards for Expanded Functions for Dental Assistants which refer to administering local anesthetics, placing temporary restorations, and other various tasks that are used to support the dentist's treatment of patients.
Becoming aware of these specialties and their requirements will help prepare any aspiring dental assistant for a successful career trajectory in this growing healthcare field. It also enables them to make informed decisions regarding which route they would like to take when it comes to choosing their specialization.
Regardless of which option they select, researching all possibilities ahead of time increases an individual's chances of finding a satisfying position in dentistry. By preparing themselves beforehand and having the dedication required to pursue any specialization they aim for, individuals can enjoy a meaningful presence within the healthcare profession as proficient dental assistants with specialist knowledge and skills.
The right information on hand helps ensure that those looking into becoming a dental assistant will find success in whichever direction they choose—and understand just what is necessary—before starting down any professional path.
An excellent career choice
Dental assistants play an important role in the dental industry. They can specialize in a number of different areas, each with its own set of skills and knowledge requirements. Dental assistants who are interested in specializing should research the different options and requirements.
Northwest Career College offers a comprehensive Dental Assisting Program that can help students prepare for a career in this growing field. Contact us today to learn more about our program and how we can help you achieve your goals.

Start your dental administrative assisting career with us!
Employment for entry-level employment in the dental field is expected to increase by 23% over the next 10 years, faster than average for all occupations, according to the Bureau of Labor Statistics.
With this growing demand for DAAs, it is essential that graduates cultivate the skills and traits that will help them stand out in the employment market.
Our Dental Assisting Program at Northwest Career College prepares students to work in any dental office. Our expansive, nine-operatory lab provides students with real-life dental office experience. 
You will be trained to handle clerical duties such as scheduling appointments, handling insurance claims, and monitoring inventory. You will work with documents, forms, and computer systems. No other Dental Administrative Assistant Program in Las Vegas offers this type of advanced training.
Our student-focused approach will help you cultivate the skills you will need to stand out. Our experienced Career Services team will work with you to help you find the best dental administrative assistant employment opportunities in Las Vegas. Call one of our enrollment specialists at (702) 403-1592 to find out more.