Internships: tips, advice and information for the modern student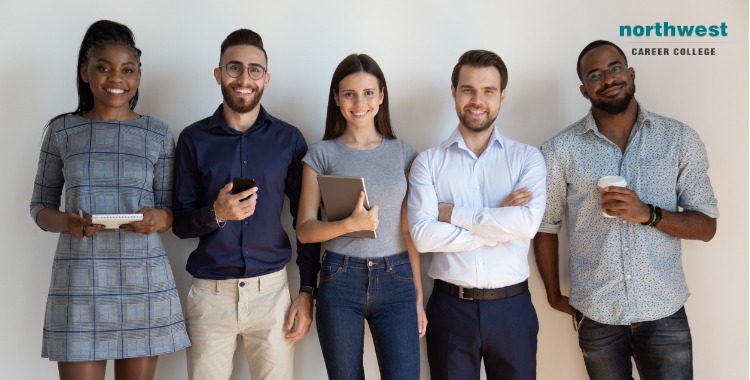 Internships are a great way to gain business skills, explore different fields of business and earn some real-world experience in the field you want to move into, which is why we offer one with all of our Business Administration Assistant courses.
But what happens on an internship, and why are they so important?
What is an internship?
An internship is a placement where you can gain business experience and explore the industry. Internships usually last a few months and can be paid or unpaid.
At NCC's business school we offer you the opportunity to experience different business sectors in an internship with one of our partner companies, which means you'll get to see what it's like working in that particular field alongside some industry experts before graduating from your Business Administration course.
What are internships used for?
Internships are mainly used by students to get business skills, such as time management, presentation, and communication skills.
They help develop these crucial business skills that will benefit them in their future career. By working at an internship, they also explore different fields of business which lets them see what aspects interest them most and ultimately choose a specialization when they graduate. This may even turn into full-time employment with the company after studies!

But it's not just about work; internships give students real-life experiences through networking events with professionals in the field, training sessions on key business activities like marketing, or having lunch meetings with higher-up employees who provide advice and feedback on their work.
Why are internships so valuable to new graduates?
Modern employers are looking for experience as much as they are qualifications. With so many business administration graduates applying for the same roles, it's hard to stand out amongst all of the competition.
An internship is a great way to gain experience that will set you apart from other candidates and can be very beneficial when looking for future employment opportunities. Perhaps most importantly, an internship helps students figure out what they want to do with their career path.
Become a Vital Part of a Business Today
Northwest's  Business Administrative Assistant Program Las Vegas offers on-campus and online Business Administrative Assistant classes to accommodate your work and family schedule.
We value real, hands-on experience, which is why you'll be visiting businesses and organizations of different sizes, industries, and structures and why our instructors are all experienced business professionals with extensive backgrounds working in, starting up, and operating various businesses and organizations.
Featuring a host of business professionals and guest speakers, our classes will give you all the skills you need to play a vital part in any business, and still graduate in as little as 9 months.
Written by: 
Monica Jones, 
B.S. Business Administration Assistant Program Chair