How to Become a Traveling Medical Assistant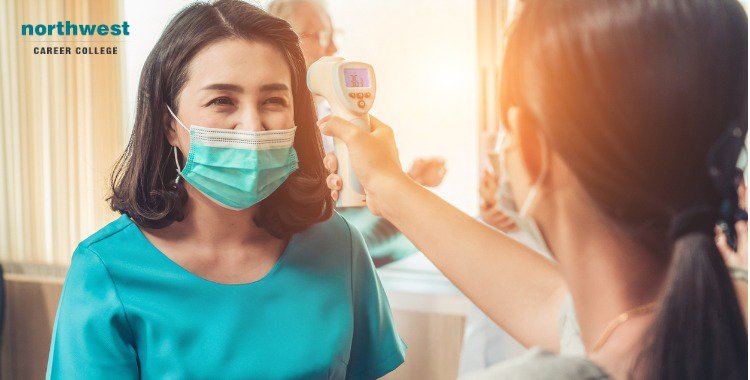 Medical assistants are one of the few careers you can choose where you have the option to remain mobile. Traveling medical assistants have the opportunity to move between healthcare providers, offering their services where they are needed most. 
In today's article, we'll be looking at what the role of a traveling medical assistant entails, and how you can qualify for it.
What Does a Traveling Medical Assistant Do?
In terms of role responsibilities, traveling medical assistant do perform much the same duties as a standard medical assistant. These duties include: 
Organizing medical records and patient files

Scheduling medical appointments for patients

Assisting doctors and nurses with minor surgical procedures

Preparing examination rooms

Administering medications
How Do You Qualify as a Traveling Medical Assistant?
Most healthcare providers require medical assistants to have at least an associate's degree. With Northwest Career College, you can graduate with that associate's degree in as little as nine months.
Additionally, some states require that a Medical Assistant pass a national certification. Passing this national certification is essential if you want to work across the US. Thankfully, to help our students get the most out of their qualifications, we also offer preparatory classes for taking the national certification. We are proud of our student's 88% national exam pass rate.
How Do You Find Work as a Traveling Medical Assistant? 
Unlike a standard medical assistant, who is usually tied to a single place of work, traveling medical assistants typically find work through medical staffing agencies. These medical staffing agencies supply staff to healthcare providers who are in desperate need of qualified medical staff.
You'll usually find this kind of work is on a temporary basis, and you'll be acting as cover for staff illness or turnover. Basically, it's a lot like being the medical equivalent of a substitute teacher.
What Are the Benefits of Working as a Traveling Medical Assistant? 
The principle benefit of working as a traveling medical assistant is that it provides you with a certain level of freedom. Because you can pick and choose when and where you want to work, you can fit working as a traveling medical assistant around other facets of your life, such as traveling or study.
Suppose you do choose to settle in one area and are looking for work as a medical assistant. In that case, you can show that you have a range of experience working in different facilities and with various healthcare providers. 
Start Your Career In Medical Assisting Today!
Here at Northwest Career College, we have a student-focused attitude that prioritizes giving our graduates the training and skillset they'll need to excel as medical assistants. Our established and seasoned instructors work with you, teaching you every aspect of Medical Assisting. We help you build your skills, abilities, and confidence, and we are proud of our 88% national exam pass rate.
If you'd like to learn more about what our medical assistant course can offer you, call one of our enrollment specialists at (702) 403-1592 today. We provide flexible learning, with online and on-campus morning, afternoon, and night classes to accommodate your Las Vegas work and family schedule. Once you've graduated, our dedicated and experienced Career Services team will work with you to help you find the best employment opportunities in Las Vegas. Call us now on (702) 403-1592 to start your journey!
Written by:
Amanda Beardsley, C.M.A.
Medical Assisting Program Chair