The Important Role Of The Medical Assistant (And Why It Makes a Great Career)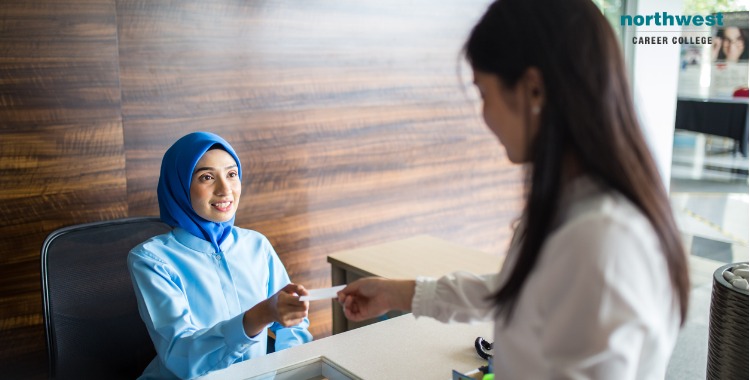 If you're thinking about a career in healthcare, you might not have considered the role of medical administrative assistant.
But these professionals are crucial to the smooth running of any medical facility – and it's a great career choice if you're looking for something challenging and rewarding.
In this blog post, we'll explore the important role that medical administrative assistants play in healthcare, and why it makes for such a great career option.
So let's dive in!

The Medical Assistant is the first point of contact for patients in a healthcare setting
Medical administrative assistants provide an invaluable service at the front lines of healthcare establishments. They are usually the first face that a patient sees upon entering a doctor's office; they handle paperwork, scheduling, patient intake, and more.
Their adeptness with technology and their knowledge of medical terminology often set them apart from other members of the medical office staff.
On top of this, they are responsible for creating a congenial experience for patients within a hectic environment – displaying both empathy in difficult situations, as well as efficiency in routine tasks.
This can be traced back to the fact that medical administrative assistants serve as the first point of contact for patients in a healthcare facility, providing support to both coworkers and customers alike.

They are responsible for greeting patients, scheduling appointments, and answering phone calls
Medical administrative assistants play a key role within the healthcare setting. They are often the first people that patients see when they enter the facility.
In addition to greeting patients, these important professionals make sure that appointments are booked accurately and efficiently. They also field phone calls, ensuring that all questions and concerns are addressed appropriately.
Without them, much of the paperwork and communication in healthcare settings would simply grind to a halt- proving that they are just as important as any other medical personnel in a healthcare system.

Medical administrative assistants are as important as the medical staff
By doing the important clerical work of a medical office, medical administrative assistants free up the time of other staff members so they can focus on more complex tasks requiring specialized attention.
Without these important players on a medical team, efficiency and quality of care would be greatly reduced. It is the responsibility of medical administrative assistants to foster a strong and supportive relationship between patients and healthcare professionals.
In addition to helping with communication, medical administrative assistants are responsible for numerous other tasks, such as keeping track of appointments, filing paperwork, scheduling tests and procedures, answering phones and emails, verifying insurance coverage, and handling billing information.

They are an important part of the healthcare team and play a vital role in patient care
Medical administrative assistants are a key part of the healthcare team and an oft-overlooked role.
They play a hugely important role in patient care, from managing paperwork and helping to coordinate care, to be available to listen to the concerns and needs of patients, they often serve as the first point of contact for many in the facility.
Their ability to juggle so many tasks seamlessly is vital in enabling other medical staff to provide timely and accurate care. And even more than that, their compassionate demeanor can be such an asset, offering comfort and empathy that can sometimes make all the difference between a positive experience and one tainted by fear or worry.
In short, medical administrative assistants are essential to patient care, not just as assistant soldiers but as skillful generals on the ever-changing healthcare battlefield.

A career as a Medical Administrative assistant is a great choice for those who want to work in the medical field but don't want to be a doctor or nurse
A career as a medical assistant is a great choice for those wanting to get hands-on experience in the medical field without having to become a doctor or nurse. It can be incredibly rewarding and surprisingly diverse, with duties that involve administrative tasks as well as direct patient care.
The Northwest Career College Medical Administrative Assistant
The program will teach you the necessary skills to become an effective and successful Medical Administrative Assistant in the healthcare industry.
The program provides a comprehensive education on medical terminology, patient billing, coding and filing, insurance verification, scheduling appointments, and other administrative tasks. You will also learn basic clinical skills such as taking vital signs and assisting with minor procedures.
Graduates of the Medical Administrative Assistant Program will have access to an externship in the Las Vegas area to gain hands-on experience in a medical setting.
The Medical Administrative Assistant Program at Career College provides students with the knowledge and skills needed to excel as medical administrative professionals. With an extensive curriculum and the guidance of experienced instructors, you will be prepared to enter the medical field with confidence.
Upon completion of the program, graduates can look forward to finding employment in a variety of healthcare settings such as hospitals, doctor's offices, and clinics.

Medical Administrative Assistants can expect to earn a good salary and have job security
Medical assistants are a vital part of the healthcare industry and can expect to be handsomely rewarded in return. A career as a medical assistant often provides job security and can pay very well, depending on the setting.
From doctors' offices to hospital settings, medical administrators provide invaluable services to their employers and the community. With a clear growth trend projected for qualified medical staff, potential medical assistants from all backgrounds have tremendous opportunities to grow with the industry.
Excellent salaries and job security come hand in hand for those who pursue this rewarding career path.

Here at Northwest Career College, our student-centered philosophy means that you come first.
We offer a flexible schedule so you can care for your family and have a balanced life in Las Vegas while advancing toward your new career.
We pride ourselves on being the premier Medical Administrative Assistant school in Las Vegas, and our established, seasoned instructors offer online and on-campus night classes to accommodate your busy work and family schedule.
Call us at (702) 403-1592 to speak to one of our admissions assistants about your new medical administrative assisting career.

Written by:
Jenette Ashcraft, N.C.M.A.
Allied Health Department Director
R.M.A. National Education Center