Going Back to School as a Military Veteran
August 30, 2019
362 views
4 min read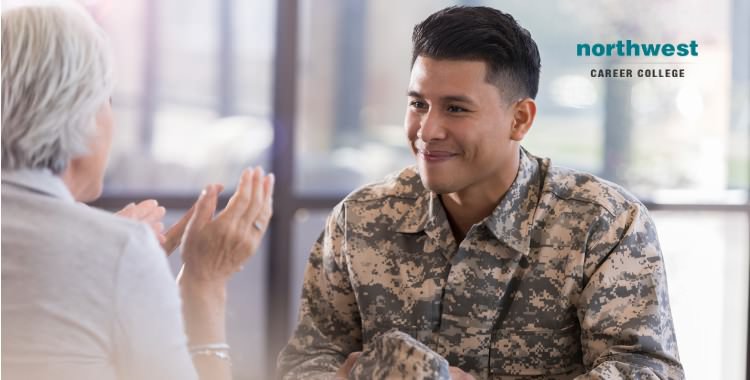 Going back to school as a military veteran isn't easy, but it certainly is doable. Studies show that veterans earn their degrees at a similar rate to non-veterans. Despite the unique challenges faced by veterans, one study showed that those who use the GI Bill® earn their degrees in sync with traditional students.
Despite the many unique challenges faced by veterans going back into education, there are many benefits to starting a new career path and lots of sources of assistance available.
Benefits of Going Back to School as a Military Veteran
Easing the Transition Into Civilian Life
Getting back into the swing of civilian life can be difficult for many veterans. Going to school and earning new qualifications can help to ease this transition, with many veterans actually finding that attending classes, joining study groups, and finding peers helps them to acclimatize to this new, non-military, lifestyle.
Many schools also offer specific veteran clubs and societies, where former military members can meet peers at school who were in the military and can understand their experiences and concerns.
Improved Job Opportunities
The Economic Policy Institute of Washington found that workers with a four-year degree outearned their peers with only a high school degree. Those with a bachelor's degree earned $31.93 an hour on average, compared to those with a high school degree who earned $17.25 an hour on average. 
Getting the right kind of qualification not only increases your earning potential, but it also gives you a gateway to a rewarding career that you can develop over the rest of your professional life.
An Opportunity to Use Your Skills
Going back to education is not a sign that the skills you built up in the military are of no use. In fact, the real-world experience you have can make you stand out among other job applicants. It can also make it easier to decide what field you want to enter. If there was something you enjoyed doing during your time in the service, now is a great opportunity to expand on that and make it into a career choice. 
Resources Available to Veterans 
Post 9/11 GI Bill®
The funding from the GI Bill® is in place to help veterans receive job training or go back to school after their military service. For approved programs, the GI Bill® provides students up to 36 months in education benefits.
Military Funding for College
There's a multitude of options when it comes to aid for college. There are scholarships, grants, and loans that are designated specifically for veterans going back to school. 
DANTES and DSST
While in the military, most service members receive training in specialty areas. Through the  DANTES (Defense Activity for Non-Traditional Education Support) program, military personnel can earn college credits for the training and experience they accrue during their service. The DSST (DANTES Subject Standardized Tests), which are free for veterans, will earn you college credit, putting you a few steps closer to your degree.
How Do I Apply for VA Funding?
Online –

You can apply for your chosen VA benefits program online through the

VA Website

. This streamlined process will only take around 30 minutes to complete.
In Person –

You can apply in person through your local VA Office. The Regional VA Office for Nevada is located in Reno at

5460 Reno Corporate Drive, Reno, NV 89511.
By Mail –

If you prefer to apply by mail, Call

1-888-GI BILL®-1

(

888-442-4551

) to have an application pack mailed to you.
At Northwest –

Northwest is committed to providing every assistance it can to our country's servicemembers. Call us on

(702) 403-1592

to speak to one of our enrollment experts and we will provide you with all the information you'll need to start your application.
Disclaimer: GI Bill® is a registered trademark of the U.S. Department of Veterans Affairs (VA). More information about education benefits offered by VA is available at the official U.S. government Web site at www.benefits.va.gov/gibill.