Exploring Career Paths After Completing a Radiography Program
October 25, 2023
162 views
5 min read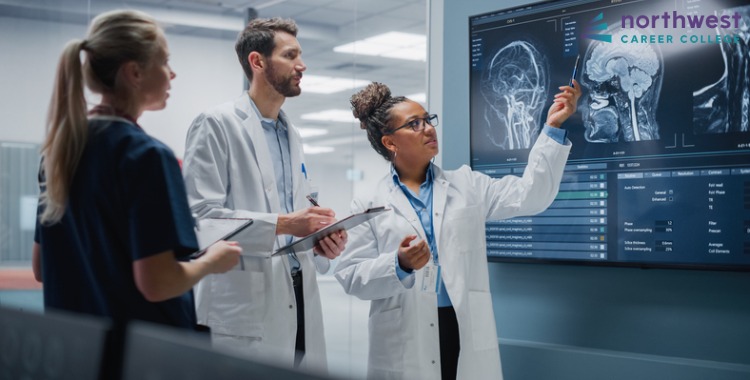 If you are an aspiring radiologic technologist, or have recently started a radiography program, you may be wondering what career paths are available to you once you graduate. Rest assured, the field of radiography offers a wide range of job opportunities in the healthcare industry.
Job growth for radiologic technologists is expected to outpace other professions over the next 10 years. In Nevada, job openings in this field are expected to expand by over 18% per year through 2030.
Radiography plays a Crucial role in diagnosing and treating various medical conditions.  entering the radiography field requires specialized education, including a minimum of associate's degree training at an accredited program. 
In this post, we will explore the career paths for graduates after completing a radiography program and understand the importance of this field within the healthcare sector.

Overview of Radiography Programs
Before diving into the careers let's first understand what a radiography program entails. Radiography training programs provide training in a number of important areas, including:
Anatomy and physiology
medical terminology
radiographic pathology
radiographic positioning
medical law and ethics
 basic imaging techniques such as X-rays
Advanced Imaging modalities such as MRI and CT scans
Having a grasp of these fundamentals is essential for comprehending the career possibilities that await.

Opportunities in Hospitals and Medical Centers
Radiologic technologists have consistent job prospects available to them in hospitals and medical centers.  these organizations serve as pillars within the healthcare system and provide radiography graduates with prominent and well-respected employment opportunities. Over 55% of radiologic technologists are estimated to work in a hospital setting.
Hospitals can be demanding work environments, as many procedures must be completed with urgency due to the medical needs of patients. Some individuals thrive on this intensity. For others, this setting also offers radiographers the chance to collaborate closely with other healthcare providers and can provide higher compensation than some other settings. 

Diagnostic Imaging Centers
Specialized diagnostic imaging centers offer another common career path for graduates of radiography programs. Examples of such centers include Steinberg Diagnostic Medical Imaging, Desert Radiology, and Quality Medical Imaging. 
Imaging centers play a role in the healthcare system by offering services and various career opportunities. They may focus on types of imaging such as MRI or mammography allowing technologists to specialize in their areas of interest.
Working in an imaging center offers a focused and specialized environment. Technologists here often have the opportunity to develop expertise in imaging modalities refining their skills for precision and accuracy. It is important to note that certain Imaging modalities (e.g. computed tomography and magnetic resonance imaging) require specialized training and certification before Radiologic technologists are able to work in the field.

Private Practices and Clinics
Private healthcare practices and clinics offer the widest range of work environments to radiologic technologists. They also increase the potential of radiologic technologists to develop relationships with patients over a period of time, which is unlikely in hospitals or imaging centers.
Working in private practice allows technologists to witness firsthand the impact of their work on patients in a more intimate healthcare setting. They may perform a range of procedures, but regardless of their responsibilities, they will play an integral role in the diagnostic process for the private practice physicians with whom they work.

Research and Education
Research institutions or educational settings also provide opportunities for graduates of radiography programs. Radiography programs must be staffed by individuals with extensive clinical experience in the field and a formal background in education. 
Radiographers who are drawn to engage in research often do so because they wish to contribute to advancements in the field of radiography. For example, Technologists working in research have the potential to develop techniques that enhance existing technologies or contribute to industry publications.
Educational positions allow technologists to share their knowledge and experience with the next generations of professionals. Radiographers may teach didactic courses within technology programs, oversee students as they learn and practice their skills in a laboratory setting, or support students as a clinical preceptor in the field supervising them as they apply their skills in a real-world patient care setting. In all cases, they are helping to shape the future direction of the radiography field.

Continued Education and Specialization
As referenced above, radiography program graduates may choose to pursue continued education in the radiography fields such as radiation therapy, MRI technology, or nuclear medicine.
Advanced degrees and certifications in these sub-specialties provide graduates with opportunities to pursue more specialized roles that offer increased earning potential. For example in radiation therapy technologists collaborate closely with oncologists to administer radiation treatments to cancer patients. This requires an understanding of both radiography and the specific area of specialization, therefore individuals with this training are compensated at a higher level.



Conclusion
Completing a radiography program offers you a pathway to pursue a wide range of career opportunities where you can be compensated well and make a positive contribution to the healthcare industry. Whether you choose to work in hospitals or imaging centers, engage in research, or pursue additional higher education, the field of radiography is full of rewarding possibilities.