Can Vaping Damage Your Teeth?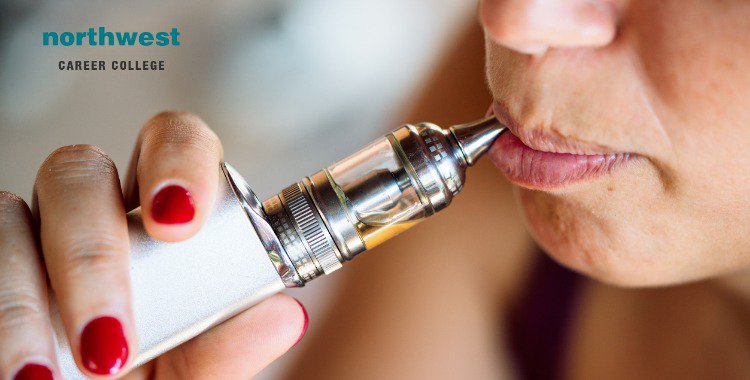 Vaping has become a popular alternative to smoking in the US, particularly in those aged 16-25. While vaping in undeniably less deleterious to your health than smoking is, more and more research is showing that it does have its own set of potential health problems, especially in the area of oral health.
In this article, we'll be looking at what effect vaping has on your oral health as a whole and whether it could be damaging your teeth.
The Prevalence of E-Cigarettes
One of the major issues around vaping the popularity of vaping with certain age groups. The major source of concern is the fact that e-cigarette use from 2017 to 2018 increased 78% among high school students and 48% among middle school students. 
The popularity of vaping amongst school-age children and the prevalence of marketing and flavors clearly aimed at younger consumers has led to some state placing restrictions on who can purchase vape-pens and vape liquids.
Potentially Hazardous Ingredients
The e-liquids or vape juices that contain the nicotine also contain other ingredients that may be hazardous to your oral health, including:
Propylene glycol
Propylene glycol is a carrier product primarily used in the production of polymers and food processing and is commonly found in liquid sweeteners, ice cream, and whipped dairy products. As a viscous, colorless liquid that possesses a faintly sweet taste is a primary ingredient in many e-liquids.
However, when used orally, the breakdown products of PG include acetic acid, lactic acid, and propionaldehyde, which are all toxic to enamel and soft tissue. As a hygroscopic product, propylene glycol can also lead to tissue desiccation which promotes cavities and gum disease.
Vegetable Glycerin and Flavorings
Another colorless, odorless, viscous, and sweet-tasting liquid, vegetable glycerin is often used safely in a number of fields, including medical, pharmaceutical, and personal care. While it is reasonably safe on its own, when combined with common e-liquid flavorings, vegetable glycerin causes a fourfold increase in microbial adhesion and a 27% decrease in enamel hardness.
Nicotine
While the percentage of nicotine in most e-liquids is much lower than in cigarettes, those using e-cigarettes tend to use them for longer and one electronic cartridge providing around 200 to 400 puffs can equal the smoking of two to three packs of regular cigarettes. 
The nicotine provided by these cartridges reduces immune cell function, reduces gingival blood flow, and decreases connective tissue turnover, resulting in a much higher chance of developing gum disease and tooth loss.
Battery Explosions
While significantly less common that damage caused by the ingredients listed about, e-cigarettes and vaping pens do occasionally suffer from lithium battery malfunctions that cause an explosion.
A study by the dean of the School of Public Health at UNT Health Science Center estimated that 2,035 e-cigarette explosions and burn injuries occurred in the US between 2015 and 2017, often leading to serious oral soft tissue damage, and in one case, the death of a 24-year-old man from Texas. 
While e-cigarettes are definable less damaging to health than traditional cigarettes, as you can see above, their impact on dental health is still being assessed and could potentially be quite severe. 
Join One Of The Best Dental Assistant Training Schools In Vegas 
Here at Northwest Career College we firmly believe that learning is a process that continues on the job. Our Dental Assistant Training Course gives you all the key skills and experience you'll need to find the best dental assisting employment opportunity in Las Vegas. 
Our Dental Assistant School offers morning, afternoon, and night classes to accommodate your busy work and family schedule and our established, seasoned instructors have helped our students achieve a 91% national exam pass rate. Call us at (702) 403-1592 to speak to one of our admissions assistants about your new dental assisting career.
Written by:
Cynthia Lofquist, R.D.A.
Dental Assisting Program Chair
Concorde Career Institute