Can A Paralegal Become A Lawyer?
February 20, 2023
697 views
5 min read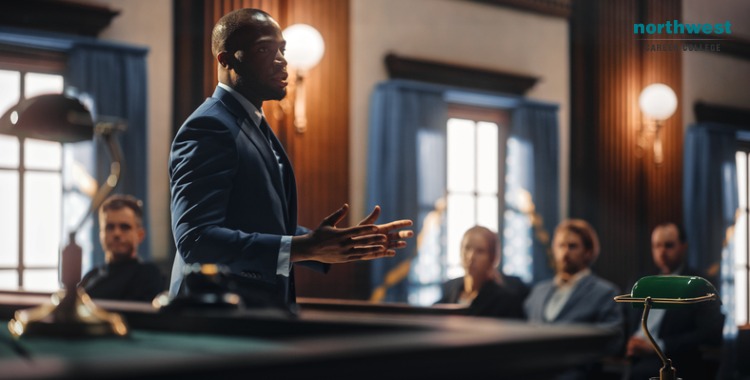 For those considering a career in law, the question of whether or not a paralegal can become a lawyer is an important one. The answer, fortunately, is yes – but it may not be as simple as you think. Here's what you need to know about transitioning from paralegal to lawyer.
Read More: Why paralegal might be a better option than lawyer for your law career?
The education requirements for becoming a lawyer
Becoming a lawyer is no small feat. Generally, the first step to becoming a lawyer is obtaining an undergraduate degree from an accredited institution and then completing a Juris Doctor Law degree, which can take three years.
Prospective lawyers must pass their state bar exam to legally practice law. While in school, it is highly advised for future lawyers to gain practical experience by interning with or working for a law firm or legal organization.
Furthermore, depending on the field chosen, applicants may be required to complete additional specialized coursework or pass additional exams in order to become certified in their specialty area of law.
Overall, those interested in becoming lawyers should start preparing early and fully acquaint themselves with their desired field's requirements and regulations before taking any steps towards licensure.
The work experience requirements for becoming a lawyer
Becoming a lawyer is an incredibly important and prestigious milestone for those seeking to practice law.
It requires hefty educational qualifications, such as a Bachelor's degree in addition to a Juris Doctorate from an accredited university, as well as rigorous licensing exams. However, another key requirement for aspiring lawyers is work experience.
Most jurisdictions require that individuals have experience working in the legal field prior to becoming qualified to sit for the bar exam and be admitted to the Bar Association. In this regard, paralegals can be instrumental.
Working in a legal capacity can give valuable insight into how the law system operates, legal protocol and court procedures, which serve as great preparation for those hoping to become full-fledged lawyers.
Ultimately, individuals considering the transition from paralegal to lawyer should research their jurisdiction's requirements thoroughly so they are fully prepared with the right credentials when they take on this arduous journey.
The skills required for becoming a lawyer
Becoming a lawyer requires an extensive amount of hard work and dedication. You must possess strong research, writing and communication skills, critical thinking capabilities and have the ability to remain both organized and composed under pressure.
These are all needed to analyze legal documents, draft arguments, comprehend judicial opinions and collaborate with clients in order to produce successful outcomes. Further into your studies you must develop advocacy skills, strong analysis, judgment and the ability to craft tactics in order to attain the desired results for your client.
It takes many rigorous years of post-high school study and completion of professional exams before you can become a qualified lawyer, but if you are up for the challenge it is certainly worth the effort!
How to become a lawyer if you're already working as a paralegal
Considering a move from paralegal to lawyer? It can be achieved, and there are several steps you will need to take in order to do so. The primary requirement is completing a law degree which typically involves two years of full-time study.
After that, you must pass the state's bar exam and meet any additional requirements such as Professional Responsibility courses. Finally, being admitted to the bar and receiving your license grants you the ability to practice law in that state.
Making the jump from paralegal to lawyer shouldn't cause too much concern if you're organized and dedicated; each step is achievable with some focused effort!
The benefits of becoming a lawyer
Becoming a lawyer offers an array of advantages that can be career-defining and life enriching. For starters, the earning potential is significantly higher: lawyers have the opportunity to accrue significant amounts of wealth through good judgment and hard work.
Moreover, the profession is prestige-laden with exclusive access to social circles and exclusive networks. Finally, lawyers have a fantastic capacity to affect positive change within society; they are positioned very well in order to fight poverty and inequality.
Becoming a lawyer opens doors that would otherwise remain closed; with ambition as a driver there are only potential upsides that come with this singular path.

Start your path to becoming a lawyer with a paralegal qualification
Becoming a lawyer is a lengthy process that requires at least 7 years of post-secondary education and training.
If you're already working as a paralegal, you may be able to fast-track your career by completing a Law Clerk or Paralegal vocational education and training program.
Many of the skills required for becoming a lawyer, such as critical thinking, research, and writing, can be acquired through formal education and on-the-job training. The benefits of becoming a lawyer include job satisfaction, intellectual stimulation, and financial stability.
If you're interested in pursuing a career in law, contact Northwest Career College about our Paralegal Program.



Join one of the best paralegal schools in Las Vegas today!
Here at Northwest Career College, we run the top paralegal program in Nevada, offering our students the vocational education, skills and experience they need to successfully enter the field of paralegal work and position themselves to maximize their earnings.
Our Paralegal instructors are seasoned attorneys and highly trained professionals who are able not only to teach you the law but also to guide you through the many ways a paralegal integrates into a Las Vegas law practice.
We offer on-campus and online paralegal classes to accommodate your work and family schedule. Our Career Services team will work with you to help you find the best paralegal employment opportunity in Las Vegas.
Call us today at (702) 403-1592 to find out what our paralegal program can offer you.