How To Become A Paralegal: A Guide For Beginning Your Journey
January 15, 2022
188 views
6 min read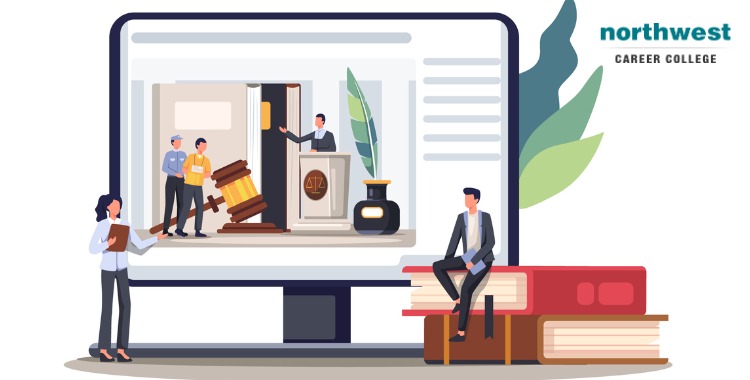 In this blog post, we will discuss how to become a paralegal and how you can get started on your journey to this rewarding career.
There are a few different ways to become a paralegal, and the best route for you will depend on your qualifications and experience. To help out, we'll outline the different paths to becoming a paralegal.
Read More: Why Paralegal Might Be A Better Option Than Lawyer For Your Law Career
Let's start with the basics: What is a Paralegal?
A paralegal is someone who has been trained by law school graduates or other professionals in the field of law. They have an understanding of how to do research for lawyers so that they can complete their work more efficiently.
Paralegals often work alongside attorneys and take on many tasks such as interviewing clients, doing legal research, organizing documentation from court cases, drafting documents such as briefs and pleadings, managing office communications including emailing with colleagues and clients; some even develop websites for lawyers!
A lot of people are interested in how to become a paralegal because it can be very rewarding, but how do you go about becoming one?
What are the responsibilities of a Paralegal?
Paralegals are responsible for conducting research, preparing documents, and providing support to attorneys by performing a variety of tasks.
Paralegals are not lawyers but work closely with them. They may even take on some of the responsibilities that a lawyer would usually do.
However, paralegal tasks can also be done by non-legal personnel such as secretaries and administrative assistants; this is why it's important to know how to become a paralegal.
Where do you go to learn how to become a Paralegal?
There are many ways for someone interested in how to become a paralegal, but the best way is through an online program.
Online programs offer convenience and flexibility while learning which will make it easier when taking on extra responsibilities at work or home. There are also many programs that offer certification, which can look good on your resume.
When looking for how to become a paralegal, you may want to consider the following:
What type of law do you want to specialize in?

What is the name of the program or school you would like to attend?

How much money are you willing to spend on tuition?

How much free time do you have to dedicate to your studies?

What type of learner are you, visual or auditory?
Once you have answered these questions, it will be easier to find the right program for how to become a paralegal. There are many schools and programs that offer certification, which can look good on your resume.
Take the time to research how you may become a paralegal and how much it will cost you. The more information you have about how to become a paralegal, the easier it will be for you when choosing where to go in order to get certified.
A lot of people are interested in how to become a paralegal because it can be very rewarding. It can also be a great way to get your foot in the door of the legal profession and develop skills that will benefit you throughout your career.
How Do You Become A Paralegal?
First of all, the requirements for how to become a paralegal will vary depending on where in the world you are. In some countries, there may even be two different types of legal assistants: those who have attended a specific school and those who have not.
In the United States, for example, there is no one-size-fits-all answer to how to become a paralegal. Depending on the state in which you reside, the requirements may be different.
That said, most states will require that you have either an associate's degree or a bachelor's degree in paralegal studies. You may also be required to pass an exam, such as the National Association of Legal Assistants (NALA) Paralegal Exam.

In order to become a certified legal assistant (CLA), you will need to complete at least 45 hours of continuing education every three years. If you are not yet a U.S. citizen, you may also be required to pass an English proficiency exam.
Why is NCC the best place to study for your Paralegal qualification?
NCC offers our students the best chance to pass the CLA exam. We have a 95% success rate, which is significantly higher than any other college or program in the country.
In addition, our faculty are experienced professionals who work in the legal field and can provide you with real-world insights and advice. Plus, we offer small class sizes so that you can get all the individual attention you need.
NCC is where you can gain your certification and take that big step into becoming a legal professional. NCC offers flexible scheduling, affordable tuition rates, and world-class instructors who are ready to help guide you through this rewarding career path.
Our online paralegal program is designed to give you a solid foundation in the skills and knowledge that many employers look for when hiring new legal support staff.
You will learn how to research, write, communicate clearly with clients and coworkers, analyze information from multiple sources quickly and accurately, draft documents such as pleadings or motions using standard formats of the legal profession, and more.
Join one of The Best Paralegal Schools in Las Vegas today!
Here at Northwest Career College, we run the top paralegal program in Nevada, offering our students the skills and experience they need to successfully enter the field of paralegal work and position themselves to maximize their earnings.
Our Paralegal instructors are seasoned attorneys and highly trained professionals who are able not only to teach you the law but also to guide you through the many ways a paralegal integrates into a Las Vegas law practice.
We offer on-campus and online paralegal classes to accommodate your work and family schedule. Our Career Services team will work with you to help you find the best paralegal employment opportunity in Las Vegas.
Call us today at (702) 403-1592 to find out what our paralegal program can offer you.