Should I become a Phlebotomist?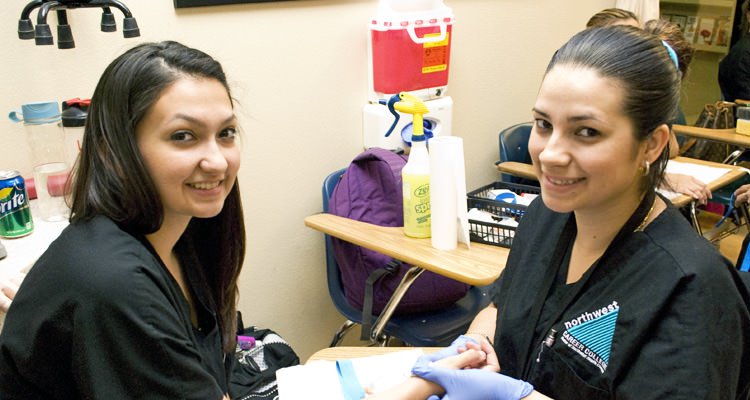 Few people probably know the term phlebotomist, but it's the health care professional who draws blood and ensures the proper amount is taken and that all blood is properly labeled. Anyone who chooses this field has to be comfortable with blood, needles, databases, test tubes and blood vials. You will draw blood, verify the patient's or blood donor's identity, label the blood and enter patient information into a database. You'll assemble and maintain equipment as well to prevent infections or other complications. Phlebotomists also tend to reassure nervous patients who don't like needles, and some of them will explain what they are doing for patients who are interested.
If you become phlebotomist, you'll likely spend your days in a hospital or lab, so be sure you're comfortable with medical environments where people may be uncertain or worried about their health. You may draw blood from as many as 150 patients a day.
Phlebotomists rank #19 in Best Health Care Support Jobs. Jobs are ranked according to their ability to offer an elusive mix of factors. Read more about how we rank the best jobs.
Salary
Phlebotomists made a median salary of $30,670 in 2014, according to the BLS. The highest-paid 10 percent in the profession earned $43,800, while the lowest-paid earned $22,150 that year.
Training
Most employers seek those who have completed a certificate program and earned professional certification. Northwest Career College offers a Phlebotomy class as a part of their Medical Assisting Program which offer courses in anatomy, physiology and medical terminology, as well as clinical experience. Northwest's Medical Assisting Program with the Phlebotomy certification class is offered as a nine-month day program and a 10-month night program at the end of which students take a certification exam for both Medical Assisting as well as Phlebotomy.
Job Satisfaction
Average Americans work well into their 60s, so workers might as well have a job that's enjoyable and a career that's fulfilling. A job with a low stress level, good work-life balance and solid prospects to improve, get promoted and earn a higher salary would make many employees happy.
In conjunction with US World and News Report 2016