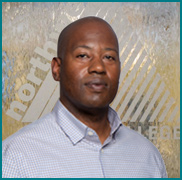 Gregory Tyiska
Facilities Operator I
Originally from Southern California, Gregory has lived in Las Vegas for three years now. A graduate of Banning High School in Wilmington CA, he is now a member of our committed Facilities team.
Gregory's professional passion is taking on new challenges to develop new skills for better opportunities. And his personal passion is to lead by example for his children to show them the meaning of hard work and determination to help them grow into successful adults.
For Gregory, the best thing about working for NCC is becoming part of the family and not just
showing up for a paycheck. The opportunity for career growth is here in a positive work environment and most of all, the staff made him feel welcome in the company.
In his spare time, Gregory enjoys working out, camping, fishing, and, on the weekends, riding around the Las Vegas Valley on my Can-am Spyder F3, and listening to music on the open road.