What is the Role of the Administrative Dental Assistant?
Dental Administrative Assistant
August 20, 2023
249 views
7 min read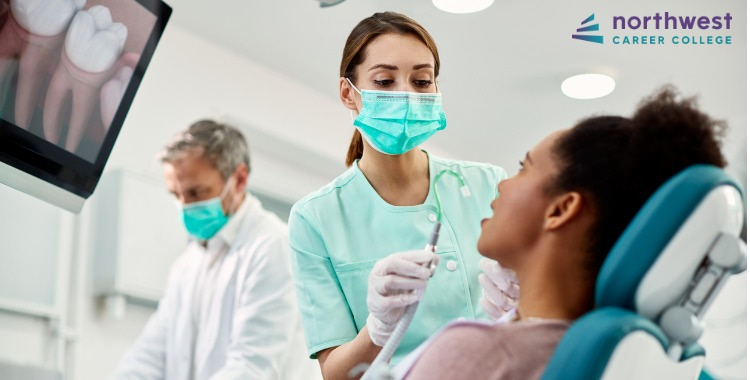 Are you interested in a career that combines clinical healthcare and administrative services? Do you want to become part of a dynamic team devoted to providing excellent oral health care and patient experience?
If so, then an administrative dental assistant may be the perfect career for you! This specialized role within the dental field requires comprehensive technical knowledge as well as good customer service skills.
Northwest Career College strives to provide our students with the highest quality training – from filing insurance claims to billing management activities. We offer premier courses designed to help you become certified and qualified for this exciting profession!
Read on to learn more about the role of administrative dental assistants and why Northwest Career College is the best place for your education journey.

What Does an Administrative Dental Assistant Do on a Daily Basis
When it comes to dental practices, administrative dental assistants are the backbone that keeps everything running smoothly. Their role is crucial to ensuring that patients are welcomed, taken care of, and assisted with various administrative tasks.
On a daily basis, an administrative dental assistant is responsible for handling appointments, answering phone calls, and checking patients in and out of the office. They also manage patient files, maintain a clean office, and ensure that all supplies are adequately stocked.
In short, they are the glue that holds the office together, making sure that both patients and dental professionals have everything they need to ensure that the practice runs seamlessly.

What Are the Benefits of Becoming an Administrative Dental Assistant
Becoming an administrative dental assistant can be an exciting and fulfilling career choice. This role involves working closely with dentists and patients to ensure that the office runs smoothly and efficiently.
Administrative dental assistants take on a wide variety of responsibilities, from scheduling appointments to managing patient records and billing. Mastering these tasks, they help dental practices run smoothly and provide patients with high-quality care. Additionally, this profession offers a sense of personal accomplishment and growth.
It allows individuals to build a career in the healthcare industry that is both challenging and rewarding. With the right training and mindset, becoming an administrative dental assistant could be the perfect career move for those interested in fulfilling and engaging jobs.

What Kind of Education and Training is Required for an Administrative Dental Assistant
Becoming an administrative dental assistant requires a certain level of education and training to ensure that you are qualified to tackle all the responsibilities that come with the job.
Generally, most employers require a high school diploma or equivalent, while other employers may require an associate's degree in dental assisting.
In addition to this, administrative dental assistants must also undergo specialized training in areas such as dental software, scheduling appointments, managing paperwork, and handling patient records.
With this education and training, administrative dental assistants can play a critical role in ensuring the smooth operations of a dental office, leaving dentists and dental hygienists to focus on patient care.

What Skills are Necessary to be Successful in this Field
Becoming a dental administrative assistant can be a fulfilling career choice for those who enjoy working in the healthcare industry and providing support to patients.
The role of a dental administrative assistant involves managing patient records, scheduling appointments, and ensuring the office runs smoothly. To be successful in this field, it's important to have excellent communication skills, attention to detail, and a positive attitude.
Dental administrative assistants must also possess strong organizational skills to manage patient flow while keeping the dental office tidy and efficient. In addition, working as part of a team and being willing to learn new skills are crucial traits for success in this field.
With these fundamental skills, dental administrative assistants can excel in their roles and significantly impact the dental industry.

What Makes Northwest Career College the Best Place to Become an Administrative Dental Assistant
Northwest Career College is hands down the best place to cultivate the skills needed to become an administrative dental assistant. Their comprehensive training curriculum prepares students for a high-demand profession in the dental industry.
From thorough classroom lectures to immersive, hands-on training, Northwest Career College sets the standard for quality education. Students can expect to learn the ins and outs of dental office administration, including dental software, insurance billing, appointment scheduling, and patient communication.
Above all, Northwest Career College cares about the success of its students and provides ample resources to ensure a smooth transition into the workforce. There is no better choice for prospective administrative dental assistants than Northwest Career College.

How to Get Started with Your Administrative Dental Assistant Qualification at Northwest Career College
Becoming an Administrative Dental Assistant can be an exciting and fulfilling career choice. Northwest Career College offers a comprehensive training program that will give you all the skills and knowledge necessary to start working in this field.
Our program covers everything from basic office procedures to dental terminology and anatomy, so you can be confident in your abilities and feel prepared for any task that comes your way.
With hands-on training and experienced instructors, you'll be able to learn in a supportive environment and gain the confidence you need to succeed. Whether you're interested in working in a private practice, hospital, or other healthcare facility, our program will give you the foundation you need to thrive in this rewarding profession.

Contact us Today to get Started on Your Path to Becoming an Administrative Dental Assistant!
To become an administrative dental assistant, you must have great interpersonal skills, knowledge of dental practice procedures, and an understanding of medical terminology.
Northwest Career College allows students to equip themselves with the necessary clinical skills and receive a quality education to succeed in this field.
The program at NCC helps cultivate the confidence and resources necessary to help students stand out in their fields of expertise.
We provide hands-on training for our Dental Administrative Assisting Program, combining online learning with one-on-one clinical instruction that prepares students with the skills they program which combine online learning with one-on-one clinical instruction that prepares students with the skills they will need on the job.
Our courses are taught by experts who foster a supportive learning environment that encourages active participation while providing real-world experience.
If you're serious about your administrative dental assistant career, Northwest Career College is here to help get you started! Contact us today and see what options are available for earning your administrative dental assistant qualification and take advantage of this exceptional opportunity.



Start your Dental Administrative Assisting Career with us!
Employment for entry-level employment in the dental field is expected to increase by 23% over the next 10 years, faster than average for all occupations, according to the Bureau of Labor Statistics.
With this growing demand for DAAs, it is essential that graduates cultivate the skills and traits that will help them stand out in the employment market.
Our Dental Administrative Assisting Program at Northwest Career College prepares students to work in any dental office. Our expansive, nine-operatory lab provides students with real-life dental office experience. 
You will be trained to handle clerical duties such as scheduling appointments, insurance claims, and inventory monitoring. You will work with documents, forms, and computer systems. No other Dental Administrative Assistant Program in Las Vegas offers this type of advanced training.
Our vocational training-focused approach will help you cultivate the skills you will need to stand out. Our experienced Career Services team will work with you to help you find the best dental administrative assistant employment opportunities in Las Vegas. Call one of our enrollment specialists at (702) 403-1592 to learn more.