How Do I Become a Certified Phlebotomist?
August 19, 2023
607 views
5 min read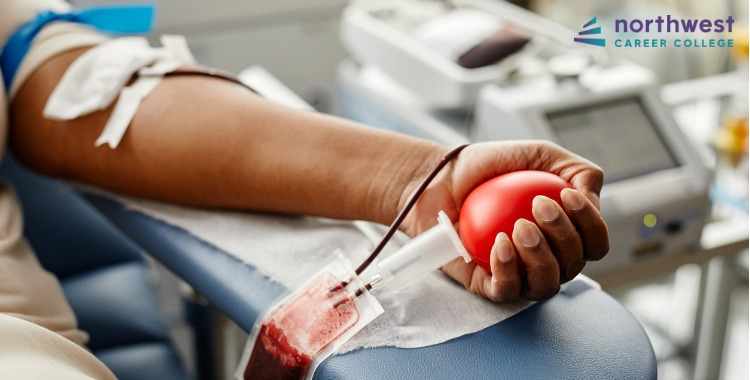 If you're looking to enter the medical field, a career as a certified phlebotomist could be just what you need. Drawing blood from patients is an important task in many healthcare settings, and the demand for phlebotomy technicians has grown exponentially over recent years.
Becoming a certified phlebotomist requires extensive training and certification, but Northwest Career College can provide everything necessary for you to make it happen – let us show you how!

What is a Phlebotomist And Why is it Important to Become Certified by a Professional Institution
Phlebotomy is the process of drawing blood from patients for lab tests, transfusions, or medical research. Therefore, a phlebotomist is a medical technician that specializes in this procedure.
A phlebotomist should demonstrate knowledge and skills in this field and high ethical standards, excellent communication, and organizational abilities. A certification from a professional institution is important because it confirms the phlebotomist's competence level, ensures quality control measures have been met, and advances their career opportunities.
Further, certification also plays an integral role in setting national standards and guidelines and in ensuring patient safety. Thus, being certified by a professional institution delivers unambiguous information that phlebotomists have completed adequate training, have met high standards of competency, and hold themselves to the profession's ethical and safety guidelines.

The Basic Skills and Knowledge Required to Become a Successful Phlebotomist
Becoming a phlebotomist takes more than just the desire to draw blood. It requires a certain set of basic skills and knowledge to become successful in this field.
One must have a steady hand, good communication skills, and be knowledgeable about the different types of blood tests. A phlebotomist must always practice proper infection control procedures and be able to work in a fast-paced, high-pressure environment.
Having a strong sense of empathy and compassion is also important, as many patients may be nervous or scared. With these skills and knowledge, a phlebotomist can provide top-notch patient care while helping healthcare professionals accurately diagnose and treat their patients.

Different Qualifications Available for Certified Phlebotomy and Why Northwest Career College is the Best Place to Get Your Phlebotomist Qualification
If you're interested in pursuing a career in the healthcare industry, becoming a certified phlebotomist is a great way to start. There are a variety of qualifications available for aspiring phlebotomists, and it can be overwhelming trying to figure out which one is the best fit for you.
However, at Northwest Career College, we believe that our phlebotomist qualification program stands out from the rest. Our program is comprehensive and offers hands-on training to ensure that our students are fully prepared for the demands of the job.
Additionally, our instructors are experienced professionals who are dedicated to providing top-quality education to our students. So if you're looking to take the first step towards a fulfilling career in the healthcare industry, we encourage you to consider the Northwest Career College phlebotomist qualification program.

Benefits Of Becoming A Certified Phlebotomist
Becoming a certified phlebotomist is a career path worth considering due to its numerous benefits in the healthcare industry.
Firstly, phlebotomists have a high demand in the job market, with projections showing job opportunities will increase by over 25% in the next decade.
Secondly, the certification process offers valuable training in medical procedures, anatomy, and safety protocols, making the phlebotomist an indispensable medical team member.
Thirdly, a phlebotomist enjoys a decent salary that increases with experience and the opportunity to work in various healthcare settings, from hospitals to blood banks, to medical clinics.
In sum, if you're passionate about healthcare and want a stable career with growth potential, becoming a certified phlebotomist might be the right choice for you.

Overview of the Training Process at Northwest Career College from Start to Finish
Northwest Career College's training process is designed to guide students from initial enrollment to graduation and beyond. The first step is to meet with an enrollment specialist to help you determine which program best suits your career goals.
Once enrolled, you will begin classroom instruction and hands-on training in your chosen field. Throughout the program, you will have access to dedicated instructors who will help you develop the knowledge and skills needed for success.
Upon completion of the program, you will have the opportunity to receive career placement assistance, resume preparation, and interview coaching to help you secure a job in your field. Northwest Career College is committed to providing quality education and support to help you achieve your career goals.

Enter the Medical Field with a Qualification with NCC
Becoming a certified phlebotomist can offer multiple benefits for those looking to enter healthcare. The position is important as it bridges the gap between physicians and patients by providing clear and accurate results from blood tests.
Additionally, they are essential in handling potentially hazardous medical situations that may occur in places like laboratories or hospitals.
There is no shortage of programs available to receive accreditation as a phlebotomist. Yet, Northwestern Career College stands head and shoulders above the rest with its specialized programs geared towards making sure you leave with all the necessary skill sets needed to succeed.
Prospective students should contact Northwest about their Phlebotomist Program and learn how easy it is to qualify for certification without sacrificing quality or affordability.
Northwestern provides top-notch resources and support, so your experience is one of comfort and ease during this fascinating journey toward becoming a certified phlebotomist.



Start your new career today
At Northwest Career College, we pride ourselves on providing one of the premier Phlebotomy Schools in Las Vegas.
Our established and seasoned instructors will take you through every aspect of Phlebotomy. Northwest also offers day, afternoon, and night classes to accommodate your busy Las Vegas work and family schedule.
Call us today at (702) 403-1592 to speak to one of our admissions specialists about your new Phlebotomy career.