What is the Job Outlook for Business Administrative Assistants?
Business Administrative Assistant
May 22, 2023
290 views
5 min read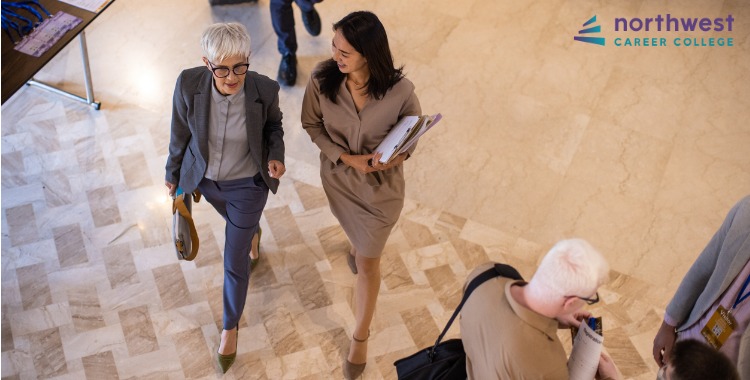 Are you in the process of deciding on your career path? Business administrative assistants are vital in various organizations and industries, making it an exciting and rewarding career choice.
With plenty of opportunities available to enter this field, now might be the perfect time to start looking into what it takes to become a business administrative assistant and learn more about the potential job outlook.
In this blog post, we'll dive deeper into everything related to becoming an administrative assistant and discuss short-term and long-term prospects for anyone entering this profession.

Overview of the business administrative assistant role
The role of a business administrative assistant is the backbone of any organization. From handling phone calls and emails to scheduling appointments and managing paperwork, this position is essential to the smooth running of any business.
The business administrative assistant is often the first point of contact for clients and customers, which means they must have excellent communication and interpersonal skills. Being able to multitask, prioritize and work under pressure are critical traits required in this role.
An effective business administrative assistant must also be highly organized, detail-oriented, and possess excellent time-management skills. If you love working in a fast-paced environment and bringing order to chaos, a career as a Business Administrative Assistant may be perfect.

Current job outlook and growth in the industry
As the Business Administrative Assistant job market continues to shift in response to the changing needs of businesses, there is an increasing demand for qualified professionals. More companies are investing in administrative help, and a greater variety of roles are becoming available. Currently, the job outlook is strong, with growth opportunities in almost every sector.
The ability to adapt quickly and learn new skills will set you apart from other candidates, making you more desirable for employers. In addition, the ability to effectively use technology and software is becoming increasingly important in the industry. As businesses continue to invest in digital transformation, those who can demonstrate their tech literacy will become highly sought after.
The outlook for business administrative assistants remains positive, and as long as businesses need support staff, there will be a demand for professionals in this field. With the right skills and knowledge, you can secure a stable career with excellent job prospects and room to grow within the organization.

Skills needed to be an effective assistant
Being an effective assistant requires certain skills that enable you to handle the responsibilities and duties of the job.
First and foremost, you need to have excellent communication skills, both verbal and written, to be able to interact with different people in a professional and courteous manner.
You must be organized and detail-oriented to manage tasks and projects efficiently and effectively.
Using time wisely and prioritizing tasks will help you meet tight deadlines and ensure that all assignments are completed on time.
It is also important to be flexible and adaptable to respond quickly and adjust easily to changing priorities.
Computer literacy, including experience with office productivity software such as Microsoft Excel or word processing programs, is essential for managing files, creating reports and other documents, and maintaining databases.
In addition to these skills, being adaptable, resourceful, and able to work in a team environment are also important traits that can make you a successful assistant.

Types of tasks a business administrative assistant is responsible for
A business administrative assistant holds a crucial role in the success of a company. Their responsibilities encompass a vast array of tasks that keep the business running smoothly.
From scheduling appointments to managing budgets, their organizational expertise is unmatched. In addition, they act as a gatekeeper, filtering and directing communication between leaders and team members.
Their attention to detail ensures that important documents and reports are accurately written, proofread, and delivered in a timely manner whether managing files or handling correspondence, a business administrative assistant is an essential support system for any business.

Benefits of working as a business administrative assistant
Working as a business administrative assistant can bring numerous benefits to one's life. From gaining valuable office experience to establishing a solid professional network, this role has much to offer.
Administrative assistants are often at the forefront of office operations, working closely with executives and management to ensure that all tasks are completed efficiently and effectively. This allows for a unique opportunity to learn from experienced professionals and hone various valuable skills such as organization, communication, and typing.
Additionally, the role provides a great sense of purpose, as administrative assistants often serve as the backbone of their organizations, providing support to all areas of the company. So whether you're just starting out in your career or looking for a change, a business administrative assistant role may be the opportunity you've been searching for.
There is currently a high demand for these roles across numerous industries and regions on a global scale. If you have what it takes to become a successful business administrative assistant, contact NCC about our Business Administrative Assistant Program today! With the right education and training, you could be employed in this lucrative field soon.



Become a vital part of a business today
Northwest's Business Administrative Assistant Program Las Vegas offers on-campus and online Business Administrative Assistant classes to accommodate your work and family schedule.
We value real, hands-on experience, which is why you'll be visiting businesses and organizations of different sizes, industries, and structures and why our instructors are all experienced business professionals with extensive backgrounds working in, starting up, and operating various businesses and organizations.
Featuring a host of business professionals and guest speakers, our classes will give you all the skills you need to play a vital part in any business, and still graduate in as little as 9 months.