Is Clinical Coding a Good Career?
Medical Billing and Coding
August 18, 2023
707 views
6 min read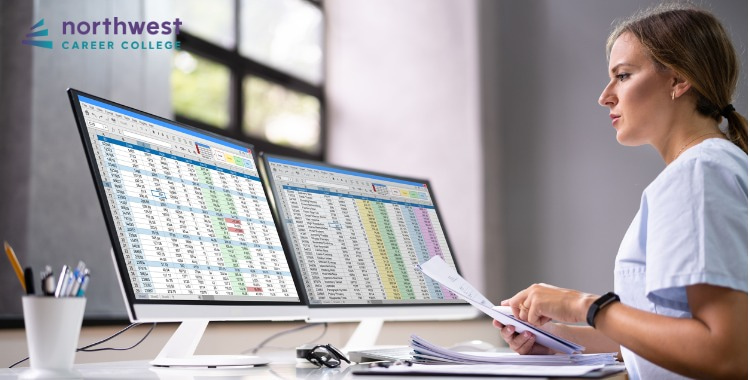 Are you looking for a fulfilling and rewarding career pathway in the healthcare industry? Clinical coding may be the perfect choice! As a clinical coder, you'll have the opportunity to support patient treatment by accurately recording and classifying medical diagnoses, procedures, treatments, services, and products.
Clinical coders play an essential role in ensuring accurate reimbursement for healthcare providers. To gain the knowledge and skills needed to become a successful Clinical Coder, Northwest Career College is your number one choice for top-notch medical billing and coding qualifications. 
In this blog post, we will discuss why clinical coding can be such a great career decision – let's dive right in!

What is Clinical Coding and What Does it Involve
Clinical coding, also known as medical coding, is an essential process in the healthcare industry that has gained significant attention in recent years. It involves taking a patient's medical notes and records and translating them into codes that can be used for billing, research, and healthcare planning.
Clinical coding is essential for accurate billing and ensures that patient details are recorded consistently and accurately, improving the quality of healthcare services. The coding process involves assigning codes to diagnoses, procedures, and treatments included in the patient's medical records.
It's a complex process requiring specific skills and knowledge to ensure the codes are accurate. Clinical coding is a crucial part of the healthcare industry and bridges the patient's medical records and the healthcare industry.

The Benefits of Pursuing a Career in Clinical Coding
Pursuing a career in clinical coding can lead to a multitude of benefits. Clinical coders are vital healthcare industry members, ensuring that patient records are accurately documented and coded. This benefits the patient and the healthcare system as a whole.
Not only does this career path offer job security with a high demand for experienced clinical coders, but it also provides the opportunity for career advancement. Additionally, it allows for a flexible work schedule with the option for remote work.
For those who enjoy working in the healthcare industry, have strong attention to detail, and are interested in utilizing technology, pursuing a career in clinical coding could be the perfect fit.

The Challenges of Being a Clinical Coder
Becoming a clinical coder is no easy feat – it requires a vast knowledge of medical terminology and an understanding of complex coding systems. These professionals are tasked with the challenge of accurately translating medical reports and records into a coded language that insurance companies and hospitals can understand.
It's a delicate balance between ensuring the information is concise and thorough while also being meticulous to avoid any errors that could cause major issues.
Despite the challenges, clinical coders play a crucial role in our healthcare system, ensuring patients receive the care they need and healthcare providers receive the proper reimbursement for their services.

Why Northwest Career College Is the Best Place to Earn Your Medical Billing and Coding Qualification
Northwest Career College stands out among other institutions for multiple reasons. Their medical billing and coding program is comprehensive and efficient, thoroughly preparing graduates to hit the ground running in their chosen fields. 
With small class sizes and expert instructors, students receive personalized attention and guidance throughout the learning process. Furthermore, the college offers flexible scheduling options, accommodating a wide range of lifestyles and work schedules.
But what sets Northwest Career College apart is its commitment to each student's success. From career placement assistance to ongoing support, the institution goes above and beyond to ensure graduates are set up for a prosperous and fulfilling medical billing and coding career.
It is no wonder that Northwest Career College is often regarded as the best place to earn a medical billing and coding qualification.
A Look at the Job Outlook for Clinical Coders
With the rise of the healthcare industry, clinical coders are in high demand. Their role is to accurately translate medical procedures and diagnoses into codes that insurance companies and other healthcare providers can easily understand.
This is a crucial task, as precise coding ensures that patients receive the appropriate treatment and that healthcare providers are properly reimbursed for their services. The job outlook for clinical coders is promising, with an expected growth of 10% over the next decade.
As the population continues to age and the need for healthcare services grows, there will be an ever-increasing demand for skilled clinical coders. So, if you're looking for a stable career path in the healthcare industry, clinical coding may be correct for you.

Begin Your New Career as Medical Biller and Coder with NCC
All in all, clinical coding has a bright future. There are many benefits to becoming a certified coder, including competitive wages and flexible schedules, making it an ideal profession for people who like to work with numbers and have detailed organizational skills.
At the same time, there are challenges that come with the profession, such as rapidly changing technology and ever-increasing compliance requirements. That's why Northwest Career College is here to help! Our Medical Billing and Coding program provides you with comprehensive training and expertise so you can excel in this highly sought-after field of healthcare administration.
Not only will you be taught by experienced faculty with a broad medical coding knowledge base, but you'll also be equipped with the skills needed to succeed in your new career. With opportunities for growth across all aspects of medicine and government-funded educational programs available at Northwest, achieving your coding certification goals is only a few steps away!
Don't wait – contact Northwest today about our Medical Billing and Coding Program so you can move closer to becoming a certified professional medical coder and realizing your dreams!



Become a vital part of the healthcare cycle
Taken together, medical coding and billing form a link between patients, healthcare providers, and insurance companies. As a medical biller or coder, you must be accurate, detail-oriented, and well-organized, as you'll be a vital part of any healthcare provider's staff.
As the premier Medical Billing and Coding vocational training institute in Las Vegas, Northwest Career College employs established, seasoned instructors to teach you every aspect of medical billing and coding.
Our student-focused approach puts you first, and we offer online and on-campus workshops to accommodate your work and family schedule.
We continue to support our students after they graduate as our experienced Career Services team works with you to help you find medical billing and coding jobs in Las Vegas.
Call us today at (702) 403-1592 to learn more about the exciting opportunities that our Medical Billing and Coding School can offer you!