What is The Difference Between Massage Therapy And Chiropractic Practice?
April 8, 2023
521 views
6 min read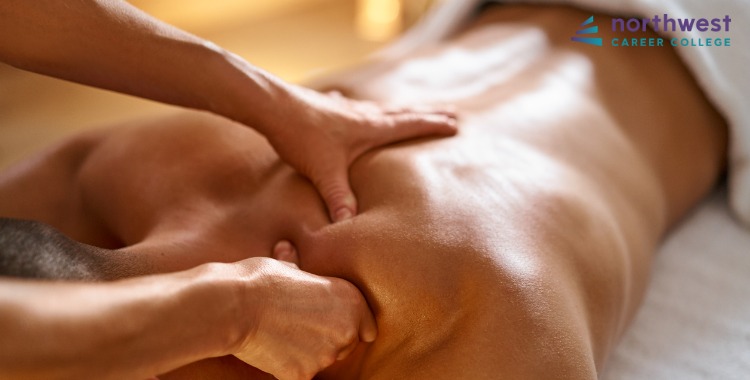 Do you want to know the difference between massage therapy and chiropractic practice? Understanding these differences is essential if you're considering one of these medical practices as a career.
Massage therapy and chiropractic practice can be beneficial in their ways, so learning the distinct aspects of each is worthwhile.
Here is a closer look at how massage therapy and chiropractic care differ and some tips for determining which option may be best for your individual career needs.

Overview of Massage Therapy – what it Is and the Benefits
Massage therapy is a hands-on approach to healing and relaxation that has been used for centuries. It involves applying pressure to different body parts to help alleviate pain, reduce stress, and promote overall well-being.
Massage therapy can treat various conditions, from back pain to anxiety and depression. It can also improve circulation, boost the immune system, and help people manage chronic pain.

Overview of Chiropractic Care – what it Is and the Benefits
Chiropractic care is a non-invasive approach to healthcare that focuses on diagnosing and treating musculoskeletal disorders, with particular emphasis on the spine.
This form of medicine operates on the principle that the body has the innate ability to heal itself and that chiropractors can assist in this process by manually adjusting the spine and other joints to address misalignments and alleviate pain.
Chiropractic care has been shown to offer numerous benefits, such as improved joint mobility, reduce inflammation, and relief from chronic pain.

Differences between Massage Therapy and Chiropractic Care
Massage therapy and chiropractic care are two of the most popular options for alternative health practices. While both aim to alleviate pain and promote overall wellness, the two have distinct differences.
Massage therapy focuses on manipulating soft tissues, such as muscles, tendons, and ligaments, using various techniques to improve circulation and relieve tension.
On the other hand, chiropractic care is centered around the belief that misalignment of the spine can lead to various health issues and seeks to correct these misalignments through adjustments and manipulations.

How to Become a Massage Therapist
If you're interested in pursuing a career in massage therapy, there are a few steps you'll need to take.
First, research schools in your area that offer programs in massage therapy. Look for programs that a recognized organization accredits, as this will ensure that your education meets industry standards.
Once you've found a school you're interested in, apply for admission and complete the required coursework. Many massage therapy programs also need practical experience, so be prepared to gain hands-on skills through internships or externships.
Finally, pass the licensing exam in your state to become a certified massage therapist. While becoming a massage therapist requires hard work and dedication, the rewards of helping others relax and heal can be incredibly fulfilling.
NCC's Massage Therapy program is designed to give students the skills and knowledge they need to become successful massage therapists. Our program offers a comprehensive curriculum that covers everything from anatomy and physiology to therapeutic massage techniques.
We also provide hands-on practice in our on-site clinic, ensuring our graduates are prepared for work in the field.
With our experienced faculty and state-of-the-art facilities, you can be sure that your massage therapy education will give you the tools and knowledge necessary to succeed. Upon completing the program, NCC graduates are eligible to sit for the National Certification Exam and applicable state exams.

How to Become a Chiropractor
Becoming a chiropractor requires hard work and dedication, but it is a rewarding career choice for those who want to help others achieve better physical health.
To start this career path, you must obtain a bachelor's degree in a related field, such as biology or anatomy.
After that, you must attend a chiropractic school and earn a Doctor of Chiropractic degree. During your education, you will learn about the musculoskeletal system and how to diagnose and treat problems in this area using non-invasive techniques.
Additionally, many states require chiropractors to pass a licensing exam before practicing. While the journey may be extended, the result is a fulfilling career helping people achieve lifelong health and wellness.

How to Decide Which Career is Best for You
If you want to start a career helping others without needing to spend years in medical school, massage therapy may be the right choice for you.
Compared to other healthcare professions, massage therapy is relatively easy to enter and can provide you with a rewarding career.
On the other hand, chiropractic care requires more advanced education and may not be suitable for those who don't have the time or resources to dedicate to additional schooling.
Ultimately, choosing which career is best for you will depend on the training and education you are willing to undertake.
If you think massage therapy may be the right career, contact Northwest Career College today about our Massage Therapy program. Our knowledgeable staff can answer all your questions about taking the first step toward a successful career in helping others heal through massage therapy!



Join one of the best Massage Therapy Schools in Las Vegas today!
At Northwest Career College, we operate one of the best Massage Therapy Schools in Las Vegas, and our Massage Therapy Course will teach you the skills you'll need to apply the benefits of sports massage.
The benefits of massage therapy are widely recognized, with employment for massage therapists expected to increase by 22% between 2014-2024, with an average massage therapist earning $39,360 a year. Additionally, many massage therapists maintain active, private practices, increasing both their flexibility and earnings.
Our massage student clinic is open seven days a week, for both your and your client's convenience, and we offer day and night classes to accommodate your work and family schedules.
Our instructors are experienced professionals who will prepare you to sit for either the NCBTMB (National Certification Board of Therapeutic Massage) or the MBLEX (Federation of State Massage Therapy Boards) exams, and we are proud of our 100% board pass rate. Call us at (702) 403-1592 to speak to one of our enrollment specialists today!