How To Become A Legal Assistant With No Experience
April 7, 2023
630 views
6 min read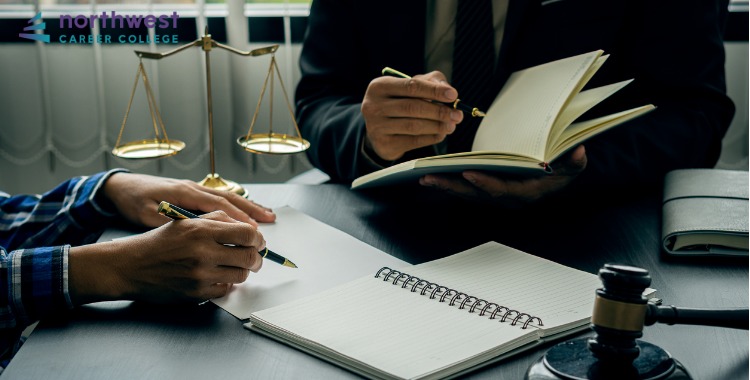 Are you looking to enter the legal world without experience as a legal assistant? Pursuing this career can open up many doors and provide many opportunities while allowing you to impact your community positively.
With the proper guidance, getting an entry-level position in a law office without experience is possible!
Whether you are new to the field or simply seeking additional tips and advice, this post will walk you through everything needed to become a successful Legal Assistant with no prior background in working legally.

Understand the Role of a Legal Assistant – What Skills are Required and What Type of Education Is Necessary
As a legal assistant, you play a vital role in supporting the work of legal professionals. While the nature of the work is challenging, the right set of skills and education can help you excel in this field.
Legal assistants must communicate effectively, both verbally and in writing. You will work with legal documents; strong attention to detail is critical. Legal assistants should have good organizational and time management skills, as they often work on several cases simultaneously.
A solid understanding of legal terminology and procedures is essential, which is why many legal assistant positions require some level of formal education or training. With the right skills and education, you can build a rewarding career as a vital part of the legal profession.

Research Qualifications and Requirements for Becoming a Legal Assistant
Becoming a legal assistant is a rewarding career, but it does require some qualifications and requirements before you can jump into the field. Most employers require completing a certificate or associate's degree program in Legal Assistant studies.
Additionally, having relevant work experience or completing an internship can give you an edge in the competitive job market. It's also essential to have strong writing and communication skills and a solid understanding of legal terminology and procedures.
Attention to detail, organization, and critical thinking are necessary for a successful legal assistant. With the right qualifications and skills, you can embark on a fulfilling career as a legal assistant.

Take an Online Course on Legal Practices to Learn the Basics
Learning about legal practices is essential for anyone interested in the law. Whether you are a law student, a paralegal, or a business owner, understanding the basics of legal procedures can help you confidently navigate the legal landscape.
The good news is you don't have to enroll in a law school to gain this knowledge. Online courses allow you to learn quickly and become familiar with fundamental legal concepts like litigation, contracts, and torts.
An online course on legal practices can give you a competitive edge in the job market and open up new career opportunities.
Here at NCC, we firmly believe everyone should have access to high-quality legal education, which is why our Legal Assistant Program can be completed online from the comfort of your home.
This program is designed to give you a comprehensive legal system overview and teach you how to draft and review contracts, file lawsuits, work with clients, and more. Our online courses are taught by experienced professionals who have extensive knowledge in the field of law.
Our experienced instructors are passionate about teaching the fundamentals of the law and imparting valuable skills to help you succeed in your chosen field!

Look for Internships or Apprenticeships to Get On-the-Job Training
If you're looking to kickstart your career, internships or apprenticeships are a great way to gain invaluable on-the-job training you can't get in a classroom.
Not only do you get hands-on experience and exposure to your chosen field, but you also get a chance to network with professionals and potentially secure a full-time position in the future.
All of Northwest's legal assisting students are given the opportunity to intern with local Las Vegas law firms and courts. This experience is invaluable and can give you an advantage over other job seekers who don't have any professional experience in the field.
Finding the right opportunity may seem daunting, but many resources are available to help you in your search, such as job boards, career fairs, and networking events. So take the first step and start exploring the various internships and apprenticeships available in your area- it could be the launchpad to your dream career.

Network with Attorneys, Professional Organizations, and Other Legal Professionals
Networking with fellow attorneys, professional organizations, and other legal professionals is crucial for anyone serious about their career in the legal field.
By engaging with others in your industry, you'll expand your horizons and learn new skills, and build relationships that can last a lifetime.
Attending events, joining professional organizations, and even just reaching out to someone in your field for a cup of coffee can be a valuable experience. So don't hesitate to put yourself out there and start networking with those who share your passion for the law. You never know where it might lead you.

Build Your Resume and Use Job Search Platforms to Find Openings
Building a strong resume is crucial in today's competitive job market. Your resume is often the first impression you make on potential employers, so it's essential to make it stand out.
Use action verbs and quantifiable achievements to demonstrate your skills and experience. But creating a great resume is only the first step. You must also utilize job search platforms to find openings matching your skills and career goals.
These platforms can save you time and effort in your job search by providing access to many opportunities. Please take advantage of them, and don't be afraid to apply for positions you're interested in. With a well-crafted resume and the right job search strategies, you'll be on your way to landing your dream job in no time.
If you need additional support in seeking a career as a legal assistant, contact Northwest Career College about our Legal Assistant Program. We can give you the tools you need to pursue your path to becoming a successful legal assistant.

Choosing your new career path
Gaining a qualification from our Legal Assistant School puts you in an excellent position to access a variety of employment opportunities as you look for one that suits your skills and interests.
At Northwest Career College, our Legal Assistant instructors include licensed, practicing attorneys and degree instructors able to teach, not only the law but also to guide our students in the many ways a criminal justice graduate integrates into a Las Vegas legal profession.
As part of our Legal Assistant Program, you'll visit courts, jails, meditation centers, and more to experience first-hand the law in action, which will make your criminal justice training applicable to the Las Vegas legal system.
Northwest offers a flexible blended program with all criminal justice classes taught on our Las Vegas campus by an attorney and general education courses offered online. Our experienced instructors are on campus to review and support your learning experience at all times.
Call us at (702) 403-1592 to speak to one of our enrollment team about joining our Legal Assistant Program today!